Sexton's Corner, Vol. 7 - Dewey Tomko, Part 1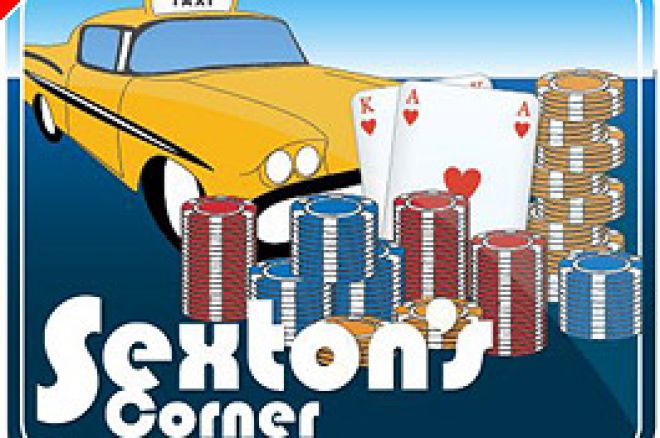 A movie should be made about the golf, poker, and gambling exploits of Dewey Tomko. He has had an amazing life so far, and is still going stronger than ever! Let's go back in time between 1970 and 1975. After graduating from Salem College in Salem, West Virginia, Dewey taught kindergarten for those six years at Hanes Elementary School in Hanes, Florida. During this period, he began to play in bigger and bigger poker games at night, finding himself winning $5,000 to $10,000 on many occasions. This was amazing to him, as his top annual pay teaching in 1975 was $6,700!! It got to be tough, as much as Dewey loved the kids, to get to the homeroom with 1-2 hours rest after an all-night poker game. Imagine emptying your pockets with wads of cash on the bed, before going to school to earn $35 per day!
Dewey will tell you the reason he quit his teaching job wasn't poker, though, it was golf. He had lost $18,000 in a golf match, and all the guys were gathering the next day to play some more. Dewey looked at the phone early the next morning, and said to himself, "I've got to go back to the golf course and get my money back." So, he picked the phone up and called the principal. Dewey began to tell him, "I'm sorry, but you are going to have to find a substitute teacher for me today, as I'm going to have to quit. I can't afford to keep this job. I'll be glad to pay you for the substitute... just tell me how much."
Imagine the principals reaction to hear his teacher lost $18,000 the day before, and needed to return to the course and get his money back!
Thus one of the true legends in the world of poker and golf was born. Today, Dewey's home is still in Hanes City, Florida, and the world will gain a sense of his iconic, legendary reputation on the golf course come Oct 21st between 3:00 PM and 5:00 PM, followed by Oct. 28th from 3:00 to 5:00 PM on ESPN. Dewey will have a starring role in the first episode of "High Stakes Entertainment" in the Doyle Brunson & Dewey Tomko Golf Invitational. Dewey and eight other high rollers will be playing for $1,000,000 per hole in a nine-hole match that will wow the world!! The next telecast you will see him and his good friend, Doyle Brunson, teamed up for playing for $200,000 as one of nine teams, with an extra $200,000 added to make a $2,000,000 prize pool. Just another day at the office for Dewey and Doyle!
Dewey feels lucky today with three sons in Derrick, 32, David, 28, and Drew, 25. Dewey met his beautiful wife, Marianella, about 3 years ago, in Costa Rica, where he owns a casino. Dewey is quick to point out, "She is my inspiration!" He gives her a lot of credit for allowing him to do what he does well, while keeping him and his priorities on the right track. They are so close, and do everything together, as they are still seen holding hands, as they experience living to the fullest every day, either at home or traveling the world. Dewey and Marianella have never been happier.
Dewey holds a couple of records at the WSOP, including competing in the Main Event for 33 straight years, longer than anyone in history. Even Doyle dropped out of the WSOP for a few years, out of loyalty to his best friend, Jack Binion, during the Becky Binion Behnen era at the Horseshoe. Another record of Dewey's (that he shares with T.J. Cloutier) is that both are the only two poker players to be two-time runner-ups in the main event.
In 1982, the WSOP Main Event final table came down to Tomko and Hall-of-Famer Jack Strauss. On the last hand, Dewey had A-4 vs. Jack's A-10. The flop was 4-5-6. They were pretty even in chips, with Jack holding a slight, 4,000-chip lead. With all the money in on the flop in this, the first $1,000,000-plus pot, a blank card hit the turn, making Dewey a big favorite to win the title. In fact, Dewey's friends and the TV announcers were circling around Dewey with their congratulations, when the 13-to-1 shot hit the river... the 10! Jack Strauss won, but dropped dead a year later in a card club in California. Dewey picked up $250,000 for second and went on to even greater heights, motivated to become successful in life.
In 2001, Dewey found himself heads up again for the world title in the WSOP. This time it was against Carlos Mortensen. Amazingly, Dewey looked at his hole cards on the last hand to find pocket aces! Carlos had the K-Q of clubs. With all the money in the pot, the flop was dramatic with the J-10-3, with two clubs. The turn paired the board with another three, then the nine hit the river to give Carlos the title. I was there as Binion's official photographer between 1999 and 2002, and one of my most memorable moments was watching the composure and class Dewey Tomko exhibited with that tough loss. I never forgot what a class act he was.
Dewey picked up $1,100,000 for second place, and over the next six years made a fortune in the business world and playing high-stakes golf. With advice from his dear friend Jack Binion, Dewey's investments in land, orange groves, restaurants, and many other businesses, including owning his own Casino in Costa Rica and his own golf course (Southern Dunes in Florida), Dewey feels he has had a perfect life. He is eternally grateful to Jack Binion and his advice about life and success. Dewey feels it was a blessing to be runner-up twice, as he stayed focused on becoming a success in life. Many past winners of the WSOP Main Event, such as Stu Ungar, went down in oblivion. Dewey's positive outlook on everything, is inspirational to listen to, and an example for all of us to learn from.
Dewey Tomko marvels how his path in life led him to Costa Rica to own his own Casino, where his fate was to meet his love, Marianella, to complete his life. Finding success in life, with personal happiness is as good as it gets. Stay tuned for Part 2.
The Cab is Parked,
Tom Sexton
Tom Sexton is a featured columnist for PokerNews.com. Tom attended the University of Oklahoma on a full gymnastic scholarship, where he was captain of the team four straight years, becoming the first NCAA All-American and Big Eight Champion in OU's gymnastics history in 1968. The Sexton family is well established in poker and includes Tom's brother Mike, the World Poker Tour commentator and poker's "First Ambassador", as voted by his peers. Tom welcomes your thoughts and comments about any of his articles. His e-mail is TSStarbuck1@aol.com.