Sexton's Corner, Vol.60: Johnny Chan, Legend of Legends, Part 5 - Promos and Viewpoints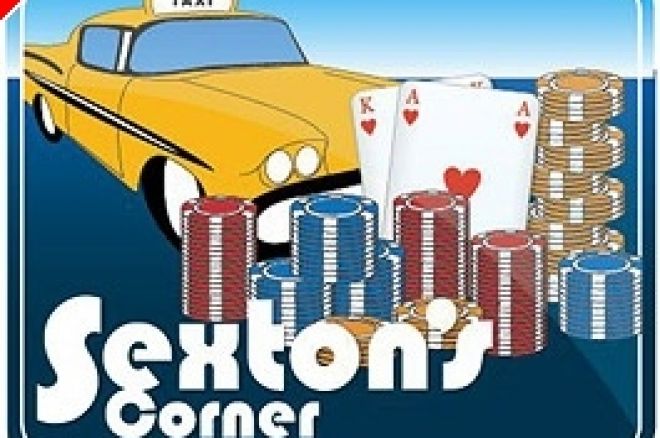 In Part 4 we learned how Johnny Chan is known for having the golden touch in poker tournaments and for his famous movie appearance in Rounders, where he trapped Erik Seidel to win the WSOP title. We also heard Johnny's analysis of why his try for three straight Main Event titles was stopped by Phil Hellmuth in the 1989. Johnny's opinion of Phil was direct and straightforward, and Johnny's incredible record on "Poker After Dark" was examined, including what he felt was his secret in winning three out of four episodes on the show.
These articles have certainly underscored just how great Johnny Chan is in both tournaments and cash games. But for years Johnny has always been known as an entrepreneur around town. He has owned several businesses, including some shops inside the Stratosphere, and is involved with a very popular called All In Energy Drink, unveiled at this year's WSOP. Let's start off listening to Johnny's interview where I asked him about this new drink, All In:
Sexton's Corner: Johnny, everywhere we looked around at this year's WSOP we saw a new drink advertised as the All In Energy Drink. I understand this was one of your promos, and what can you tell us about this new drink? I was at that big party held over at the Palms Hotel by poolside, that was a big promotion of All In. Let's start our interview there in regards to this new drink, and a little about that great party you threw for All In Energy Drink held at the Palms.
Johnny Chan: The All In Energy Drink of water is the official [water] sponsor of the World Series of Poker. You noticed all the waiters and waitresses were wearing the All In Energy Drink shirts. Basically we are branding a company out there that we hope will be like the Red Bull and Coca-Cola some day, hoping a major company will buy us out. This was the first year and we spent a lot of money at the WSOP. When you mentioned earlier I threw a party… when I throw a party, I throw a big one! We had about 1,300 people show up at that party. We had some rappers, Paul Pierce of the Boston Celtics [NBA] world championship team, and a lot of other pro basketball players and miscellaneous celebrities. The NBA cameras came out for the party, and everybody had a good time. So many people came up to me and said, "Johnny, that was the best party I've ever been to." We started that party around 8:00 PM and went to about 3:00 AM. It was the best party, and even the WSOP Commissioner, Jeffrey Pollack, stopped by to say hello. We probably donated over 1,000,000 bottles of water at the WSOP. I think the reason a lot of the regular pros did so well this year was drinking All In Energy Drink. It really gives you the energy and the ability to stay alert and focused.
SC: Are you involved right now in any other business projects that you feel free to talk about?
Chan: Yeah… we are working on a project where we are trying to build a hotel/casino called Fifth Street. We are talking to a Harrah's group and the Hard Rock Hotel-Casino We were talking to a LA casino, but that deal fell through. I know what the poker player needs, because I'm one of them. We will have nice restaurants, barber shops, manicure and massages for the poker players. I want to bring a concept from New York where there is a membership fee for the various services available and all the poker player has to do is tip the personnel. I want to try and bring that concept to Fifth Street.
SC: Let me ask you this, Johnny — there is a big change this year at the WSOP. They have the November Nine now, with the four-month delay before the 2008 Main Event final table reconvenes. With the WSOP, the player advisory committee, ESPN, the innovative marketing of WSOP Commissioner Jeffrey Pollack… I'm hoping it is all a good thing all the way around. I'm just wondering if you have any thoughts about it, and what it all might mean for poker in the long run?
Chan: Well, I think it is good for the players. For the nine finalists there will be sponsors coming to them with large extra paychecks for them to represent various sites or products on high-profile TV that they wouldn't normally see in the tournament before. So, it is good for the players, but let's talk about the money they put into the prize pool. First, it should be in a CD and go back to the players, because Harrah's is making a fortune. It has got to be a big ten-figure profit throughout the WSOP. They ought to take care of the players. One of the things I would suggest is this: They have about 55 events now, and they should make sure each winner should get a freeroll in next year's event they won, similar to what the WPT does, but make sure it isn't from the prize pool. Give something back to the players who support the WSOP year in and year out. Do something like this instead of taking, taking, and taking from the players. A bracelet is just one of the mousetraps, and is why the WSOP is so successful. Without the bracelet who would care about the WSOP? At least give something back. Poker players are smart people. They know what's going on. A lot of people don't say it, but you can't just take and take, and not give anything back to the players! It's just not right! I mean like ESPN… all the poker players are unpaid actors. They tell where to take a break, where to put the microphone; they are unpaid actors.
SC: You had mentioned to me at the WSOP something that happened to you in an Omaha event that upset you very much. I'm not bringing this up to bash the people in charge of the WSOP, but rather hope they will look at it, and improve things for the next time. In fairness to WSOP Commissioner Jeffrey Pollack, and the WSOP staff and the player's advisory council, etc., improvements and changes have been implemented every year to improve things at the WSOP. For those who claim otherwise and are always negative to the process, their assessment is apt to fall on deaf ears. In your case, you are a champion player who loves the WSOP. You made the point already the WSOP needs to give more back to the players, with at least buying each bracelet winner of each event into that same event at the next year's WSOP. Could you explain for us what happened to you in the Omaha event that bothered you in this year's WSOP?
Chan: In the Omaha event I played in this year, we were down to four players. ESPN needed to take a five-minute break or something to change tapes. I went down to the bathroom. With no announcement or anything, the tournament started back up, and it was only four-handed. I'm playing for my 11th gold bracelet and lost about $20,000 of my stack in blinds and antes! Without naming the person in charge of that particular final table, he seemed more interested in starting the event back up to keep ESPN happy, than take time to properly notify all four players left we are ready to resume play. It makes it feel like no one cares for the players… just keeping ESPN happy and resuming play. Someone down the hall told me I was getting anted out. We didn't ask for a timeout — they did, and play stopped. Legally, why do I have to take a break? We want to be nice to you, but you should be nice to us. We didn't know what time you were going to start back up, so give us some respect. To me I was so upset, because I was playing for my 10th gold bracelet!
SC: Johnny, you have so many gold bracelets it is hard to remember how man you have, as you would be playing for your 11th gold bracelet… right? (Johnny laughs at this point.) You know when something like that happens it gets under your skin too, as you're thinking about it, watching that next round of blinds circling around. It might very well have an indirect effect on your play.
JC: Oh, it affected my play a lot! It makes me mad to think about it! Just give me a little respect. This guy running that table gave me no respect. I find out down the hall from some fan they started up without me, and it cost me $20,000 out of my stack!
SC: Listening to this, I wonder if the WSOP could provide any final-table players one of those restaurant things that vibrates when your table is ready to resume, especially on an unscheduled TV break, not really able to know when play might resume. Once it goes off, the player knows play will resume in exactly two minutes, for example. Johnny, on another note, do you have someone that you would consider your hero in the poker world?
Chan: Unfortunately, he just passed away. Chip Reese was my hero. We were pretty close in age, but he got to Las Vegas a little bit earlier than I did. He was the biggest winner of high-cash games of all times, I believe! When you see somebody winning like Chip did, that is the person you want to copy. He was my hero, and the person I want to copy. When I heard he passed away, I was so sad. It is a weird thing how somebody so young can die in their sleep… nobody knows. I was at his funeral, and it was the biggest funeral I ever saw! There were so many people, there was people standing outside the service. There was no room whatsoever. Even Steve Wynn comes in, and he doesn't see very well. He put his hand on my shoulder, and I was going to walk him in there to listen to the service when David Chesnoff was speaking. Even Steve was there to pay big respects. That shows you Chip was a most class person… likeable person… I don't think Chip ever had any enemies in life. He took care of business against good and bad players alike. He made poker what it is today.
SC: I remember at Chip's funeral there were so many people they had rooms set up with closed circuit television showing the service from the main area. There were a lot of important people standing around without a seat. You're so right, Johnny, Chip had no enemies, but he did have a lot of friends. Chip was poker's class act from top to bottom, and like you, I can't believe he is not with us anymore. Johnny, I know you've got a plane to catch, and I appreciate your taking the last hour for our interview. We've covered your early days, turning pro, your incredible major streak, your movie Rounders[I] that was so popular, many of your successful endeavors and your personal thoughts on a multitude of topics. With everything you have accomplished in the poker world, there are three important points I feel compelled to make:
1) Your poker streak from 1987 thru 1989 will probably never be surpassed!
2) You're not just a great tournament player, but a high-stakes cash game winner!
3) You're in your prime, with more epic feats still to come! </center>
The Cab is Parked,
Tom Sexton
<center>* * * * *</center>
[B]Poker Trivia Question #9 (and Answer to #8):[/B]
There is one great professional poker player today who used to be an air traffic controller. He and his colleagues across the United States were fired by the President of the United States, Ronald Reagan, for not reporting to work. Their Union Representative gave them all some bad advice during a boycott for better benefits, and the President replaced them all with the National Guard. As a result, who was the one former air traffic controller who moved out to Las Vegas after being fired by the President, and ended up winning multiple WSOP gold bracelets, who is also known for being a big time winner in the cash games as well?
Answer: "Miami" John Cernuto"
<center>* * * * *</center>
Poker Trivia Question #10 (answer next week):
The 2008 WSOP Main Event paid out 666 places, which made the bubble land on 667th place. The bubble paid zero, versus $21,230 minimum for 666th. Who landed on the bubble this year and where is he from? The third part of this question is: What happened to him as the TV cameras were following him out the door that had never happened before?
* * * * *
[I]Tom Sexton is a featured columnist for PokerNews.com. Tom attended the University of Oklahoma on a full gymnastic scholarship, where he was captain of the team four straight years, becoming the first NCAA All-American and Big Eight Champion in OU's gymnastics history in 1968. The Sexton family is well established in poker and includes Tom's brother Mike, the World Poker Tour commentator and poker's "First Ambassador", as voted by his peers. Tom welcomes your thoughts and comments about any of his articles. His e-mail is [email protected][/I]