Women's Poker Spotlight, September 27th - Linda Johnson, First-Class Business Woman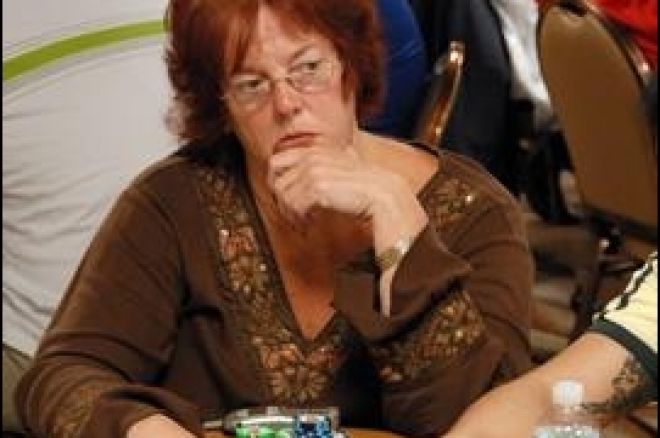 The First Lady of Poker, Linda Johnson, should also be known as a First-Class Business Woman. Linda and I sat down in her new home in Las Vegas for an interview about her many accomplishments in poker and the poker industry.
When one first enters Linda's beautiful home, one is transported back through time to 25 years ago, when Linda first decided she wanted to be a poker player and nothing else. The future held a few turns for her but nothing ever ventured too far from the topic of poker. The house is full of Linda's many poker accomplishments. From awards, banners, trophies and loads of pictures commemorating Linda's moments in poker to the lush surroundings of a comfortable home, the house illustrates that poker has certainly treated her well.
In 1980 Linda felt the game of poker was calling her; all she wanted to be was a professional poker player. She began playing as much as possible and soon found she could make a living playing poker. The first turn in Linda's poker career took her on a Card Player Cruise. She had so much fun, she knew she couldn't miss another one and inquired if there were any opportunities for her to be a part of the poker cruise industry. At that point she was told that Card Player Magazine was for sale. Being the aggressive person that Linda is, she gathered a few friends and formed a corporation to purchase the magazine in 1993. The next seven years, Linda worked tirelessly as the publishing editor, building the recognition and reputation of the magazine. The time spent working on the magazine took many hours away from playing poker, which was her first love, so she put the magazine up for sale and left the publishing business behind in 2000. Still loving the business of poker cruising, they separated the Card Player Cruises business from the magazine so that Linda and her partners could continue traveling the world and playing poker at the same time. Card Player Cruises continues today to travel the globe to many exotic sites and offer vacationers the fun of playing poker on board while at sea. The best of both worlds, as Linda sees it.
In 2001 on a chance trip to Costa Rica, Linda, Mike Sexton and Steve Lipscomb bore out the idea of the World Poker Tour. Once an investor was brought in, that being one Lyle Burman, Linda and Mike were invited to remain as part of the WPT staff. Linda has enjoyed the honor of being floor announcer for the World Poker Tour for her fifth season. When I asked Linda what she is enjoying most about her business ventures thus far, her eyes lit up with excitement as if I were the first to ask this question. One of the things Linda does to give back to the poker community is to instruct. She and Jan Fisher often travel to events, more often than not women's events, to promote poker and teach from the ground up fundamentals to the strategy planning of your game. In another venue connected to the WPT, Linda teaches at an average of eight WPT boot camps a year.
One of the largest events Card Player Cruises has had the pleasure to be a part of has been the Party Poker Millions cruises. Four cruises occurred in all until Party Poker made the choice to pull out of the U.S. playing market. Linda makes it clear that she has never been a founder or part owner of PartyPoker.com. Once again she was in the right place at the right time and was able to use her business savvy to bring yet another poker venue to television and the poker public.
Linda once again used her poker knowledge and support for player rights by joining the board of the Poker Players Alliance. This is a cause dear to Linda and her project attempts to make poker available in all venues, including online poker. Another project she started with friends Jan Fisher, Dave Lamb and Matt Savage in 2000 was the Tournament Directors Association. The first year the group consisted of 12 tournament directors. This past year's seminar turned out over 200 tournament directors eager to be heard and play a part in building standardized rules and guidelines for all tournament poker rooms to follow. She felt this year was one of the best years yet for the TDA as some of the last remaining poker rooms who were not utilizing the TDA rules have all now come on board. The uniformity in tournament rules across the nation will enable players to always expect enforceable rules that bring the game to a level of fairness for all who play.
Still, when she believes her schedule is winding down, a request to host or be tournament director of a special event such as the annual Philippines Poker Open comes in and she can't turn down an opportunity to be a part of the spreading enthusiasm of poker to another part of the world. Charitable events and seminars round out her already busy schedule. So 'winding down' doesn't look to be an option at this point.
Reflecting back on all we spoke about, I ask Linda what she sees as the highlight of her long poker career. A big smile comes over her face as she replies, "Why, my WSOP bracelet, of course."
I remark on what an accomplishment it was when she won the $1,500 Razz event in 1997. "Isn't it about time for another one?" I ask.
"Oh, yes," she says, still smiling. "As soon as I can fit the WSOP back into my schedule."