Online Poker Weekend: Internet Issues Hamper Top Events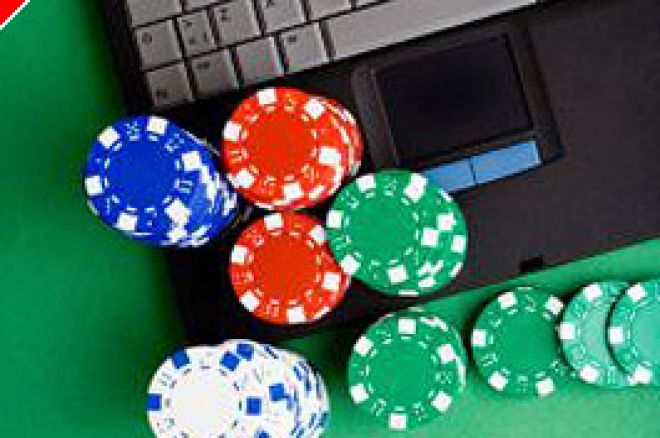 Internet connection problems plagued multiple players across continental lines and on multiple sites, suggesting that it was a major Internet infrastructure problem. These frequent disconnections went a long way toward deciding the two million-dollar guaranteed events this week, unfortunately for the players caught without a 'Net. For those that did manage to be lucky enough to stay online, they were able to take advantage of a bad situation and cruise to big paydays.
Full Tilt $1 Million Guaranteed
The monthly $1 Million Guaranteed event on Full Tilt attracted plenty of players: 2,152 showed up for a $1,076,000 prize pool, with $197,984 for first and 306 places paying.
Disconnection issues had already been happening by the time this final table kicked off, as player tmfd001 continued to complain about it in chat. Immediately after that, Soren "Kongsgaard" Kongsgaard was disconnected, the first of several times. Kongsgaard is best known for taking third in the EPT Grand Final last season, and following that up with a win in a prelim event at EPT Barcelona this season and a win at the Danish Championships only six days later.
First out, though, was Gettin Daize, who was crippled on a previous hand when his queens ran into the aces of Chris "BluffMagCV" Vaughn, an employee of Bluff Magazine. After a board of
, and the following turn's ante, Gettin Daize was left with only 6,956 in chips. Gettin Daize called tmfd001's raise on the next hand. imgrinding re-raised all in and tmfd001 called. In a three-way situation, tmfd001 held
, Gettin Daize had
, and imgrinding had
. The board was
and tmfd001 took it all, leaving Gettin Daize in ninth place for $15,064.
Next out was imgrinding, who won a $400K guaranteed event on Full Tilt back in January. Crippled in the previously mentioned hand, he managed to pick up a few more chips before making a 4x raise in the cutoff. colenel decker re-raised in the big blind, with
and imgrinding called all in with
. The board was
and imgrinding collected $19,906 for eighth.
It would take another 36 minutes of play before the next player would go out. JaeMills went all in under the gun with
and BluffMagCV called with
. The board was
and JaeMills took home $25,286 for seventh.
Two hands later, DutchVinny made a standard raise under the gun and BluffMagCV responded by going all in. DutchVinny requested time and eventually called with
to BluffMagCV's
. The board was
and DutchVinny got $34,647.20 for sixth.
Only a couple hands after that, colenel decker made a standard raise under the gun and RGAR18 re-raised all in. colenel decker called with
to RGAR18's
. The board was
and colenel decker, who really did spell it that way, won $48,420 for fifth.
Though he busted colenel decker, RGAR18 went out next. He made a big re-raise, almost all in, over the top of BluffMagCV's standard raise. BluffMagCV went ahead and put him all in and RGAR18 called. BluffMagCV had
and RGAR18 had
. The board was
and RGAR18 got $63,484 for fourth.
Next, Kongsgaard limped in the small blind and tmfd001 went almost all in, leaving only two chips behind. Kongsgaard just called. The flop was
and Kongsgaard put tmfd001 all in for his last two chips. Kongsgaard had
to tmfd001's
. The board finished
and tmfd001 got $79,624 for third.
Heads-up play began with BluffMagCV holding a little over a 2-to-1 lead over Kongsgaard. Unfortunately, it would only last a few hands before Kongsgaard got disconnected – this time for good. The rest of his chips were blinded off and BluffMagCV was the winner, earning $197,984 to Kongsgaard's $121,588.
After the event, PokerNews conducted a short interview with Chris "BluffMagCV" Vaughn.
PN: Can you tell us about a few key hands that got you to the final table?
CV: I was very fortunate. A large percentage of the field disconnected late and I picked up some pretty big hands in key spots. I got tons of action with A-A twice late in the tournament to really separate myself from the rest of the field.
PN: Tell us about your final-table experience. There were some disconnections?
CV: I just tried to make the best possible decision in every spot. There was one hand that will really stand out, and of course, the big hand early, when I had A-A versus one of the big stack's Q-Q.
PN: How do you feel about winning due to Kongsgaard disconnecting after a few hands of heads up?
CV: I know this is a sensitive issue. In poker, you take advantage of every situation. I realize a lot of people will be upset, but I had nothing to do with his Internet going out. I would expect the same thing to be done to me. Call it greed or whatever, but I wasn't playing this thing to NOT win $200,000. I feel it was the smart poker decision and stand by it. I apologize if it upset anyone. It obviously wasn't personal in any way.
PN: Did you know that it was Soren Kongsgaard, who made the final table of the EPT Grand Final last year?
CV: I was aware it was him and thought he played well. I still felt very confident going in to heads-up play regardless of what happened. There wasn't a point during the final table where I felt that I was not in complete control of the table.
PN: Is this your biggest tournament win? Will we see you in more big Full Tilt events?
CV: Easily my biggest win. I will cash a lot of it out, but still play from time to time. I have a full time job with Bluff Magazine and don't plan on changing that.
Final standings:
1. Chris "BluffMagCV" Vaughn — $197,984
2. Soren "Kongsgaard" Kongsgaard — $121,588
3. tmfd001 — $79,624
4. RGAR18 — $63,484
5. colenel decker — $48,420
6. DutchVinny — $34,647.20
7. JaeMills — $25,286
8. imgrinding — $19,906
9. Gettin Daize — $15,064
PokerStars Sunday Million
PokerStars beat its overlay handily this week, with 6,524 players creating a $1,304,800 prize pool, $187,630.24 for first, and 900 places paid.
This final table was notable for one player who bubbled out: Hevad "RaiNKhAN" Khan, the outspoken 2007 World Series of Poker final tablist. Though he had a lot of chips with two tables to go, a sick beat ended his day in 13th place.
The disconnection problems here began about seven minutes into the final table. kev_unlimit went offline during a hand, and the tournament was paused, allowing him 240 seconds to reconnect. The next time around, he got 240 seconds again, the third time, 120 seconds, and the fourth time, 60 seconds. He failed to reconnect during any of that, but a few hands later, he did finally get back online. Unfortunately, his connection went out again and back in. Next, it was weeminer's turn to go offline, but he came back before his initial 240 seconds were up.
The first player was finally eliminated 27 minutes into the event, when Ivey $00 went all in under the gun and was called by Cardinal7 in middle position, Macknot in the small blind and Keano7 in the big blind. The flop was
. The side pot checked. The turn was
. The side checked again, and the river was
. The side checked a third time, and Macknot took it all with
. Everyone else mucked and Ivey $00 finished in ninth for $8,089.76.
The disconnection roulette landed on Dabe8Gavis this time, but he managed to get back online. Then, it hit weeminer, who also reconnected. Then, Macknot. "I am told there are global Internet problems," said PokerStars manager MgmtStephenW in chat while supervising the event.
Though he managed to go offline and back online at least one more time, kev_unlimit did not manage to stay in the event for long. First, Macknot put in a standard 3x raise, and kev_unlimit re-raised over the top all in. Macknot called with
to kev_unlimit's
. The board was
and kev_unlimit finished in eighth for $13,048.
Next out was Cardinal7, who called Macknot's standard raise. The flop was
. Cardinal7 checked and Macknot bet 1.2 million. Cardinal7 check-raised all in with
and Macknot called with
. The board finished out
and Cardinal7 exited in seventh for $21,529.20.
After that, juice54 shoved under the gun with
and weeminer called with
. The race was on, and the board was
. juice54 finished in sixth for $31,010.40.
Soon after, Keano7 went all in, in the big blind, with only Macknot in the small blind left. Macknot called with
to Keano7's
. The board was
and Keano7 collected $41,884.08 for fifth.
After that, Dabe8Gavis shoved in the cutoff and Macknot called in the big blind. Dabe8Gavis had
to Macknot's
. The board was
and Dabe8Gavis won $54,801.60 for fourth.
Several hands later, Macknot made a standard 3x raise in the small blind and Ghost4476 re-raised over the top all in. Macknot, with a commanding chip lead, called with
to Ghost4476's
. The board came
, giving Ghost4476 $70,328.72 for third.
Heads-up play began with Macknot holding a 4.5-to-1 chip lead. Play would last only a few minutes before Macknot limped on the button and weeminer went all in. Macknot called with the deadly
to weeminer's
. The board was
and Macknot collected the full $187.630.24 for first, leaving $97,729.52 for weeminer in second place.
Final standings:
1. Macknot — $187,630.24
2. weeminer — $97,729.52
3. Ghost4476 — $70,328.72
4. Dabe8Gavis — $54,801.60
5. Keano7 — $41,884.08
6. juice54 — $31,010.40
7. Cardinal7 — $21,529.20
8. kev_unlimit — $13,048.00
9. Ivey $00 — $8,089.76
PartyPoker $300,000 Guaranteed
The PartyPoker event with its European-focused times always finishes much earlier in the day, and managed to avoid any disconnection issues. There were 1,549 players, which beat the overlay, creating a $306,800 prize pool and a scheduled $61,960 for first. The majority of the final table was spent bickering over dealmaking, but there were still several eliminations before that happened.
First out was Ota_SolGryn, who was crippled on a previous hand and was put all in by ihmepaisti. Ota_SolGryn called, saying "gg all". Truer words were never spoken, as Ota_SolGryn turned over
to ihmepaisti's
, with the board showing
. Ota_SolGryn took $2,943.10 for tenth.
Next, StivenG shoved in early position and lenok07 and ihmepaisti both called. The flop was
and the side pots checked. The turn was
and the side pots checked again. The river was
, it went check-check once again, and lenok07 took it all with his
for the rivered straight. ihmepaisti had
and StivenG mucked, finishing in ninth for $4,128.30.
A few hands later, Idealic69 shoved on the button and lenok07 called. Stuart "Zpace_man" Taylor, a well-known online player, re-raised all in, and lenok07 called the re-raise. A three-way all-in ensued, with Zpace_man holding
, lenok07 holding
and Idealic69 with
. The board came
and Zpace_man took it all, leaving Idealic69 in eighth for $5,421.50.
A long period of play punctuated by several attempts at dealmaking ensued, and ihmepaisti eventually decided, though he was on the short stack, that he'd rather gamble and play on rather than deal. So the game continued, and ihmepaisti, with
, called lenok07's all in. lenok07 was holding
. "Here we go," ihmepaisti said, as the board read
. ihmepaisti left in seventh for $8,209.70. Had he agreed to the most recent deal, he would have made $15,838.12.
The remaining players quickly agreed on a chop by chip count. RAMMS888, who took second in this event on September 23, finished sixth here. The tournament was over, giving lenok07 $40,301.44 and the win.
Final standings:
*1. lenok07 — $40,301.44
*2. LooseHope — $30,565.31
*3. peter_AA100 — $27,487.14
*4. Stuart "Zpace_man" Taylor — $22,241.79
*5. Bayernbua — $22,157.62
*6. RAMMS888 — $16,483.92
7. ihmepaisti — $8,209.70
8. Idealic69 — $5,421.50
9. StivenG — $4,128.30
10. Ota_SolGryn $2,943.10
* - reflects the results of a six-way split