The PokerNews Interview: Joe Sebok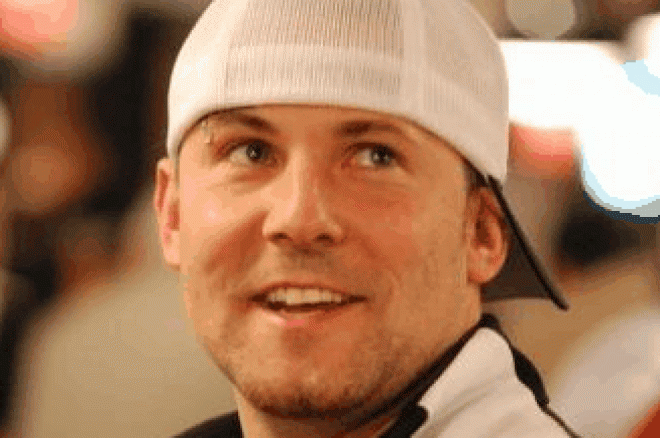 Joe Sebok's house of cards keeps falling down around him. First, he was involved in the poker radio show The Circuit, but the original hosts left after nine months. Then came PokerWire Radio, which just recently went under along with the rest of the site. Not to be deterred, Sebok is bringing back the popular radio show along with old friends Scott Huff, Gavin Smith and Joe Stapleton. Not only that, but he's building a new, ambitious poker multimedia site around it, called The Poker Road, partnering with his father, Barry Greenstein.
Amidst all of that, Sebok continues to cash high in tournaments and is still seeking that big win. While he's waiting for that, perhaps The Poker Road will give the radio show the stability it's always needed. Here now is Sebok's plans for The Poker Road and how he feels about very nearly making a WPT television table – twice.
PN: You were involved with PokerWire's radio show. Tell us how you feel about PokerWire closing.
JS: Honestly, I think that – you could look at it in a couple ways. From a monopoly standpoint, I think it actually weakens the coverage of tournament poker in the United States, definitely. I don't think it's a good thing that CardPlayer, or anyone for that matter, is the only company that covers these tournaments. In a sense, it weakens the competition. I think it was a really cool, healthy competition that came from all these different companies covering these tournaments. Now it's just one, and unfortunately, they don't have that competition to force each other to get better, which is what they had before. It kind of makes me sad. There was some camaraderie there that ended up being a cool thing.
And on another side, it really kind of sucks because I feel that certainly – poker's not big enough. Poker's not Major League Baseball or the National Football League, where it's so popular and so dominating in American society where there's just so much work to go around. I feel in a sense that everyone's fighting over this one pizza. If you will. If you think of poker as a pizza. Everyone's kind of fighting over this one pizza, and CardPlayer's taken this huge chunk out. I just don't think poker is popular enough at this point to sustain everybody. It becomes a situation where we're fighting over this small amount of food. In my mind, if we kept growing poker and everybody fostered it and kept it going, then eventually, hopefully it would be big enough to cut these exclusivity deals. At this point, I feel we're cutting back poker's popularity where we really should be growing it. I'm not at all happy with PokerWire dying and CardPlayer trying to take control of more of the market than they should, in my eyes.
PN: You're starting a new poker site called The Poker Road, with Barry Greenstein. Tell us a little bit about that.
JS: We're so fired up about it. We could not be more excited. I'm working – just as soon as I bust out of whatever tournament's going on, I'm working on The Poker Road, night and day. Basically, what it is, it started out by wanting to give the radio show a home. We've been jerking around the fans when it was The Circuit, then it moved to PokerWire Radio. Obviously, PokerWire went down, so now it doesn't have a home at all. Basically, we started out wanting to give it a home, and now it's gotten to the point where we're trying to create this entire multimedia poker content site around it.
Hopefully, the flagship starting out will be the radio show with Gavin [Smith] and myself. So hopefully we'll be doing that. But really, it's growing. It really has become like a poker radio station as well as poker television. We're going to have a whole host of poker television shows as well as poker radio shows. A whole host of written content. Some audio stuff that's not exactly a radio show. Yet, it kind of connects in with the whole niche. It's really going to be an awesome and cool thing that I think the fans are going to dig and are really going to get into. Hopefully, we're going to get it up in about [two weeks], so hopefully mid-October.
PN: The Legends of Poker event makes two WPT events for you where you finished seventh. Is it just bad luck?
JS: (laughs) You know, it's funny – I think in Los Angeles it was definitely a bit of bad luck. I was able to get into two huge spots. It was a pair versus an overcard, versus an ace each time and I had the ace hit. David Pham hit on the flop and Tom Schneider hit on the turn. That dreaded ace that always seems to poke its head out. In San Jose I think it was a big more of playing too aggressively, and getting myself out there and attacking people when I didn't need to attack them. I guess in one instance it was a bit of bad luck and the other it was a bit of bad play. Certainly combined – you feel a bit snake-bitten when you finish seventh twice. So I'm more than a little unhappy with it!
PN: Are you planning to play the rest of the WPT events this season – try again, see if you can make it this time?
JS: Oh yeah, there's definitely no quit in me. It basically fires me up to get out there, and get out there a little bit harder. It sucks certainly to bubble all of these events – I think two or three final-table bubbles at the World Series last year – it sucks, I'm not going to lie to you, but you just gotta get out there a little more. I'm definitely not going away. I'm not shying away from contact. I'm not planning on not playing any WPTs. So we'll see – I'm sure I have a couple more sevenths in me before the season's out (laughs).
PN: You cashed five times at the World Series of Poker this year. How do you feel about how you did?
JS: You know, the World Series for me this year was – I don't know to describe it. Certainly I performed a lot better than last year. Last year was kind of a barren wasteland. I really never got anything going. This year – in a sense I'm sure a lot of people would have been happy with what I did. I cashed five times. I bubbled two or three other cashes. I final tabled several – an 11th and a 14th. And then in the shootout I finished three off the final table that Daniel Negreanu and Erick Lindgren made.
So you know, I was there, I was competing for these final tables and whatnot, but I wasn't able to come through. So certainly in my eyes at least, it was a bit of a failure. I think in other people's eyes, it was a success. At the end of the day, you count your wins and your final tables, and unfortunately I wasn't able to close on any of those at this World Series. It's still a bit of a missed opportunity in my eyes.
PN: You're in London now. Are you playing in an event today?
JS: Actually, I'm in the Borgata now! I just left London two or three days ago. I'm in the Borgata, played in the main event, wasn't able to get much going there. So now, like I said, I'm working on The Poker Road, trying to get that rolling.
PN: So you played in the WSOP Europe. How did you do there?
JS: I came into the WSOP Europe and I had every chance under the sun in the first two or three levels to build up chips. Unfortunately I think I had too many chances. I think I literally flopped four sets. I think I turned another two sets. And in a pivotal hand, I just wasn't able to get it to hold up. I flopped a set on my opponent and she actually ended up rivering a bigger set. She had two kings. I had her in a really bad spot to pick up a lot of chips, but again, it's been that way for a couple months. I just wasn't able to close out. She got that third king on the river. So I wasn't unhappy with how I played at all. It's just one of those situations where, you have that many hands that early, you're either going to build up a lot of chips, or you're going to be out quick. And (laughs) in my instance, I was out quick, but I wasn't able to get them to hold up, really.
PN: Are you planning to head back out to Europe for any other – there are a lot of international events this year. Are you going to go back out there at all?
JS: I think normally I would. But I think with the site – I hate to keep going back to the site, but I have so much work to do in terms of getting that up and promoting it. I'm kind of fired up about the PokerNews Cup in Australia, and if I can make that trip, I will. But really, it's going to be dictated by what's going on with The Poker Road and what I need to do for that.
PN: Who's involved, as far as contributors to that, besides Gavin Smith, yourself, Barry Greenstein.
JS: Right now it's kind of become anyone who's ever done anything in poker from an entertainment level is kind of into this. Joe Stapleton, who formerly hosted PokerWire Radio. Scott Huff, who before that kind of invented The Circuit and came on and hosted that. Amanda Leatherman, who everybody knows – my girlfriend from PokerWire fame. Also my dad, Barry Greenstein, is going to be involved. It's really going to be a rotating cast of professional players who we get involved in different shows and different projects. The core is going to be those people – Stapleton, Scott Huff and all the people that the public is used to seeing in this poker entertainment light.
PN: Are you going to be doing any shows from a live event, and are you going to be running into any problems with media exclusivity and stuff like that?
JS: I think what we're going to do is have a road team, in that mold of the radio show that Gavin and I have always done. We're going to have a road team that does stuff on site. That way, people can follow what's going on, whether it be the WPT, WSOP, EPT, whatever. We're going to pick a tournament road to follow. We're also going to have a Los Angeles team. There's going to be a team that works at a couple studios in Los Angeles, creating content more from a bigger reporting role – what's going on in the poker world, what comes up, and interesting things on that front. So hopefully we're going to have two. We're going to cover the road, and cover the general world of poker as well.