The PokerNews Interview: Matt Savage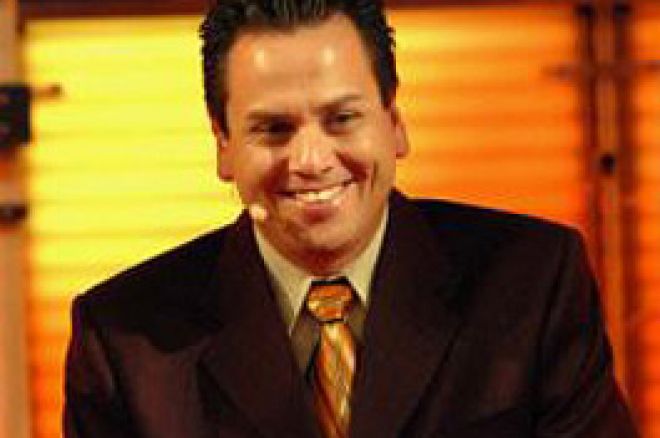 One of the most well-liked and influential poker tournament directors around, Matt Savage has been more places than that guy that sang "I've Been Everywhere." He ran the World Series of Poker for a few years. He's the host of the WPT Bay 101 Shooting Star. He'll be running the UltimateBet Aruba Poker Classic this year. And that's not even including Asia.
Savage's forays into poker in Asia have paved the way for events in multiple Asian countries, such as Macau, Malaysia and Singapore. He's also responsible for standardizing poker rules through the non-profit Tournament Directors Association.
We're not sure when he has time to sleep, but here's what the prolific and trailblazing Savage has been up to and what he is doing next.
PokerNews: You're going to Aruba to run the UltimateBet Aruba Poker Classic tournament. Tell us about some of your expectations for this event.
Matt Savage: I expect the event to attract 400-500 players. Originally, the dealers were going to stay at the Radisson hotel, but since we're getting such a good response, we have had to move all the dealers. So to me, that means we're going to have the whole Radisson filled up with poker players and families. It's a big family poker tournament that goes on every year down there. It's my first year being a part of it, but everyone I know that's been there in the past really loves it and thinks its one of their favorite tournaments of the year.
PN: So a lot of poker players take their whole families and make it kind of like a working vacation kind of thing?
MS: Right, exactly.
PN: And the age limit is different for this than most stateside poker events, is that right?
MS: Yeah, the age limit's 18 years.
PN: So do they normally get a lot of 18-year-old, 19-year-old players?
MS: They get quite a few, you know, from the Internet.
PN: A lot of people qualifying online.
MS: Right, exactly.
PN: Tell us about some of your forays into Malaysia, Macau, Singapore and other parts of Asia, trying to get poker going there.
MS: Trying to get poker global, yeah. In November, we have a three-tournament schedule in Macau. That's going to be at the Grand Waldo Hotel and Resort. It's going to be two 10,000 Hong Kong dollar buy-ins, which is $1,200 US. And then the main event will be a 50,000 Hong Kong dollar, which is $6,400. And then we're going to have a one-table special event for a million dollar buy-in Hong Kong, which is $128,000. And that will be limited to ten players.
PN: Wow. Is that invitation-only, the special table?
MS: It is not invitation-only. We have a couple players we have already contacted about it, and they said they were interested. A couple Asian businessmen were talking about playing in it, so that's exciting. And I think that because of the location being in Macau, and kind of the heart of Asian gambling, I think that we will fill up that table by the time it's all said and done. Not to mention that we'll get a couple of top pros from the United States to make that trip, and play in that tournament, and also to get kind of a feeling of what's going on in Asia and the poker scene over there.
PN: What about some of the other countries?
MS: So from there I go to Malta, and I'm going to be speaking at that players' conference. And then I'm flying directly from there to Malaysia, to the Genting Highlands Hotel and Casino, and we are running two events for their VIP players. One is for their regular members, and then the following event is for their higher-end players. And what that is for is to introduce the game of poker to Malaysia. Now in Malaysia already, all their top management and people, they all love the game of Hold'em. They're really excited to get the game over there. Since this has leaked out a little bit, I've been contacted by quite a few people in Malaysia and Singapore, and they're really interested in coming up and playing in this event. You can get qualified for that event by playing in their casino, and then in 2008, they're talking about having three open events with the main event being in late fourth quarter, '08. It's going to be a huge event where we hope to have up to 1,000 players for that.
PN: What else is on the horizon for you as far as tournament directing?
MS: After I go there and the Christmas holiday, I'll be back in Australia working with Fox Sports Net for the Aussie Millions. Also, I've been contacted by a couple people, one in particular being Egypt. There's a group of casinos there in part of Egypt called Sharm El Sheikh, and we've discussed having not only big-limit cash games, but also having a major tournament there as well. So, kind of excited about that as well.
Also, my normal stop is the Bay 101 – I still have a full-time job there, even though I live in Las Vegas. You know, the Bay 101 Shooting Star I still feel is the best event on the World Poker Tour. It's a different-style event. We have bounties in that tournament, and also in addition to the bounties, we play six-handed on Day 4, which is really exciting. Generally, the best poker fans in the industry are there, and you can ask any top pro and he would say the same thing.
PN: Now, you were the tournament director for the "Mansion PokerDome Challenge," is that correct?
MS: Correct.
PN: Legislation kind of forced Mansion out and eventually led to the end of that. If the legislation improves poker regulations, do you think we could eventually see the return of more offbeat live poker events like the PokerDome?
MS: Definitely. We're all excited about some of the progress that's being made, and I think that if it's allowed and becomes legal in the United States – by legal, I mean regulated. I think that they need to regulate it, and once they do, and find out that they can be making tax dollars from online poker, I think they might bring it back. Once that happens, I think it's going to revitalize televised circuits of poker in the United States.
PN: What do you think about media exclusivity in poker, such as the WSOP-Bluff-PokerNews deal or the WPT-CardPlayer deal?
MS: Troublesome. I think even the people that are involved in it don't like it. When you see Bluff Magazine getting the World Series of Poker exclusively, working with PokerNews on that, it almost forces CardPlayer's hand to go out there and try and get something on their own. And when they lined up the World Poker Tour, I think they did it basically as a defensive move to try and protect themselves from being shut out of all media. That's unfortunate. I think that I'd like to see everybody be able to advertise all events. I know that CardPlayer was kind of mistreated this year at the World Series of Poker as they mistreated others in 2006. They were definitely not allowed to give the kind of coverage that they wanted to give. And others were not allowed to give the kind of coverage that they wanted to give either, because of Bluff's exclusivity. But Bluff, in their defense, they paid a lot of money to have that right, to have that exclusivity, so I can't blame them either.
It is troublesome. Hopefully they think better of it and decide to come to some mutual agreement where they can cross-promote tournaments. I think that the more people promoting these tournaments, the better it is for these tournaments and for poker.
PN: You put together the Tournament Directors Association rules. How has the standardization of poker rules through the TDA been beneficial to poker?
MS: It's definitely been beneficial. When I started it, you could go from casino to casino and get a different ruling on a bunch of different rules. Right now, you go into a casino, you find out they use TDA rules, you know that certain rules are going to be in place. One of the rules they changed this year that I think was really important, was the penalty rule. Now they go to a round instead of by time. People were taking advantage of the old rule the way it was, by stalling or by playing faster. Now, it's pretty standard that you miss a round, and it doesn't matter if you play fast or slow, you're still going to miss that round.
Definitely, the TDA's been helpful for me in knowing that if I run an event, first thing I tell people is that it's going to be TDA rules. So the players know what to expect. The players know that when they come down to play one of my tournaments or a tournament that I'm running, that it's going to be run on TDA rules and they'll know the rules going in. So if you know the rules, you've got one more advantage over every other player, because if you don't know what's going on, and you don't know the rules, you can spend the first couple levels of any tournament figuring out the way they handle their situations.
PN: How often do those rules change, and what's involved in adding to or changing a TDA rule?
MS: It started in 2001, and we met with 25 tournament directors from around the United States, and then the following year we had a meeting in which we had 40 members. And then it was another [five] years before we had a meeting again, which was earlier this year. I sent out invitations for the TDA – it was attended by 120 tournament directors and management people from casinos in the United States and all over the world. People really got on to this. We had a meeting that I thought would be so disorganized because of the amount of people there, went relatively smoothly. People that had certain opinions on rules were willing to bend for the benefit of the group, and I think that was hugely beneficial to the industry. I think going forward – this is the only really solid group of people that have come together. There's no fee for being a part of the TDA; we only ask that you follow the rules of the TDA. I think the fact that it's not-for-profit, and I think that people really care about their casinos and the cardrooms on casino properties, and I think that's why they've become part of the TDA.
PN: How do you feel the WSOP is being run now compared to when you were doing it?
MS: Well (laughs)… Good question. I know Jack Effel, and I know Jack works really hard to try and do things correctly. It's so big now. There's so many different things. My one complaint about them this year is that I don't think they were prepared. In the last year, they should have known what to expect, and going in there were some problems early on, and I don't totally tie that to the tournament director. I don't think that's his fault. Obviously, I felt that – I had a respect level of the players that I don't see anybody else out there, except the top tournament directors like Jack McClelland, Dave Lamb and the like. I think that the respect level wasn't there between the players and the tournament staff. I think that's a big problem.
Obviously I miss being a part of the World Series of Poker. I still think it's the biggest and best tournament in the world, and I think they have to improve, or else the players are going to, maybe one day, stop playing. I don't think they're going to stop playing, but I think they need to make some changes and listen to what the players are saying, yet still maintain the integrity of the World Series of Poker. I think the tradition, also, is very important. A lot of the tradition's been taken away. I like to say that I did a very good job with the World Series of Poker. I was under some difficult conditions myself – working at Binion's Horseshoe, and the size of the property. But I think the years that I was there, I think the players for the most part would agree that the tournaments were professionally run, and more importantly, there was integrity. Everybody was treated the same.