Travis Rice Captures UltimateBet Aruba Poker Classic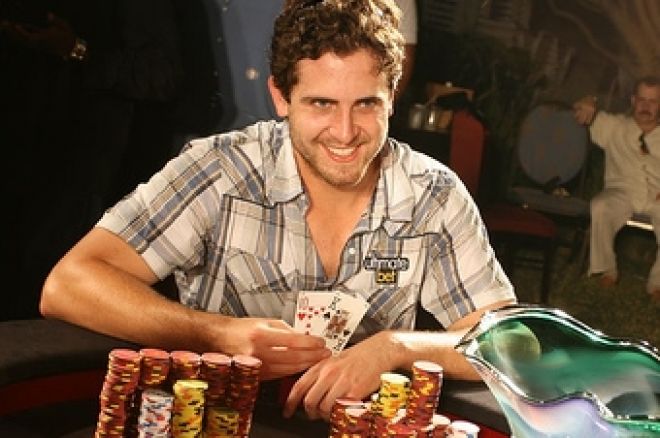 In contrast to the small turnout at the Turks and Caicos WPT event held the previous week, the Ultimate Bet Aruba Poker Classic boasted a field of 546, including top pros such as Phil Hellmuth, Mike Matusow, Freddy Deeb, Annie Duke and Joe Sebok. The fact that the age requirement to play in Aruba is 18 attracted some of the top online players in the world, including Annette "Annette_15" Obrestad, who recently won the World Series of Poker - Europe Main Event.
Obrestad didn't make it past Day 2, and the other big names in the field fell by the wayside as we reached the final table. Perhaps the best-known player among the final six was Travis "TravestyFund" Rice, and the online superstar dominated the final table on his way to the victory and the $800,000 first prize.
Here are the players who made that final table, and their chip counts:
Travis Rice: 1,549,000
Brad Smithson: 1,495,000
James Mordue: 997,000
Nick Blackburn: 949,000
Jordan Rich: 700,000
Jason Gray: 247,000
As with previous Aruba Classics the final table was held outside, and the players had to deal with the heat (both from the sun and the TV lights) as well as a stiff breeze that threatened to blow the cards off the table. After the sun went down it cooled off, but the TV lights attracted swarms of insects, including a gigantic dragonfly that repeatedly buzzed Rice's head.
Jordan "Octavian_C" Rich and Jason Gray both hail from Portland, OR and they actually shared a room in Aruba. They were also the first two players eliminated. During one break Rich said that he couldn't find a rhythm at the table and had lost nearly two-thirds of his stack when he moved all-in with pocket sevens. Smithson called with A-K and when the flop came A-A-K, what was once a race became a rout. Rich won $77,075 for his sixth-place finish.
Gray managed to hang on a good while with his short stack and appeared to have a golden opportunity to double-up when he looked down and found pocket aces. After seeing a 9-8-6 flop with Smithson, Gray check-raised all-in and Smithson made the call with pocket sevens. He had an open-ended straight draw but the seven he spiked on the river made trips and was good enough to crack Gray's aces and send Gray out in fifth place, which was good for $106,310.
It was around this time that Rice won two big hands that put him squarely in the driver's seat. Again, aces played a big role, but this time Brad Smithson was on the wrong side of the equation. Smithson had taken over the chip lead and looked down at pocket rockets, and after he raised Rice made the call with J-8. The J-8-8 flop gave Rice a well-disguised full house and after smooth-calling bets on the flop and turn he moved all in after Smithson bet 600K on the river. Brad called and quickly flipped over his bullets, only to see Rice reveal his boat. That hand crippled Smithson and lifted Rice's stack to 3.3 million.
Rice's other big hand led to the elimination of Nick Blackburn. Running low on chips, Blackburn open-pushed for 320K, and Rice called from the small blind. Jim Mordue folded and Blackburn's K-Q was racing against Rice's pocket fours. The 9-6-4 flop gave Rice a set and sent Mordue leaping out of his chair, as he told the crowd that he'd mucked pocket sixes. Blackburn needed to go runner-runner to survive and when that didn't happen, he was out in fourth-place, winning $146,180.
After being crippled in the big hand with Rice, Smithson doubled up with K-9 against Mordue's pocket sevens, and he kept chipping up until he nearly cracked the million mark. He and Mordue then played a hand where they exchanged a series of raises until all the money was in the middle, and Smithson learned that his A-J was dominated by Mordue's A-K. When the dealer spread the flop the card in the window was a jack, and there was a moment's pause as the dealer separated and spread the damp cards on the felt. What we then learned was that the second card was an ace, and the third was…a king. Both players flopped two pair, but Mordue's kings trumped Smithson's jacks and when he didn't get any help on the turn or river, Smithson was the third-place finisher, taking home $252,490.
Our heads-up battle began after about eight hours of play and with Rice holding 3.5 million in chips and Mordue 1.9 million it might've been a long, drawn-out fight. Instead it was over in just a few hands. Both players endured a lot over the course of the day--the sun, the wind, the bugs--and once they were facing off for the title neither was shy about putting their chips in the middle. In one of their first heads-up hands Rice re-raised Mordue to 235K...and then showed J-3 offsuit after Jim mucked.
That may have planted a seed in both players' minds. Because soon after Mordue again raised to 85,000, and again Rice re-raised to 235K. With the chip lead on the line, Mordue stood up and took a good long look across the table at his opponent.
"I'm all in," Mordue said, sending his remaining 1.3 million into the pot. And that sent Rice into the tank. He'd just shown junk after making the same move, and now here was Mordue pushing back. With what? Did he have the goods, or was this Mordue's way of showing that he wouldn't be pushed around?
"Call," Rice said, and Mordue showed that he did have a big hand –
. Rice reached down and flipped over
. Mordue had Rice dominated and needed to dodge a ten to seize the chip lead.
The 8-4-Q flop helped neither player. But on the turn...a ten. Now it was Rice who held the lead and Mordue who needed a miracle ace or jack on the river to survive. But the river was a King, giving Mordue a meaningless pair, since it also gave Rice two pair --- and the Aruba Poker Classic title (and the $800,000 first prize went to Travis "TravestyFund" Rice. As the runner-up, Mordue's consolation prize was $478,405.