PokerStars EPT Dublin Final Table: Peters Overtakes Obrestad for Win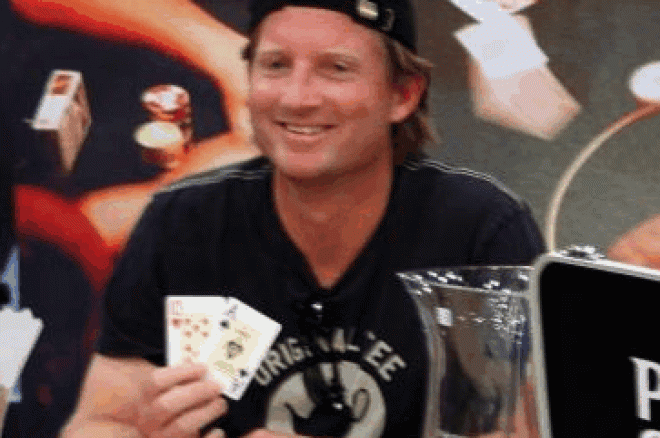 Annette 'Annette_15' Obrestad continued her successful transition from internet poker wunderkind to brick-and-mortar superstar by taking the chip lead into the final table of the PokerStars European Poker Tour Dublin championship, but it was Stars online qualifier Reuben Peters who came from near the bottom of the chip counts to claim the victory at the Royal Dublin Society. Peters captured the €532,620 top prize in a fast-paced final table, which took barely more than four hours from start to finish.
Obrestad was in the catbird seat when the final table started, having sent Andy Black to the rail in tenth place to end Day 3. The seating assignments and chip stacks looked like this as play began at the final table:
Seat 1: Thierry van den Berg, Holland - 274,000
Seat 2: Daan Ruiter, Holland - 646,000
Seat 3: Reuben Peters, USA - 176,000
Seat 4: Annette Obrestad, Norway - 788,000
Seat 5: Anders Pettersson, Sweden - 166,000
Seat 6: Casper Hansen, Denmark - 360,000
Seat 7: Trond Eidsvig, Norway - 184,000
Seat 8: Michael Durrer, Germany - 247,000
Seat 9: Reijo Manninen, Finland - 480,000
Reuben Peters came into the final table employing a 'go big or go home' attitude, and started off the day with a rush, flopping a set of nines on the very first hand and doubling through Casper Hansen. Hansen was the short stack after that hand, and became the first elimination shortly afterwards when he tangled with Annette Obrestad. All the money went in pre-flop with Hansen holding pocket queens to Obrestad's pocket aces, and when Obrestad's aces held up Hansen went to the rail in ninth place (€30,630).
Thierry van den Berg was next to be eliminated, as he picked a bad time to make a move against Daan Ruiter. The board read
, and van den Berg moved all in on the river. Ruiter thought for a long moment before calling, and van den Berg immediately shook Ruiter's hand, knowing that his bluff had been picked off. Ruiter turned over
for trips on the river, and van den Berg's bold move with 8-3 sent him home in eighth (€47,650).
The vast majority of Michael Durrer's chips went to Trond Eidsvig in an earlier hand, but it was Obrestad who finished Durrer off. With an extremely short stack, Durrer shoved all in with
and Obrestad called with
. No help came on the board for Durrer, and he was eliminated in seventh place (€66,370).
Anders Pettersson became the fourth person eliminated in the first hour of the final table when he got his last chips in pre-flop with Q-7 and found a caller in Trond Eidsvig with A-4. The board of 2-K-4-10-2 gave Eidsvig two pair with an ace kicker, and gave Pettersson sixth place and €83,380.
Daan Ruiter doubled up Reijo Manninen when he ran A-K into Manninen's pocket aces, then ran A-10 into Obrestad's A-J soon after. Obrestad was in a dominant position over Ruiter when the money went in pre-flop, and the
flop left him needing to draw very thin on the turn and river, especially since Obrestad held the
. When the
came on the turn, Ruiter was drawing dead, and he picked up €105,510 for his fifth-place finish.
Rueben Peters bucked a trend when he got all his chips in against Obrestad and survived, putting the last of his chips in the middle with
against Obrestad's A-K. The flop of
gave Peters a myriad of outs, but the
on the turn was not one of them. A queen on the river was, however, and it doubled him up and put him back into contention for the tournament.
Obrestad's string of good cards and good play continued when she and Trond Eidsvig tangled. Eidsvig moved all in pref-lop with pocket jacks, and Obrestad made the call with pocket aces. Her aces held up to eliminate Eidsvig, the second time at the final table she eliminated an opponent with the hand. Eidsvig earned €127,630 for his fourth-place finish.
After Eidsvig's elimination, the remaining chip counts were:
Annette Obrestad — 3,025,000
Reijo Manninen — 280,000
Reuben Peters — 700,000
In a battle of the generations, the youngest player at the final table (Obrestad, 19) then eliminated the oldest player at the table (Reijo Manninen, 47). Manninen moved his short stack all in pre-flop with A-J, and Obrestad made the call with
. In a rarity for the final table, Obrestad was behind when all the money went in, but she hit a three on the turn to send Manninen to the rail in third place for €178,680.
Obrestad took a big chip lead into heads-up play, but Reuben Peters doubled up early, then chipped away at her stack until he finally had a slight chip lead. With the edge in chips, Peters raised pre-flop and was re-raised by Obrestad. Peters smooth-called the reraise to see a flop of 10c-6h-3d. Obrestad led out with a big bet, and Peters moved all in. After a long time to think, Obrestad made the call and turned over
for second pair. Peters showed
for top pair, top kicker, and the lead. The turn and river came down
, and after some double-checking of the chip stacks, it became apparent that Petes, a stock trader from Colorado, had Obrestad covered and had just claimed his first European Poker Tour victory and the €532,620 top prize. Obrestad added €297,800 and an EPT runner-up title to her already impressive list of 2007 accomplishments.
Final-table results:
1. Reuben Peters — €532,620
2. Annette Obrestad — €297,800
3. Reijo Manninen — €178,680
4. Trond Eidsvig — €127,630
5. Daan Ruiter — €105,510
6. Anders Pettersson — €83,380
7. Michael Durrer — €66,370
8. Thierry van den Berg — €47,650
9. Casper Hansen — €30,630