Don't Eat That Chip: AZ Warns of High Lead Content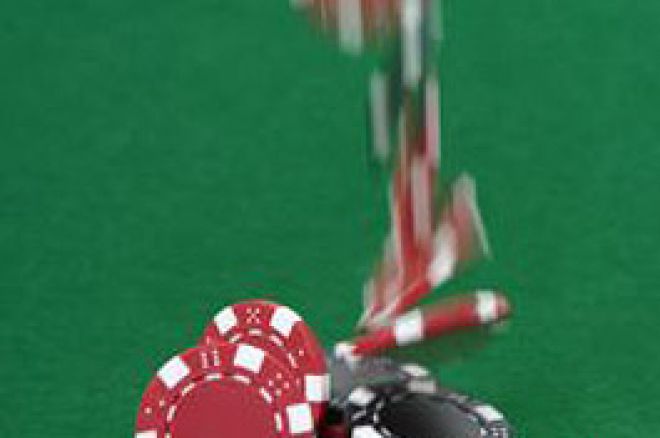 The Arizona Department of Health Services issued an alert on November 8, 2007 warning that poker chips may contain dangerous levels of lead. The alert was issued after independent lab testing commissioned by ABC affiliate KNXV-TV found high levels of lead in Paulson brand chips, used in many of the major casinos and sold to retail consumers.
The station had 200 poker chips tested and swabs showed all had levels of surface lead levels exceeding the EPA limit of 0.06 percent. More than half of the chips tested maxed out the swab's 10 percent threshold limit. A more comprehensive test was performed on 45 chips for total lead and all the chips tested positive, with the lowest having four times the EPA limit. One chip used at a Las Vegas casino containing 45 percent total lead or 750 times the limit.
Will Humble, former head of Arizona's state's lead poisoning prevention program reviewed the data and said, "If you were to take chips like these and spread them out, 1000 of them on the ground, essentially it would be a federal Superfund site. That's how much lead [is] in these things. I've been doing this for many, many years and seldom do we run across products that contain this much lead that are in people's homes."
Officials with the company that makes and distributes Paulson chips, Gaming Partners International Corp. in Las Vegas, declined to be interviewed by the TV station. Chief Executive Gerard Charlier issued a statement saying it objected to any implication its chips could pose a health hazard when used as designed.
On November 7, 2007, Gerard P. Charlier, President and Chief Executive Officer, issued the following statement on behalf of Gaming Partners International Corporation:
GPI has manufactured gaming chips for use in casinos and card rooms for 85 years and has always operated in a responsible manner and we respectfully object to any implication or statement that our gaming chips may pose any health risk when used in their intended manner. As a matter of fact, we are not aware of a single reported case of lead poisoning resulting from the use of a gaming chip.

Although testing has proven the presence of lead in the chips, the mere presence of lead is not sufficient to conclude that there is a health risk. In fact, independent testing has also demonstrated that the simple handling of these chips would not produce any risk of health concerns to the consumer nor to the environment. The results that ABC15 has advertised in its promotion of the broadcast came from a laboratory destruction of the chip and not the intended consumer use.

During the past decade, we have reformulated the composition of materials to reduce lead levels in our chips. Our latest chips have only trace amounts of lead well below even the strictest applicable safety standards.
Although the Arizona Health Department of Health Services is conducting its own tests, it the released the alert "because of the potential exposure to the most vulnerable population, the children of families that currently have this product in their homes. There is also a potential for the dealers to expose their families, specifically children, to this lead hazard."