The Year in Poker: April, 2007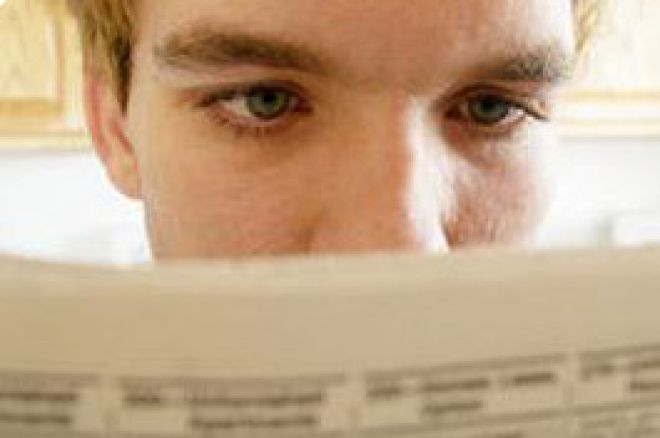 April in poker was a month dominated by events on the business and legal scene, with one important exception: Gavin Griffin collected over $2.4 million by taking down the PokerStars.net EPT Season 3 Grand Finale. Elsewhere, the acquisition of an American gambling giant and a proposed countermeasure to the UIGEA kept the news days busy in the poker world:
Gavin Griffin Wins EPT Finale — The largest tournament in Season 3 of the PokerStars.net European Poker Tour was, of course, its Grand Finale in Monte Carlo. For the second straight year, an American walked away with the tital in the €10,000-buyin championship, with the winner here being a young, pink-haired Gavin Griffin. Griffin outlasted 705 other players to claim the €1,825,010 winner's prize, or $2,429,103 at that day's rate of exchange. Marc Karam finished in second, collecting €1,061,820 ($1,413,291). Griffin sported a bright pink hairdo throughout the festivities; he does charity work to benefit breast-cancer research, as his girlfriend was a recent survivor of the disease.
Harrah's Sold to Private Investment Groups — One of the largest developments on the business side of poker was the planned acquisition of World Series of Poker parent Harrah's Entertainment by two private equity firms, Apollo Management and Texas Pacific Group. The deal, when finally complete, will take Harrah's into private ownership, though the offer had to be agreed to by both Harrah's shareholders and regulatory agencies. In April, two-thirds of Harrah's stockholders voted in favor of the deal, accepting the equity firms' $90/share buyout offer.
Congressman Frank Proposes IGREA — One of the most outspoken critics of the U.S.'s late-2006 passage of the Unlawful Internet Gambling Enforcement Act (UIGEA) turned out to be liberal Massachusetts Congressman Barney Frank. The powerful Frank publicly vilified the act as an attack on personal civil liberties and announced in April that he would be introducing legislation to overturn the UIGEA, with his proposal eventually named the Internet Gambling Enforcement and Regulation Act (IGREA), which would seek to establish a proper U.S. regulatory framework for online gambling. Frank's bill remains a work in process, as he continues to slowly build support for a UIGEA repeal. As the year neared its close, Frank's proposed IGREA legislation had accumulated 45 Congressional co-sponsors. Frank, though, noted that he saw no reason for a special carve-out for poker as a game of skill.
BETonSports' Kaplan Detained, Extradited to U.S. — The curious and troubled tale of online bookmaker BETonSports (which included its online poker room, BOSPoker) and its founder, Gary Kaplan, garnered headlines in March when Kaplan surrendered to authorities in the Dominican Republic. Kaplan, a U.S. citizen wanted on an outstanding federal warrant, was quickly extradited to America, via Puerto Rico, to face charges in a St. Louis federal court. Kaplan was named in 22 counts of alleged racketeering and fraud in connection with the BoS bookmaking business, and was joined in custody with BoS official David Carruthers, who was seized from an airplane and who was also named in the indictment. Kaplan continues to mount a strident defense against the charges.
YouTeller Not Our Online Teller After All — Among the curious happenings of the month was the brief hubbub surrounding YouTeller, a UK-based firm which was briefly touted as being the 'next NETeller'. YouTeller, though, proved to be far too small to be seriously considered as a viable online-payment alternative, and from there the news got worse: NETeller assailed the small company for its use of the 'Teller' handle, which resulted in the parent company of the planned 'YouTeller' to reconsider its plans to enter the market. Ultimately, YouTeller was only a blip on the radar, leaving the future of online-payment processing in the same turbulent waters as before.
Online 'Second Life' Universe in Online-Gambling Difficulties — New Jersey-based Linden Labs had created an Internet sensation with its 'Second Life' online universe, where millions of member players enjoyed virtual existences paid for with very real money. Trouble arose when the U.S. government caught wind that virtual casinos were part of the Second Life universe, and while the Linden Dollars used were also virtual, they could be exchanged elsewhere for very real dollars. Over the next three months, Linden Labs excised all gambling from the Second Life online world, leaving it as a somewhat sanitized emulation of real life, at that.