PokerStars.net EPT Prague, Final Table: Backgammon Champ Mattern Triumphs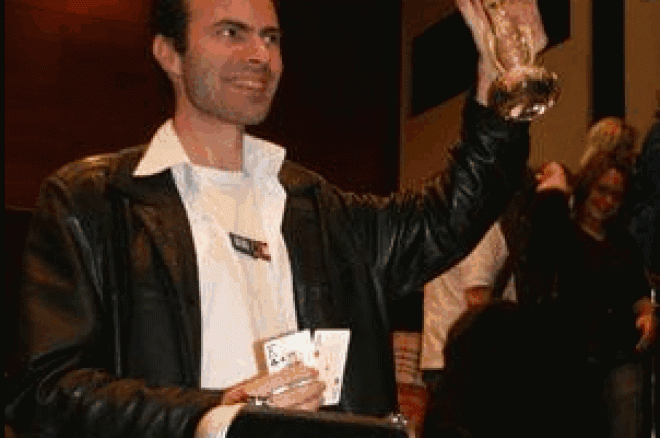 Out of more than 500 total entrants into the inaugural PokerStars.net European Poker Tour Prague Main Event, it was French backgammon master Arnaud Mattern who emerged victorious, claiming €708,400 in his first-ever EPT cash. Mattern started the final table second in chips to Mikael Norinder, but picked his spots carefully throughout the day to finally defeat Gino Alacqua heads-up for the title.
As the final table kicked off, Norinder had the chip lead. The Swedish poker pro logged his first EPT cash in this event, and had over a million chips as the final table began. Here were the starting chip stacks and seat assignments:
Mikael Norinder: 1,036,000 (Seat 5)
Arnaud Mattern: 980,000 (Seat 9)
Dag Palovic: 759,000 (Seat 7)
Kristian Kjondal: 740,000 (Seat 2)
Gino Alacqua 660,000 (Seat 3)
Juha Lauttamus: 567,000 (Seat 1)
Markus Golser: 352,000 (Seat 4)
Johannes Strassmann: 245,000 (Seat 8)
Nedzib Suman 216,000 (Seat 6)
Norinder started the day as a chip leader should, taking out one of the short stacks. His victim was Johannes Strassmann, who went all in over the top of Norinder's preflop raise. Norinder called instantly, and tabled
to Strassman's
. No deuce appeared on the board, and Strassmann collected €39,200 for his ninth-place finish.
In a rapid reversal of fortune, it was Norinder who busted in eighth place after getting into a huge hand with eventual champion Mattern. Kristian Kjondal raised preflop and Norinder called from middle position. Mattern re-raised from the small blind, and Kjondal folded. Norinder then made a betting mistake that may have cost him his shot at the tournament. Norinder put out chips intending to call, but without making any verbal declaration. He accidentally put out more than 50% too many chips, and the ruling was made that he had to make at least a minimum raise. Norinder put out enough chips for his min-raise and Mattern instantly moved all in. After the bet was counted out, Norinder made the call.
Mattern tabled his pocket kings and Norinder was drawing thin with the
. The board ran out
, and Norinder was crippled as Mattern stacked nearly half the chips in play. Norinder was eliminated mere moments later when he pushed all in with
and found a caller in Kristian Kjondal with
. Kjondal picked up an ace on the turn and Norinder went from chip leader to out in eighth place (€63,200) in almost no time at all.
Dag Palovic was eliminated next when he got the last of his chips in the middle against Kjondal. Palovic went all in over the top of Kjondal's preflop raise with
and Kjondal called with
. No help came for Palovic, and he collected €93,600 for his seventh-place finish. Nedzib Suman was next to fall when his
couldn't improve against Juha Lauttamus' pocket sevens. He busted in sixth place for €119,000.
Short-stacked Markus Golser departed next in a big confrontation with Juha Lauttamus, shoving all in on the flop of
with a flush draw (
). Lauttamus called with
for top pair, and when no king or spade came for Golser, he was eliminated in fifth place (€151,800). Lauttamus, though, was next to fall when he pushed his still short stack in from the button with
. Gino Alacqua called with
. Alacqua caught a four on the flop to bust Lauttamus in fourth place (€182,200).
Three-handed play lasted for roughly an hour before Kjondal got all his chips in the middle against Alacqua on a flop of
. Kjondal revealed
for the open-ended straight draw and Alacqua tabled
for top pair. The
on the turn brought no help for Kjondal and the
on the river sent the young Norwegian to the cage to collect his €235,300 for third place.
Mattern and Alacqua went to heads up play with Alacqua better than a 2:1 chip leader, and Mattern had to pick his spots to put chips in the pot. It took almost an hour before Mattern doubled through Alacqua when his pocket jacks held up against Alacqua's
. It was a mere fifteen minutes later when all the chips went in the middle as Mattern raised preflop with
and Alacqua moved all in over the top with
. Mattern called instantly and the
flop gave a flush draw to Alacqua. The turn brought the
, and the
on the river busted Alacqua as the runner-up (€407,300).
With the pot, Arnaud Mattern took down the inaugural PokerStars.net EPT Prague championship and the €708,400 first-place prize, adding to an impressive resume which includes the French Backgammon Championship and the 2005 Gutshot Poker Master tournament. Mattern's victory in the EPT Prague was not only his first EPT cash, but his largest poker cash to date.