Women's Poker Spotlight: Debbie Burkhead – Livin' and Lovin' Poker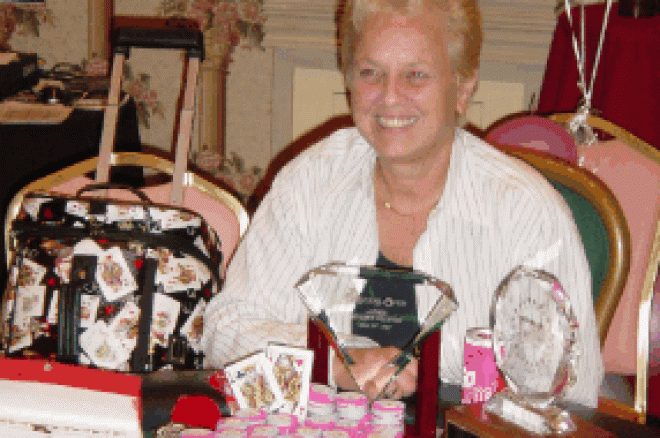 Chances are you've probably played poker with Debbie Burkhead sometime in your poker career if you play and follow the circuit at all. You may not recognize the name but you will remember the face as she probably knocked you out of a satellite or tournament.
Debbie moved to Las Vegas in 1995 to follow her dreams of becoming a poker pro specializing in stud poker. She knew she was good and could make a comfortable living at something she enjoyed. Planting herself firming in the cash game at the Mirage, she began to build her bankroll and lifestyle around her winnings in the $15/30 7-card stud game. Once the game moved to the Bellagio, Debbie continued to play. The grind of having to play everyday eventually took its toll on Debbie and after five years she realized that it no longer was fun and had become a real job. She knew it was time to look for something else in poker to make a living. In the interim, she took a short-term turn driving a cab to pay the bills. As luck would have it, she was offered a job with Poker Digest which grew into another job as assistant editor. As newer and bigger poker publications grew with the boom of poker, Poker Digest became a casualty when it was laer bought out by publication mogul Barry Shulman. Debbie's luck held, though, when she made the move from the buy-out to being a sales rep and writer for Poker Player Magazine, where she works today.
With her livelihood secured by a position with a poker publication, it was time to get back into tournament poker, her first love. The pressure of not having to make the money for basic living needs again allowed Debbie to feel the enjoyment that poker has to offer.
Debbie has played in the WSOP Main Event five times. In the 1998 event where Scotty Nguyen won the bracelet, Debbie was the closest she would ever be to making the money and a final table in the Main Event. Finishing 33rd, just short of the 27-player money bubble, Debbie still felt a feeling of accomplishment to have gotten that far out of 350 players. Of course today, Debbie would have been a near miss of being a millionaire with the huge Main Event prize pools.
Over the years Debbie has managed to amass quite an impressive list of poker accomplishments and cashes. She plays tournaments that have a comfortable buy-in, usually under $1,000, and often wins her seat through satellites. Her lifetime earnings stand at over $145,000, not bad for a retired cash player who plays only for the love of poker.
Some of Debbie's most recent wins include the 2007 Orleans Open Ladies event sponsored by the LIPSTour. With this win, Debbie became the LIPSTour Grand Champion of 2007 and took home the first-place cash prize of $22,890. That same month Debbie played in several WSOP events. Cashing in the $1,500 NL 6-Handed event, she finished in 29th place for $8,960. In March of 2007 Debbie tried her luck in Reno at the Peppermill Spring Tournament. She went on a rush, placing first in the HORSE event, first in the NL main event and second in the Omaha Eight-or-Better event. The windfall netted her over $20,000. Not a bad take on a series of low buy-in events!
Debbie's luck did run out in October of this year when she suffered a near fatal heart attack. Since that time she has rallied herself and looks at life through new eyes. When I asked Debbie about her outlook on her poker career now she said, "I realize how precious life can be, I've made some changes in my lifestyle and plan to play more poker and enjoy life as a whole. I see so many poker players who do not take care of themselves. This sport doesn't include the conditioning that other professional athletes require for their sport. But with that said, poker does require proper eating, plenty of rest and a good mental state. I plan to live a long time and hopefully attain my goal of winning a World Series of Poker bracelet before I leave this world."
Debbie is one of my best friends. I know her determination and admire her poker prowess tremendously, and I'll be sitting in the stands when she wins that bracelet!