Women's Poker Spotlight: Dianna Donofrio - Behind the Poker Curtains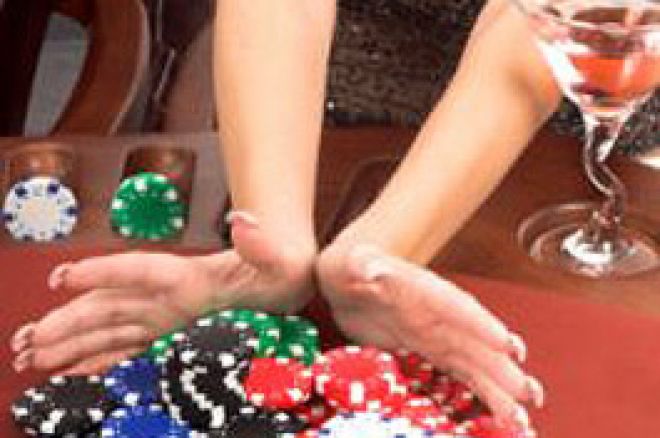 Who is Dianna Donofrio? I asked this question a few years ago when I kept hearing her name. Then, when I was finally introduced to her, I recognized her as one of the many staff that runs around the World Series of Poker, frantically doing their jobs and making the event as successful as possible.
I first met Dianna at a large party held during the 2006 WSOP. As I sat down at the bar to relax and have a drink, this excited and friendly lady introduced herself to me. It was Dianna. As she explained to me that she was looking for another person to work the payout table at the WSOP, it dawned on me that I had a girlfriend who fit her needs. I made a call, my friend flew to Vegas, and Dianna and I became quick friends.
Dianna Donofrio moved from Indiana to California almost 25 years ago. Her excellence in public relations and marketing landed her a job at the Bicycle Club, where she became the Special Projects Manager for two years. One of the most popular poker tournaments today, the Legends of Poker, was her first project.
Her popularity grew, and soon she found herself making yet another move to expand the satellite tournament program at the Commerce Casino. At the Commerce, Dianna perfected her poker techniques and tournament procedures under the watchful eye of Jack McClelland. Still looking for that ticket to Las Vegas poker rooms, her opportunity came two years later when she was offered a position at the Four Queens, as the satellite director, for two years running, of the Four Queens Classic. As luck would have it, each opportunity opened another door for Dianna. Her friendly demeanor and ability to relate to the poker players drew the attention of other organizers. As a result, she enjoyed various positions with poker rooms and Las Vegas casinos for the next 12 years, including working with Jack McClelland once again as the satellite director for the WSOP at Binions for over ten years.
In 2005 Robert Daily, World Series of Poker Tournament Director, asked Dianna to join the staff as the Satellite Director. The following year she was invited back to serve once again as the WSOP's Payout Manager. In this position Dianna, perfected her cost-cutting skills. She exceeded management's expectations by developing and implementing a new payout manual and procedures system for the WSOP.
In 2007, Daily retired from the World Series of Poker and Harrah's Entertainment to follow a new venture at DG Holdings. It wasn't long before he reached out to Dianna once again to offer her a position within his new company. Her present position as Director of Public Relations for DG Holdings, Ltd. has proven to be a challenge that she both excels at and enjoys. Beside her fulltime position there, she also participates in many charity events, giving back to the community. In the past she has worked as the Co-Chair for the Jennifer Harman Charity Poker Tournament for the SPCA in Las Vegas, the Nancy Cartwright Charity Event in 2007, and most recently, the Tournament Coordinator position for the upcoming Montel Williams MS Gala & Charity Poker Tournament in New York City on March 13th. Her tireless efforts in poker seem to go on and on.
You may not recognize the name Dianna Donofrio, but I'm sure you've run into her working hard behind the curtains at some poker tournament. Here's to you, Dianna! Your hard work hasn't gone unnoticed.