PokerStars.com EPT Monte Carlo: Glen Chorny Wins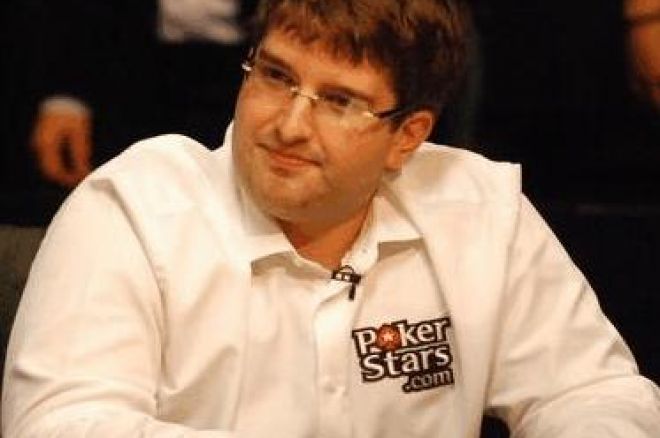 Canadian Glen Chorny was the chip leader going in to and coming out of the final day of play at the PokerStars.com European Poker Tour Grand Final in Monte Carlo. Chorny won an astounding $3,198,500 after eliminating Denes Kalo in heads-up play.
The day started two hours early as Day 4 was unable to get down to its final table of eight within a reasonable time. The chip counts at the beginning of the final day's action were:
Glen Chorny, Canada - 3,370,000
Isaac Baron, USA - 2,365,000
Michael Martin, USA - 1,579,000
Maxime Villemure, Canada - 1,220,000
Denes Kalo, Hungary - 957,000
Antonio Esfandiari, USA - 735,000
Luca Pagano, Italy - 705,000
Valeriy Ilikyan, Russia - 650,000
Stig Top Rasmussen, Denmark - 590,000
Henrik Gwinner, Denmark - 466,000
Within the first 20 minutes of play, it was Stig Top Rasmussen that would be the first to be eliminated in tenth place in an unusual set of circumstances. The action folded to Michael Martin on the button, who opened for 70,000 chips. Valeriy Ilikyan in the small blind was yet to act when Rasmussen in the big blind declared he was all-in. The tournament director was called over and ruled that Rasmussen's verbal action was binding and Ilikyan still had the option to act. Ilikyan called Rasmussen's all-in as Martin stepped aside. It was Rasmussen's pocket tens against Ilikyan's pocket jacks. The board preserved the status quo and Rasmussen consoled himself with $199,533.
Next, short-stacked Henrik Gwinner open-shoved on the button and Isaac Baron in the big blind asked for a count. Baron finally called showing
which dominated Gwinner's
. An ace came on the board but with nothing else that could help Gwinner. Gwinner took home $199,533 for ninth place. This set the official eight-player televised final table, with seats and chip counts as follows:
Seat 1: Denes Kalo 1,119,000
Seat 2: Michael Martin 1,320,000
Seat 3: Luca Pagano 688,000
Seat 4: Valeriy Ilikyan 1,396,000
Seat 5: Antonio Esfandiari 501,000
Seat 6: Maxime Villemure 1,206,000
Seat 7: Glen Chorny 3,613,000
Seat 8: Isaac Baron 2,853,000
As the final table's start time approached, there was a lot of speculation about whether an American would win the EPT Grand Final for the fourth time in a row. There were three Americans in contention, but the first elimination of the final table would only leave two. Antonio Esfandiari re-raised all in following Luca Pagano's button raise. Pagano called with
and Esfandiari's A-8 was dominated. It only got worse for Esfandiari when the flop delivered a Broadway straight for Pagano. Esfandiari was unable to conjure a remaining jack for the chop and he was eliminated in eighth place, winning $266,004.
In frenetic pre-flop action that eventually put all the chips in the middle, Valeriy Ilikyan's
was up against Michael Martin's
. Ilikyan, a Russian father of three, was unable to improve and finished in seventh place with $400,590. Luca Pagano would go out in sixth place when his
failed to improve against Denes Kalo's pocket queens. Pagano's $533,601 represents his ninth and largest, to date, money finish in an EPT event.
Michael Martin finished two off the money in this event last year. This year he took home $666,606 for fifth place. All the money went in on a flop of
with Martin holding
. Unfortunately for Martin, Chorny was holding pocket jacks which held up through the turn and river. The American winning streak at the EPT Grand Final officially came to an end when Isaac "westmenloAA" Baron ran his
up against Glen Chorny's pocket aces, and finished with $932,692, rather more than the former journalism major would have received for writing about the event, should he have chosen that path.
Maxime Villemure went out in third place when Chorny slow-played a turned Broadway straight and Villemure was unfortunate to enough catch a lower straight on the river. Villemure had been battling the flu for most of the event, but $1,132,107 just might be the curative power the young Canadian needed.
Chorny had a daunting 10-to-1 chip advantage against heads-up opponent Denes Kalo when the final matchup was reached. Not surprisingly, heads-up play lasted exactly two hands. Kalo took his
up against Chorny's
. The board came
and Kalo finished in second place for $1,866,790.
Canadian Chorny, who qualified to the EPT Grand Final by playing PokerStars' Steps satellites for $700, parlayed that qualifying win into a $3,198,500 first-place payday.