PokerStars.com EPT Monte Carlo, Day 3: Esfandiari Moves to Front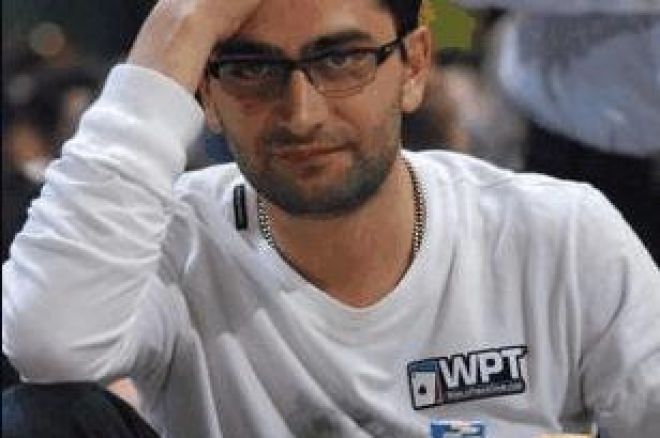 With four hours left to Day 3 of the PokerStars.com European Poker Tour Grand Final in Monte Carlo, Antonio Esfandiari pulled ahead of the field by dragging the biggest pot of the day. Mark Keightley opened for 14,000, Esfandiari raised to 40,000, and Keightley thought for a moment before he re-raised all in. Esfandiari instantly called, flashed his
, jumped up on a chair, and announced to the room that he was in a pot worth over 600,000. Keightley's
never caught up and Esfandiari never looked back.
Halfway through the day, the money bubble broke when Surinder Sunar's pocket jacks lost out to Ricardo Sousa's
when a queen hit the board on the flop. When the bubble burst, Luca and Claudio Pagaono became the first father and son duo to cash in an EPT event. Luca simultaneously broke the record for most EPT cashes, as this now made his ninth. Day 3 continued to play deep into the money, leaving only 39 players remaining when the cards came to a halt.
Early in the day, Joe Hachem and Woody Deck had an altercation. Deck who was not in the hand in question, took issue when Hachem didn't show his mucked cards after a hand. Security apparently was called in to break up the escalating debate. If Hachem was looking for revenge, he got it by outlasting Deck today. Deck finished in 52nd place when he took his pocket queens all in on a flop of
only to discover his opponent had
. An hour later, a short-stacked Hachem pushed all in with pocket jacks and was met by Jonathan Dwek's pocket sevens. When a seven flopped, Hachem turned away from the table. Luckily he looked back just in time to see a jack fall on the turn. "Yeah! There's your seven ball," exclaimed Hachem, getting a much needed double-up to make it through the day.
Johnny Lodden, who started the day second in chips, was able to end the day among the chip leaders. Other familiar names returning for Day 4 include 2007 WSOP final tablist, Raymond Rahme, Freddy Deeb, and 2007 WSOP Europe final tablist Oyvind Riisem, and Luca and Claudio Pagano. Join the PokerNews reporting team at 1:00 pm local time when Day 4 gets underway.
Remaining Players and Official Chip Counts:
Antonio Esfandiari – 1,198,000
Robin Keston – 916,000
Denes Kalo – 642,000
Johnny Lodden – 623,000
Maxime Villemure – 600,000
Mostafa Belkhayate – 523,000
Gerasimos Deres – 494,500
Henrik Gwinner – 487,000
David Shade Kruger – 486,500
Thomas Boekhoff – 465,000
Rami Boukai – 425,000
Eric Liu – 398,000
Noah Siegel – 388,500
Stig Top Rasmussen – 373,000
Glen Chorny – 344,000
Oyvind Riisem – 340,000
Pablo Ubierna – 316,000
Peter Traply – 300,500
Valeriy Ilikyan – 295,000
Claudio Pagano – 291,000
Jonathan Dwek – 282,000
Luca Pagano – 279,500
Amit Makhija – 269,500
David Miara – 249,500
Isaac 'westmenloAA' Baron – 236,500
Joe Hachem – 214,500
Michael Martin – 141,500
Freddy Deeb – 140,500
Alexander Morozov – 133,000
Raymond Rahme – 133,000
Walid Bou Habib – 127,500
Benjamin Sprengers – 127,000
Anders Hoyer Berg – 124,000
Andrew Luetchford – 116,000
Vincent Secher – 92,500
Anthony Chatelain – 83,500
Tomas Brolin – 74,000
Andreas Fluri – 61,000
Stefan Geim – 58,000
Preliminary List of Day 3 Money Finishers:
$53,372:
46. Martin Milkai Rask
47. Borge Dypvik
48. Andreas Hagen
$46,548:
49. Mark Keightley
50. Benjamino Speroni
51. Gordon Vayo
52. Woody Deck
53. Ricardo Sousa
54. Domenico Tinnirello
55. Kari Somer
$39,898:
57. Sami-Pekka Ovaskanen
58. Massou Cohen
59. Matthew Kurtz
60. Cyril Bensoussan
61. Brian Green
62. Kalil Rahal
63. Clayton Maguire
64. Nikolaus Panopoulas
$33.240:
65. James Campbell
66. Giovanni Nervo
67. Jan Heitmann
68. George Lind III
69. Tom Ahlberg
70. Ian Prevost
71. Torbjorn Jonson
72. Giovanni Bigoni
$26,908:
73. Morten Lokken
74. Tommi Horkko
75. Benjamin Kang
76. William Martin
77. Sean Bruder
78. Felipe Ramos
79. Ed de Haas
80. Trond Erik Eidsvig