2008 WSOP Event #12 $1,500 Limit Hold'em: Jimmy Shultz Takes It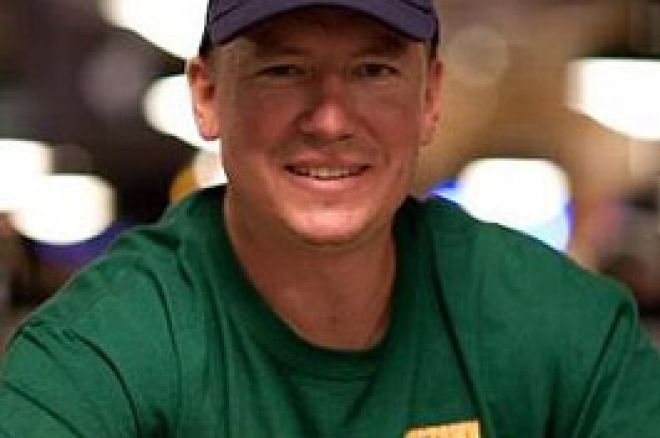 Day 3 of Event #12, $1,500 Limit Hold'em started off with 18 players on two tables. The field had plenty of flair, with Vinny Vinh starting the day as the chip leader, and Erick Lindgren, fresh off his bracelet win in Event #4. European pro Markus Golser and Ali Eslami were also in the field, which promised to be interesting with the ever-colorful Vinh in the field.
None of the biggest names, however, came through for the win. After three grueling days of poker, Jimmy Shultz eliminated Zac Fellows heads-up for the bracelet and the $257,105 first-place prize money. Heads-up play concluded after nearly two hours, following a lengthy day's work to get to the final showdown.
After a marathon Day 2, which is becoming the norm on the limit events this year, the final two tables returned for Day 3. It only took one hand to thin the field even further, as Arash Beral went down on hand #1. All his chips went in preflop, and he was against two live hands in Ali Eslami and Markus Golser. Golser bet out on the
flop, and Eslami folded. Golser tabled
, and Beral revealed
. No help on the turn or river for Beral, and he was gone in 18th place ($8,768).
The final table was set in relatively short order, with Erick Lindgren busting in 10th place ($14,774). Lindgren was pot-committed after posting his big blind, so he quickly called Markus Golser's preflop raise with
. Golser's pocket kings held up on a board of
, and Lindgren was busted.
The seating arrangements looked like this once the final table was set:
1. Vinny Vinh
2. Teddy 'Iceman' Monroe
3. Markus Golser
4. Ali Eslami
5. Brendan Taylor
6. Jimmy Shultz
7. Chung Law
8. Christoph Niesert
9. Zac Fellows
Almost immediately after the final table was set, Chung Law re-raised Jimmy Shultz preflop, then called all in with
. Shultz tabled pocket jacks, and Law was drawing thin. The board ran out
, and Law was finished in ninth place ($23,423).
Christoph Niesert was next to fall when he got the last of his chips in preflop and was called by both Jimmy Shultz and Zac Fellows. The board came down
, and Fellows showed
. Niesert and Schultz mucked, and Niesert picked up $32,432 for eighth place.
Ali Eslami came back form a break to lose two hands in quick succession that ended with him walking away in seventh place ($41,441). Eslami led out for most of his remaining chips on a flop of
, then quickly called Jimmy Shultz' raise with
. Shultz turned over
, and caught the
on the turn to end Eslami's tournament.
Next, European pro Markus Golser headed to the rail in sixth place ($53,453) at the hands of Shultz when he put his last chips in on a flop of
. Shultz called with
for bottom pair, but was well ahead of Golser's
. No help on the turn or river for Golser, and he was eliminated.
Teddy "Iceman" Monroe came into Day 3 as one of the shortest stacks, but navigated the treacherous field to make it all the way to fifth place before busting. After some confusion with blinds and raises preflop, Monroe was all in with Shultz and Brendan Taylor along for the ride. Taylor and Shultz checked the board of
, and Taylor folded to Shultz's river bet. Shultz tabled
for the jack-high straight, and Monroe picked up $67,867 for his fifth-place finish.
Vinny Vinh was active throughout the final table, so much so that at one point he was reminded by the floor personnel to restrain himself. One of his more active hands ended with Brendan Taylor busting in fourth place ($82,882). After betting and raising on every street, Taylor called all in on the river when the board read
. Vinh tabled pocket eights, and Taylor was eliminated.
Vinh himself was next to bust, picking up $99,099 for third place. In his final hand, Shultz put in a raise preflop and Vinh called. Vinh bet all in on the
flop, and Shultz called with 6-7 for middle pair. Vinh tabled Q-2 and needed help to remain in the tournament. The
turn gave Vinh additional outs, but the
river was no help, and the heads-up match was set.
It took nearly two hours for Zac Fellows and Jimmy Shultz to play out the heads-up match, but in the end it was Shultz grabbing the bracelet and the $257,105 first place prize. The last remnants of Fellows' stack went in preflop, and he tabled
for a pocket pair. Shultz had one overcard with
, and the flop came down
. The
turn was a good card for Fellows, but the
river sent Fellows to the rail in second place ($165,165). Shultz' made flush allowed him to claim his first WSOP bracelet in Event #12. Shultz announced that he was donating 25% of his winnings to his local fire department, so the benefits of his victory will be farther reaching than just his own bankroll.