2008 WSOP Event #16 $2,000 Limit Omaha Hi/Lo: Andrew Brown Takes Bracelet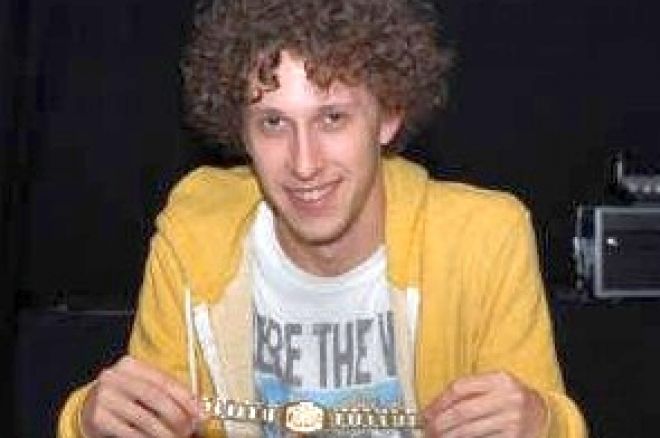 After a long Day 2, 18 players returned to the Amazon Room for Day 3 of Event #18, $2,000 Limit Omaha Hi/Lo. It's hard to imagine a greater disparity from the top to the bottom of the chip stacks, as Soheil Shamseddin led the field with over 200,000 in chips, while Jim Pechac finished out Day 2 with a double-up that left him with exactly two 1,000 chips. Pechac put on a short-stack display for the ages, but finally it was Andrew Brown besting Ted Forrest heads-up for the win and his first World Series of Poker bracelet.
Following Michael Reed's exit on the second hand of the day in 18th ($8,554), the first eliminations of the day came in flurries, as the players quickly got down to the final ten. It took little more than three hours from Reed's exit in 18th to get to the final-table bubble, where Lee Grove was busted in 10th place for $13,587. Grove and Jim Pechac called Andrew Brown's preflop raise, and the flop came down
. Brown led out and Pechac called, as the all-in Grove could only watch. Brown bet out again on the turn when the
landed, Pechac raised and Brown called. Both players checked the river when the
came, and Pechac took the high half with
for aces up. Brown made the low with
, and Grove was eliminated.
Jimmy "gobboboy" Fricke was the first player eliminated off the final table, falling to Andrew Brown in ninth place ($21,135). Fricke raised preflop, Brown re-raised, and Fricke called all in with
. Brown tabled
, and the flop brought Brown a pair, coming down
. Brown picked up a second pair on the
turn, and the
river couldn't save Fricke, who was busted in ninth.
Next, Allan Enciso got all his chips in preflop, with both Scott Clements and Ted Forrest calling. When the board ran out
, Forrest took the high half with
for a set of kings. Clements took the low half with
for a smooth-8 low, and Enciso headed to the rail in eighth place ($28,684).
Scott Clements then found himself all in preflop facing Andrew Brown and Ted Forrest in his last hand. Clements mucked his hand on the river when the board read
, and Brown showed
for fives full of queens. Clements picked up $36,232 for his seventh-place finish.
Next to fall was Ralph Perry, who got all his chips in preflop in a four-way pot with Brown, Forrest and Soheil Shamseddin. Brown fired a bet at the
flop, and Shamseddin called. Forrest folded, and the turn came down
. Brown bet out again, and Shamseddin once again called. Brown bet again when the river came the
, and Shamseddin called one last time before Brown tabled
for a set of sevens and a scoop. Perry picked up $46,297 for his sixth-place finish.
Soon after, Kia Hooshmand called a bet preflop from Ted Forrest that put him all in with
, and Forrest tabled
. The board ran out
to give Forrest aces up and send Hooshmand to the rail in fifth ($58,877).
After getting crippled in a big hand with Jim Pechac, Day 2 chip leader Soheil Shamseddin busted from the tournament in fourth place ($71,961). With Andrew Brown and Pechac in the pot with him, Shamseddin put the last of his chips in on a
flop. Brown led out on the
turn, and Pechac folded. Brown tabled
for deuces full of fives, while Shamseddin showed
. The
on the river brought no low for Shamseddin, and he was busted.
With three players left, the most surprising survivor was Jim Pechac, who started the day with just two 1,000 chips. And that was after a double-up just before Day 2 ended! Pechac started Day 3 with just one third of a single big blind, but doubled up multiple times before finally busting in third place ($88,065). In Pechac's final hand, he three-bet all in preflop against Brown and tabled
to Brown's
. The board gave Brown two pair as it came down
, and Pechac was eliminated in third place.
Brown took the chip lead into heads-up play, but Ted Forrest made a remarkable game of it, as the two battled for over an hour before Brown finally claimed his first WSOP bracelet. In the final hand, Forrest led out on a
flop, and Brown made the call. Forrest bet out again when the
came on the turn, and Brown quickly called. Forrest put in his last few chips when the
landed on the river, and Brown called with
for two pair on the high half and 8-5-4-2-A on the low half. Forrest tabled
for a pair of aces for high and 8-7-4-2-A for low. Brown scooped the pot, and Ted Forrest was eliminated in second place ($143,420). 25-year-old Andrew Brown had captured his first WSOP bracelet and the $226,483 first prize.