2008 WSOP Event #38, $2,000 Pot-Limit Hold'em: Kitai Outlasts Bell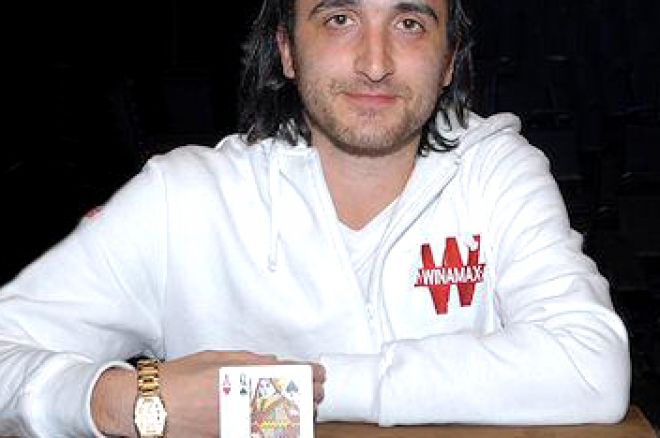 The final table of Event #38, $2,000 Pot-Limit Hold'em, served up a lineup of solid pros, even if it lacked the presence of any of the game's very biggest stars. Nonetheless, this final offered plenty of skill, and Belgian Davidi Kitai ended up claiming the bracelet. Previously, Kitai had only two prior WSOP cashes, a 147th-place finish in a $1,500 NLHE event this year, and a 404th-place finish in the Main Event last year. He can now add WSOP bracelet winner to his list of poker accomplishments, and it was a hard-fought win. During heads-up play Kitai faced North Carolina's own Chris Bell, who had seven prior WSOP cashes and nine WPT cashes to his name. They dueled for more than five hours before Kitai secured his victory. For winning, he takes home $244,546 and the gold bracelet.
Going into the final table, here were the chip counts:
Seat 1: Davidi Kitai (Belgium) — 274,000
Seat 2: Ben Roberts (London, England) — 82,000
Seat 3: Ayaz Mahmood (Houston, Texas) — 314,000
Seat 4: Michael Greco (London, England) — 120,000
Seat 5: Chris Bell (Raleigh, North Carolina) — 260,000
Seat 6: Jan Von Halle (Hamburg, Germany) — 485,000
Seat 7: Robert Cheung (Vancouver, British Columbia, Canada) — 352,000
Seat 8: Keith Greer (Fort Worth, Texas) — 238,000
Seat 9: Lee Watkinson (Cheney, Washington) – 357,000
Michael Greco was out first when he had the bad luck of picking up the second best starting hand. With action folding around to him, Greco made it 40,000 to play; when it reached Chris Bell, he reraised 100,000 more. Greco pushed all in and tabled
. To his dismay, he saw Bell turn over
and he was on the ropes. The board ran out
, leaving Bell's aces ahead. Greco was out in ninth place with $22,573.
Fellow Brit "Gentleman" Ben Roberts was next out. Despite starting the day with the fewest chips, Roberts, who came in sixth in the 1998 WSOP Main Event, was always a threat. He had in fact doubled up early, at the expense of his countryman, aces up over Greco's no pair (Greco's cards were so bad, he actually ended up playing the board). But that was to be Roberts' last winning hand. Just five hands after Greco was eliminated, Roberts was all in against Robert Cheung. Roberts had a coin flip with
against the
of Cheung, and avoided trouble on the
flop, but the turn came a disastrous
. No seven on the river and Roberts was eliminated in eighth place with $30,831.
Ayaz Mahmood came into the final having cashed at the WSOP every year since 2004, for a total of 15 cashes in all. His hopes of adding his first bracelet to that record were dashed shortly after he lost a big pot to Chris Bell, ace-high against a pair of sixes. Mahmood had only won one small pot to that point, plus taking a few blinds uncontested, but he was down from his starting stack of 314,000 to under 100,000 chips when he put it all in against Chris Bell after a
flop. Each had a piece of the flop; Mahmood showed
for middle pair, but Bell revealed
for top pair. The turn and river changed nothing and Mahmood was out in seventh place, taking home $39,089.
WSOP bracelet winner Robert Cheung would not win a second bracelet this day. Cheung had knocked out Roberts but had also been pushed out of large pots by Lee Watkinson and Kitai – and low on chips, he went all in against Bell preflop, with
to Bell's
. Cheung stayed ahead on the
flop but the turn and river came
to give Bell a runner-runner Broadway straight. Cheung departed in sixth, cashing $50,100, his second cash of this Series.
Lee Watkinson dominated most of Day 1 and had come on strong by the end of Day 2 to be a serious contender for his second WSOP bracelet. But after a damaging battle against Kitai, and a coup de gras from Bell, he was out. First, Kitai had led out for 60,000 from the big blind and Watkinson called. The flop brought
; then the fireworks started. Watkinson bet pot, Kitai shoved all in, and Watkinson called. Watkinson tabled
for a gutshot straight draw and an overcard. Kitai showed
for his own inside straight draw and top pair. The turn was the
, making Kitai's straight. Watkinson needed a five for a chop, but the river was an ace. Severely short-stacked, Watkinson pushed when he found an ace, and Bell called. Watkinson trailed with
to Bell's
. The
flop offered chances of a chop, but the
turn and
river gave Bell his fourth final-table knockout. Watkinson left in fifth place, with $63,313.
In two monster pots against Davidi Kitai, Jan Von Halle went from first place going into the final table to out in fourth place. In their first tussle, Kitai raised to 70,000 preflop and Von Halle called, and they then checked a flop of
. On the
turn, Von Halle led out for 60,000 and Kitai called. After the
river, Von Halle checked and Kitai bet 100,000. Von Halle paused, then called and Kitai flipped over
for a rivered flush. In their next hand, it was again raised preflop by Kitai and Von Halle called, with both checking the flop. After the turn the board showed
. Von Halle bet the pot, 162,000 and Kitai called all in. Kitai had
for top pair, and Von Halle showed
for a lesser pair. The river,
, blanked and Von Halle was out with his best WSOP finish – fourth place – but not the win he desired. He took home $77,077.
The very next hand, #100, saw another departure, as Bell dispatched another opponent, Keith Greer. Bell raised preflop and Greer came over the top. Bell re-reraised and Greer called all-in, and saw that his pocket jacks were dominated by Bell's two queens. The board was no help,
, and Greer was out in third place, with his second WSOP cash and $94,695.
Bell started heads-up play with 1,425,000 chips to Davidi Kitai's 997,000. But what could have been a quick knockout instead turned into a marathon slugfest. Finally, in Hand #240, the tug-of-war shifted. After a preflop raise, the flop came
. Kitai bet 125,000, Bell raised to 350,000 and Kitai called. The turn was the
, Kitai checked, Bell bet and Kitai immediately moved all in. Bell called. Kitai turned over Q-Q for the set; Bell tried to muck his K-8 but was forced to show. The river was irrelevant and Bell was down to just 250,000, almost a 10:1 chip disadvantage.
Still, Bell held on for another 50 hands before succumbing. Down to 220,000, he called Kitai's all-in raise, but trailed with
to Kitai's
. The board ran out with blanks and left Kitai's A-Q good. Bell, as the runner-up, went home with $155,806, and Davidi Kitai, the Belgian pro, claimed his first bracelet and $244,546.