Sexton's Corner, Vol. 51: Mike "The Foot" Wilson -- The Essence of Courage and Inspiration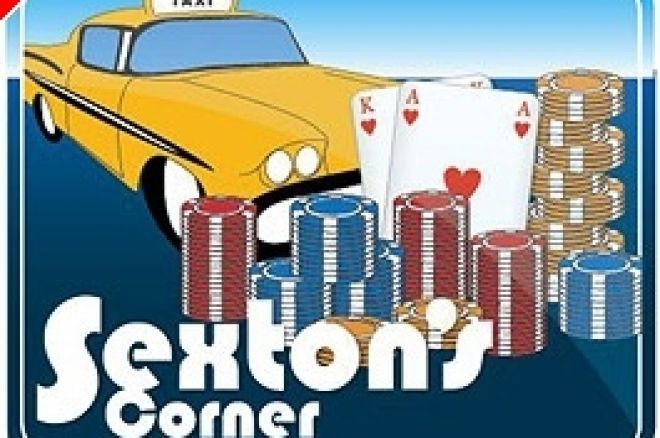 A few days ago I was walking through the 2008 WSOP at the Rio All-Suites Hotel & Casino and literally stopped in my tracks, as I noticed one poker player on the end seat in a cash game. Simply put, I couldn't believe my eyes. I just watched in frozen amazement for a good half hour, before I approached him. While I was watching, a stream of players in their normal hectic pace would stop by to witness the same thing I was looking at. As I looked at each person who stopped by, they would all shake their heads in disbelief and say, "Wow, that is unbelievable!" You are about to read the remarkable story of Mike "The Foot" Wilson! He has had no arms since birth, has a left leg two feet shorter than his right, as his left leg has no femur bone, and plays poker with his right foot using his big toe like a thumb, with the next toe like an index finger!
Just imagine yourself trying to play poker like this, with your right foot up on the poker table for each hand dealt out! His dexterity in peeking at his hole cards was amazing; his dexterity in reaching for whatever chip amounts he wanted to bet or raise was amazing as well; if his cell phone rang from under his wheelchair he would grab it with his right foot and put it on his shoulder after opening it up, with his chin and shoulder holding it in place so he could talk.
I remember seeing him earlier in the hallway at the Rio navigating his wheelchair through the mass of humanity at the WSOP. This isn't easy for many of us on foot, let alone if we were in a wheelchair while having no arms, having to guide it with one's head. We would have to do what Mike Wilson is required to do everyday: By pushing his head back, his wheelchair speeds up. He leans his head to the left or right to make turns, and leans forward or lifts his head to slow down. When I saw him dealing with the large crowd in his wheelchair, I didn't realize he was headed to a poker table to play poker with his magical right foot!
<center>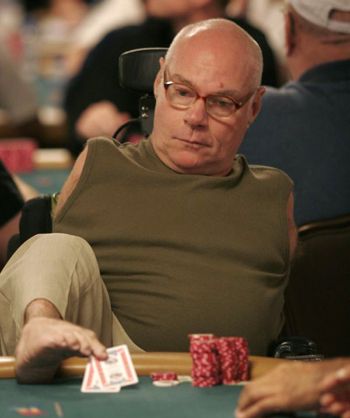 Mike "The Foot" Wilson in action at the WSOP</center>
As I stood there watching him play later that day, I had the compelling urge to meet him, not sure if I should approach him while he was playing poker. I decided to introduce myself and kneeled down next to him. He couldn't have been more receptive, as we chatted away in between hands. He had travelled in from British Columbia, Canada, where he resides, to play in the World Series of Poker. I told him I was very interested in writing an article on him, and we set a meeting up in his room at the Rio for 6:00 pm after he was done with his poker game, where he wanted me to meet two of his best friends. I told him after our interview, I'd like to treat him to dinner in a restaurant downstairs, which ended up being an amazing experience we'll come back to later on.
When I got to his room I was introduced to his friends, Tom Kinakin, and Cam Doner. As we began the interview, the first thing I noticed was Mike's smile throughout the session. His positive disposition about life in general stunned me. I thought to myself, "What kind of man would it take to deal with all of this adversity?" I don't think I've ever interviewed anyone who had a more overwhelming impact on my personal outlook on life, as to what is really important in terms of life's priorities.
Before we began our interview, as I reminded him of how intrigued I was watching him play poker earlier in the day, Mike said, "In the first event I played there was a couple standing behind me. After about 45 minutes, the wife approached me and introduced herself as Sandy. She explained that her sister's daughter had a baby, who had no arms. She had a flipper on one side and a stub on the other side. She was so inspired watching me play poker with no arms at all, that she called her sister to tell her about me, as she was watching me play. I gave her my cell number for her or anyone in the family that wanted any help or advice. It was sort of funny, as her husband kept telling her, 'Come on, Sandy, he is trying to play in the tournament.' I was touched that I was giving her such hope in the way I was dealing with my own situation. It made me feel good inside to think I might be of some help for someone else in a similar plight. Over the next few days I ran into her and we talked two to three more times. When the tournament is over I hope we can talk some more."
One of the first things I learned about him was he won a $10,000 seat in 2006 to the Main Event at the WSOP, after winning a freeroll on PartyPoker.com. On his laptop he played with his right foot to defeat many thousands, thereby earning the right to play 6,000 more players to earn one of the 16 WSOP seats the site awarded. I asked him, "I have trouble on the computer using both hands… how in the world do you do it with your right foot?"
He laughed and said, "I had a little trouble until I learned how to use the slider to bet the amounts I wanted to." He continued, "I paid my own way here this year, and plan to play a few events and a lot of cash games."
"Do you hope to play in this year's Main Event?" I asked
"I hope so," he replied. "We'll see how the whole tournament goes."
At this point of the interview, I asked him if he had heard about the new format of the Main Event, where once play got down to the nine final-table players — play would stop for almost four months before resuming on Nov 10th and 11th. He had a surprised look on his face, as he hadn't heard about this. I went on to point out: "Mike, instead of one star there will be nine stars that ESPN will be following around with a two-hour special in prime time, highlighting each person's story and background to kindle interest across America. A special prime-time telecast is scheduled to air on Nov. 4th, a week before the 'almost live' TV event unfolds. I can't imagine anyone having a bigger, more amazing story than you, if you were one of those nine finalists! It would be the shot heard around the world! You would have the most famous right foot in the world, along with one of the most inspirational stories of all time!"
Mike "The Foot" Wilson is 57 today, and was a successful stockbroker for over 30 years. Today he is retired, traveling and enjoying life at its fullest. When he told me this, I literally got the chills, reflecting on the courage this man is endowed with. I was fascinated and had to ask, "How tough was it when you started to apply for this type of position?"
He told me, "It was very tough. In fact, the first 20 interviews I had I got rejected, without even one call back for a second interview, but I never gave up!"
I said, "Your story reminds me of the true story of Chris Gardener, played by Will Smith in the popular movie The Pursuit of Happiness, and all of the difficulties he had to overcome to become a stockbroker… did you see that movie?"
"Yes, and I loved that movie!" One can certainly see why Mike felt a connection here, as the force of the human spirit can will itself to accomplish just about anything in life, once someone puts their mind into doing something!
After hearing of those rejections, I asked, "So how did you get your first break to become a stockbroker?"
Mike said, "I had met a lady friend from my high school days in a tavern who asked me what I wanted to do in life, and I told her I wanted to be a stockbroker. She said her friend was near by and introduced me." It seems it was the first chance Mike got to interact and converse with someone in a position to hire him as a stockbroker; he was able to demonstrate his quick mind and abilities. During my interview with Mike for this article, I sensed his charm and intellect immediately, and with the combination of his positive attitude about life as a whole made it inspirational to be around him.
The talents of Mike Wilson are many: He is an expert bridge player and backgammon player. He has represented Canada and his Province of British Columbia in many big bridge tournaments. He used to be quite the dancer when he would go clubbing, who has since had to slow down there, as he has broken his left leg three times. He graduated from British Columbia University with a degree in math, which certainly helps him play well at the poker tables. He loves sports, where he has been a high school football statistician, as well as a basketball, baseball and wrestling announcer. He loves Canadian football, and particularly college basketball. One year he traveled to the Final Four NCAA basketball tournament held in Seattle, Washington. In Hawaii he played backgammon with Wilt Chamberlain. As you can see, Mike "The Foot" Wilson knows how to enjoy life to its fullest. His passion for poker has brought him to the internationally acclaimed World Series of Poker.
I said to Mike, "You mentioned earlier about trying to make the right decisions in life with the package you have."
Mike interrupted here to point out, "What I meant to say was I took a self-awareness course once, and they asked me to think about the concept that you chose your parents. So I just extrapolated that: If I chose my parents, then I have other choices to make. So for whatever reason, I don't know why, I chose what other parts of me could perhaps do."
This was a very poignant moment of the interview, as his voiced trailed off in an emotional reflective moment of his circumstances. What courage Mike Wilson has, as he seems to have this philosophy of going with the cards he is dealt in life, and then making the most positive choices he can after that. If any of us faced life with no arms and we had to do everything from brushing our teeth with one foot to reaching for a Kleenex when we needed one, to eating in a restaurant, handling a fork with our toes from our right foot, would we have the courage to try and do the same thing? There is no question that "The Foot," as he is affectionately referred to by his friends, is the essence of courage and inspiration.
I got to meet his two close friends who were with him on this trip, Cam Doner and Tom Kinakin. Cam has been friends with Wilson for 20 years and it was he who convinced Mike to try and play poker on the internet. Cam said, "The next thing I knew Mike was on his way to the WSOP, winning a $10,000 seat online!"
Tom Kinakin has been Mike's close friend for 30 years, and like Cam, met Mike through bridge. Towards the end of Mike's interview Tom made some observations about his good friend:
"I was amazed the first time I saw him! I've been inspired by him the last 30 years! We've all had our little bumps in the road, and when something bad happens to me, I say 'What the %!#*# is happening to me? What is the world doing to me? Wait a minute… I've got it pretty good.' I just think about Mike and everything he has overcome, as he just keeps plugging along and doing real well. Recently, I've been talking to some of our mutual friends and they say the same thing. He is such an inspiration to us, that we could never say, 'Oh, damn, the world hates me,' because we've got it reall,y really good. Mike has helped me a lot, not by what he has done, but just who he is."
After the interview, the four of us went to the All-American Steak House at the Rio. I sat directly across from Mike, and was astonished how he was able to handle his fork eating his salad and main course dinner with his right foot. He tasted two wines and told the waiter which one was best. We all told stories and laughed, as it was a wonderful evening all the way around. Then something happened that made us all take notice: A lady who had watched us enter the restaurant and sat a few tables away walked up to our table and introduced herself as Marge. She said, "I hope I'm not interrupting your conversation, but I just wanted to say something. I was diagnosed with cancer not too long ago, and had to have my gall bladder taken out. I've felt sorry for myself almost every day. Seeing you here tonight (as she looked straight at Mike) has inspired me. You are simply a remarkable man!"
I quickly said, "Do you have a computer?" She said she did, so I continued, "Well, I just met this man today myself and I'm writing a story on him that will be coming out next Monday on PokerNews.com. Here, please take one of my calling cards, because you are now part of the story. To approach our table as a complete stranger and express yourself so eloquently is something beautiful… thank you." What an end this was to a most memorable evening!
One last thought: The next day I saw Mike "The Foot" Wilson playing in a WSOP cash game, and we were able to get some nice photos for the story. He told me that two of his favorite poker players in the world were Daniel Negreanu and Johnny Chan. It just happened that Daniel was there signing autographs for his new book, called Power Hold'em Strategy, which highlights new, winning concepts for today's hold'em games. In dealing with his fans, there is nobody better in the business than Daniel Negreanu. I can't tell you what a thrill meeting Daniel was for "The Foot", as he had the biggest smile on his face while talking with Daniel and while getting his picture taken with him. Daniel wrote a personal note to him in his new book that read:
<center>Play Good
Mike "The Foot" Wilson
The Most AMAZING
Poker Player in the World
Daniel Negreanu</center>
The Cab is Parked,
Tom Sexton
. . . .
Answer to poker trivia question #1 from last week's column:
Jay Heimowitz, who placed third in the 1980 and sixth in the 1981 WSOP Main Events. Jay does have six gold WSOP bracelets, and had a ringside seat to poker history as a member of both final tables where Stu Ungar won his first two WSOP titles:
. . . .
[I]Trivia Poker Question # 2 (answer next week):
Who were the three runners-up to Stu Ungar in the three years he won the WSOP Main Event (1980, 1981, 1997)?


Tom Sexton is a featured columnist for PokerNews.com. Tom attended the University of Oklahoma on a full gymnastic scholarship, where he was captain of the team four straight years, becoming the first NCAA All-American and Big Eight Champion in OU's gymnastics history in 1968. The Sexton family is well established in poker and includes Tom's brother Mike, the World Poker Tour commentator and poker's "First Ambassador", as voted by his peers. Tom welcomes your thoughts and comments about any of his articles. His e-mail is TSStarbuck1@aol.com.