The PokerNews Profile: David Benyamine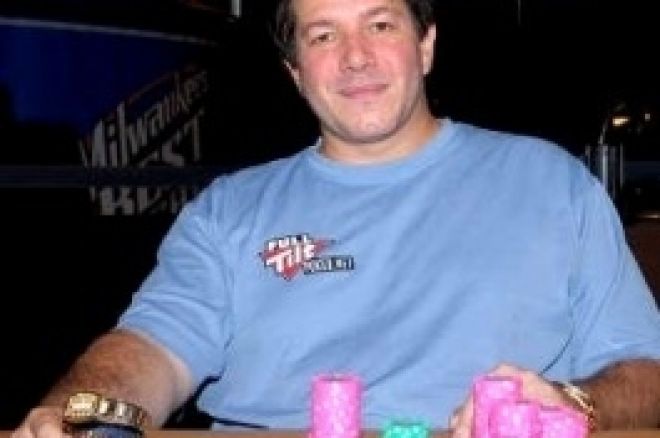 David Benyamine is one of those rare individuals who, perhaps by sheer will and drive, have found success in every professional endeavor he's attempted. Born in Paris, Benyamine was a highly ranked tennis player in his youth. Though he was solidly on track for a successful pro career on the court, Benyamine developed arthritis and the severe back pain it caused forced him to cut his athletic career short and retire from the sport at age 20. Turning to a less physically strenuous passion, Benyamine focused on becoming a top billiards player and quickly became a Top 10 player in France.
Benyamine had frequented casinos since his tennis-playing days, and enjoyed gambling on anything from slot machines to rummy to backgammon. When French actor Patrick Bruel returned from the 1998 World Series of Poker with a bracelet on his wrist, Benyamine's interest in Texas hold'em was sparked and he soon became a regular in low-stakes games in Paris. Benyamine ground up a bankroll over the course of several months and moved up to the games at the posh Aviation Club on the Champs-Elysees. Benyamine found success in the cash games and made over a dozen tournament final tables, including four wins. Soon, he had a $200,000 bankroll but ended up losing it all when he took a shot at a high-stakes pot-limit Omaha game. Benyamine was busto, but his talent hadn't gone unnoticed.
Benyamine's play attracted the interest of a backer, who agreed to stake Benyamine at the 2002 World Series of Poker. Benyamine was only playing for 20% of himself but still he jumped at the chance to go to Las Vegas. Benyamine entered about half a dozen events at the '02 WSOP, but failed to cash in a single one. Though he was expecting to be backed in the side games as well, his stake never materialized, leaving Benyamine with only $4,000 in cash on him. The young Frenchman took that $4,000 and over the course of six weeks, ran it up to over $400,000. Though he had never played limit poker before that summer, Benyamine dove into the proverbial deep end of the pool and was playing as high as $400-$800 with legendary players such as Johnny Chan. Ultimately, Benyamine lost back just over $100,000 of his win in a high-stakes deuce-to-seven game, having never played it before. Still, he returned to France with $300,000 in his pocket. Unfortunately, he'd lose most of his bankroll again in Paris, when he immediately stepped up to the highest-stakes games at the Aviation Club. Benyamine was back to grinding it out again in lower-stakes games and tournaments, hoping for another big score.
It wouldn't take long for Benyamine to make that score. In July 2003 the Aviation Club's Grand Prix de Paris became a World Poker Tour event, with David Benyamine its champion. Winning his seat in a satellite, Benyamine bested a final table that included Erick Lindgren, Lee Salem, and his fellow countryman Jan Boubli. Benyamine earned just over $400,000 for his victory and set off for America in the months to come to continue playing the circuit.
In March 2004 Benyamine was taken into FBI custody as the Party Poker Million cruise docked in San Diego, CA. His name was strikingly similar to the name of a man on the terrorist watch list, and several hours later the agents agreed he was not the person they were looking for. However, before he was released, an agency supervisor informed him that he was going to be deported back to France, having concluded that his status as a professional poker player required that he obtain a work visa rather than a tourist visa. Benyamine was stuck in a detention facility for the weekend and was then incarcerated for five days in a California jail before being allowed to return to Paris. It took him a year, but he acquired a three-year work visa and moved to Las Vegas (at least semi-permanently) in 2005.
In 2006, Benyamine went on a mind-boggling tear in the Bellagio's "Big Game" and according to insiders, was easily the biggest winner that year. Some sources put the total number in the tens of millions. He continued to find success in tournaments as well, making two more WPT cashes and winning the WPT Battle of the Champions II. Benyamine also picked up sponsorship from Mansion Poker and, later, Full Tilt Poker. He also met his girlfriend, poker professional Erica Schoenberg (fittingly enough, in the Bellagio poker room) and the two are now engaged.
In 2007, Benyamine racked up two more cashes at the WSOP and made the final table of the $2,500 Omaha-8/Stud-8 event. He also became a fixture on the NBC television series "Poker After Dark" and got some additional airtime with his fifth-place finish at the 2008 NBC National Heads-Up Championships. He continued to play high-stakes cash games online, sitting as high as $500-$1,000 NLHE and PLO. One thing still eluded him, though—a WSOP bracelet.
At the 2008 WSOP, Benyamine made the final table of the $5,000 No-Limit Deuce to Seven Draw Lowball event, but ended up finishing in 7th place. Five days later, he made the final table of the $5,000 Pot-Limit Omaha with Rebuys tournament, but went out in 3rd place. Three days after that, he missed the final table of the $5,000 World Championship Seven Card Stud Hi-Lo by two spots, finishing tenth. The fourth time was the charm for Benyamine this year, though, and he won his first WSOP bracelet in the $10,000 World Championship Omaha Hi-Lo tournament, banking over $535,000. True to form, shortly after winning his bracelet, Benyamine headed across the street to Bellagio, where he played in a $1,500-$3,000 mixed game until dawn.
Less than a month later, Benyamine made the televised final table of the WPT Bellagio Cup and came tantalizingly close to winning his second WPT title. Mike "SirWatts" Watson went home with the bracelet that night, but Benyamine added another $840,000 to his career tournament earnings, which now top $3.1 million.
Benyamine lives in Henderson, NV with fiancé Erica Schoenberg and can be found playing the highest limit games available on Full Tilt Poker, at all hours of the day and night.