The PokerNews Profile: Johnny Lodden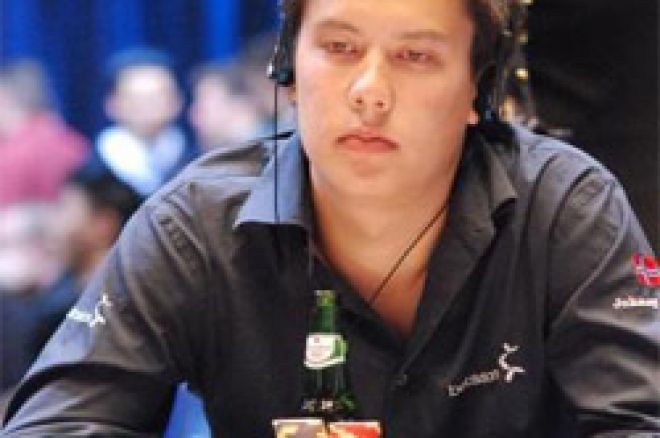 Finding Johnny Lodden in a poker room isn't too difficult a task, just keep an eye out for the bevy of gorgeous, blonde Scandinavian women sweating his every move. Lodden loves the ladies, they love him, and it's not difficult to see why. Aside from being blessed with striking good looks and an appetite for rowdy late nights, Lodden is one of the most talented poker minds traveling the European circuit today. Though he's won millions online, his hyper-aggressive "any two cards" approach to no-limit hold'em strikes fear even in his most seasoned opponents, Lodden has recently found himself at the bottom end of an epic swing in both cash games and tournaments. For the Norwegian kid who once held the record for the largest pot ever won online, his road to bankroll redemption is still a work in progress, but his sheer talent is undeniable.
Johnny Lodden was born in 1985 in Jørpeland, a coastal town outside Stavanger in southwestern Norway. He discovered online poker from a friend who worked at the school he attended while the online game was in its infancy. Nearly every day for several months, Lodden sat behind his friend while he played online limit hold'em and learned the fundamentals of the game. Soon he created his own account online and started building a bankroll. Though at first Lodden stuck to limit hold'em, he quickly transitioned to no-limit cash games and sit-n-goes.
Playing under the handle "Lars-Magne" Lodden became one of the biggest winners at the $5,000 heads-up sit-n-goes on PokerStars. Lodden banked hundreds of thousands in profit at these games alone. On the Prima Poker network, where he was known as "bad_ip", Lodden dominated the high-stakes cash games, playing up to $200-$400 no-limit hold'em years before games that high were running on Full Tilt or PokerStars. For quite a while, Lodden held the record for the largest pot ever won in an online cash game — $357,256 won from "I_Grind_on_u." However, in June 2006 he achieved a much less enviable record. On the end of a marathon session on Prima, Lodden ended up on the losing end of the pot that broke his old record, dropping a $465,461 pot to "Fast_Freddie."
Offline, Lodden found great success on the European Poker Tour. During Season 4 of the EPT, Lodden cashed four times, finishing 14th in Barcelona, 32nd in Dublin, 13th in Dortmund, and 60th in the Monte Carlo Grand Final. He continued his tear in Season 5, cashing two more times with 17th-place finishes in Dublin and Monte Carlo. Though from the outside it might have appeared that Lodden was on top of the world, he was in the middle of an online downswing so severe it would ultimately claim his entire bankroll.
In early 2008, Lodden confessed in a number of interviews that he had indeed gone broke and had to accept a stake from a friend in order to continue playing. Lodden swallowed his pride and began grinding it out again, multi-tabling $10-$20 and $25-$50 no-limit hold'em, a far cry from the $300-$600 heads-up games he used to dominate. Lodden is winning again, but admits that he probably won't play as sky-high as he once did.
"You have to win such sick amounts to afford to sit there. And there's no point in playing the players up there. It's just the same guys sitting, waiting, and they're good, to say the least," Lodden said.
After taking a hiatus from tournament play, Lodden re-emerged at the 2008 World Series of Poker-Europe, where he missed the final table by two spots, finishing in 11th place for £54,300, or nearly $100,000 USD. Recognizing his innate talent, PokerStars stepped in and signed Lodden to a two-tournament sponsorship on the EPT on the heels of his performance in London. Lodden's first event under the Stars banner would be the inaugural EPT stop in Budapest, for the Hungarian Poker Open.
After so many near-misses, Johnny Lodden made his first EPT final table in Budapest. After a relatively smooth ride getting there, Lodden ended up busting out in eighth place. Lodden got his money in with pocket kings on a flop of
, but was up against
for the nut flush draw and
, for a lower flush draw and a gutshot straight draw. The
on the turn and the
on the river made his opponent's straight, sending Lodden to the rail. Over $66,000 in prize money cushioned the blow.
Lodden still calls Norway home and will make his next tournament appearance under the PokerStars banner at the EPT Warsaw, which kicks off later this week.