The Year in Poker: October, 2008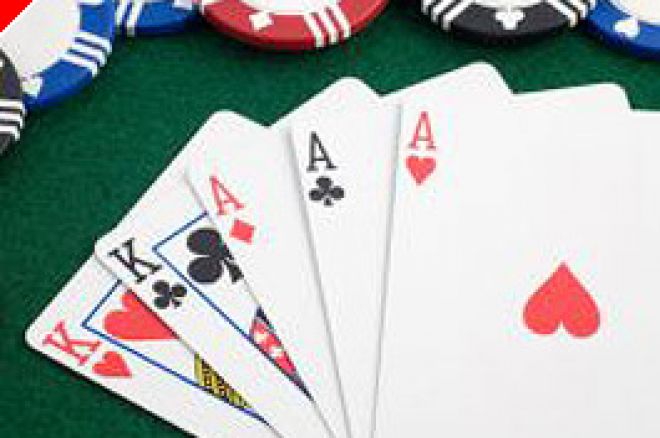 October saw major poker events on several continents, again a testimony to the game's global maturing during 2008. John Juanda enjoyed one of the best 48-hour periods in poker history, including winning the WSOP Europe Main Event, while Michael Martin walked off with the month's largest tournament prize just days later at the EPT's new London stop. These were among the month's biggest stories:
John Juanda Wins WSOP Europe Main Event
John Juanda returned to the top of the poker world in early October by winning the Main Event at the second-ever World Series of Poker Europe in London. Juanda came to the final table with the lead, but had to endure a record-shattering marathon of a final table to emerge with the £868,800 first prize. All told, the final table stretched for 22 hours and 484 hands, a full half of which – 242 – were devoted to heads-up play between Juanda and eventual runner-up Stanislav Alekhin. Alekhin and Russian counterpart Ivan Demidov went two-three in the final, with Demidov setting another mark by reaching both this final and the WSOP Main Event final in Las Vegas in the same year.
Michael Martin Captures EPT London
Poker players not fortunate to find themselves at the final table of the WSOPE Main Event didn't have to look for another high-powered poker event, as the arrival of the PokerStars.com European Poker Tour's London stop kept England the poker world's hot spot well into October. American Michael Martin, an EPT veteran, claimed the event's £1,000,000 first prize over a tough final table that included Johannes Strassman, Anthony Lellouche and Marcin Horecki. Martin came back from micro-stack status early in the final to surge to the win, finally finishing off Michael Tureniec to claim top honors. Tureniec won £525,314 as the runner-up while Horecki collected £303,439 for third.
Kentucky Circuit Court Affirms Domain-name Seizure
A mid-October hearing on the Commonwealth of Kentucky's seizure of 141 Internet domain names connected to online gambling produced a not-unexpected outcome – given that the same Kentucky Circuit Court judge who signed off on Kentucky Governor Steven Beshear's seizure ruled on the protests in the matter. Judge Thomas Wingate dismissed complaints by several parties, but did allow the sites a 30-day grace period to institute geo-blocking in an attempt to remove Kentuckians' access to the sites. The judge's opinion asserted that Kentucky's legal reach extended to the entire Internet, even including sites not physically housed in the state. The decision assured an appeal, which was headed to a higher Kentucky court – and likely beyond – as the month drew to a close.
Mercier Prevents a Juanda London Double
John Juanda ran well in early October. Fresh off his come-from-behind title in the WSOP Europe Main Event, he threatened to make it back to back wins when he stormed through the field in the PokerStars.com EPT London £1 Million Showdown. The event's 85-player field was stuffed with poker's top talent, who each paid £20,000 to enter. The tourney wound down to a heads-up duel between Juanda and Jason Mercier, who had experienced his own breakout moment earlier in 2008 by winning EPT San Remo. Mercier made it an EPT double by besting Juanda and winning £516,000, while Juanda's consolation prize of £327,000 added to is wonderful week in London.
Nali Kaselias Wins PokerNews Cup Main Event
PokerNews' own premier poker series took place at the Crown Casino in Melbourne, Australia in October. Over more than a week of events culminated with the AUD $2,000 Main Event, which drew an international, 410-player contingent. Nali "Iraqi Nick" Kaselias logged the biggest win of his career by besting Kenneth Damm to win the $250,000 first prize. Damm collected $120,000 for second, with David Lee logging a third for $73,100.
WSOP-C Southern Indiana Goes to Samuel Oberlin
The 2008-09 World Series of Poker Series began with a stop at Horseshoe Southern Indiana, across the Ohio River from Louisville. The WSOP-C stop culminated with a $5,000 main event. 84 players competed for the tourney's $143,064 first prize, and after two days of play, Samuel Oberlin walked off with the championship's title. Oberlin bested WSOP-C regular Jerry Martin for the win, which also brought with it a seat into the 2009 WSOP Main Event in Las Vegas.