Poker Book Review: Anthony Holden's 'Holden on Hold'em'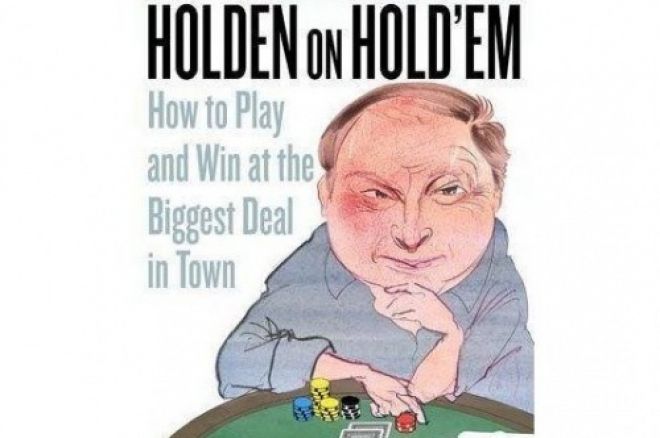 Anthony Holden, the British journalist and author of books on the royal family, classical music, and Shakespeare, earned a special place in poker literary history with his terrific 1990 autobiographical narrative Big Deal: Confessions of a Professional Poker Player. The book chronicles Holden's year-long experiment at living the life of a poker pro, a period bookended by his entries into the 1988 and 1989 WSOP Main Events. Near the conclusion of Big Deal, Holden reports that while he did, in fact, succeed in turning a profit during the course of that year, he also discovered that all things considered, the professional player's life was probably not for him. "I couldn't shake off a sense of lost innocence," writes Holden, "a feeling that I had been better off as an amateur, happily wallowing way out of his depth."
Nearly two decades later, Holden continues to straddle the line between amateur and professional with his newest book, Holden on Hold'em. For half of the book, Holden again takes a turn as a poker pro, offering readers strategic tips and lessons for how to play poker's most popular variant. The other half finds Holden back in the role of the amateur, reporting on others' play at various circuit events during 2006-07 amid other, interesting, hold'em-related digressions. Taken as a whole, Holden on Hold'em may not prove as consistently pleasing as Big Deal, though likely offers at least something of interest to amateurs and pros alike.
Following the publication of Big Deal, Holden returned to his regular (now famous) Tuesday night game in which both Al Alvarez and the late David Spanier (two other notable contributors to poker literature) also took part. He'd continue over the years occasionally to take shots at the WSOP, and in the spring of 2007 returned with Bigger Deal, a sequel telling of those recent attempts while also chronicling the pro circuit during the heyday of the so-called "poker boom" circa 2005-06.
As Holden explains in the acknowledgements to Holden on Hold'em, he had already begun work on Bigger Deal when he was invited by a publisher to produce "a beginner's guide to poker." He accepted the invitation, writing a book titled All In, after which the publisher of Bigger Deal asked Holden to write "a bigger and better version" of such a strategy-based book. Thus was born the idea for Holden on Hold'em.
The book is divided into three parts. The first part, "The Basics," includes two chapters, one presenting a thumbnail history of hold'em, and the other a simple explanation of "How the Game Works" that assumes of the reader zero prior knowledge of the game. The short history sufficiently conveys the meteoric rise of hold'em from a game played by the "road players" of Texas in the '50s and '60s to its introduction in Vegas, at the WSOP, in Europe, on the internet, and as a favored choice of televised poker. Holden then advises non-beginners to skip the second chapter, although they may still want to glance at the list of nicknames for pocket hands and/or the ten tips for beginners with which the chapter concludes.
The second part, "How to Play Better — And Win," is the "strategy guide" proper in which Holden provides the reader a variety of lessons in hold'em, beginning with a lengthy explanation of "EV" (expected value), moving on to specific recommendations regarding pre-flop and post-flop play, then offering an explanation of various player types one should expect to encounter. These first three chapters of Part Two mostly recommend a tight-aggressive style of play that offers little in the way of innovation but should nevertheless prove an adequate starting point for novice players. Subsequent chapters offer ideas regarding limit and pot limit games, tournaments, and considerations for online and live play.
Holden does a fine job explaining concepts and guidelines in the strategy portion of his book. In other words, I wouldn't necessarily charge him here with "wallowing way out of his depth." However, for non-beginners or fans of Holden's other poker writings, these strategy chapters will likely prove less compelling than the rest of the book, namely, the initial history of hold'em chapter and Part Three, "On the Road."
In the third part, Holden spends five chapters documenting various European Poker Tour events from the EPT's third season (2006). Holden himself participated in these tournaments (sponsored by PokerStars), but only occasionally mentions his own play.
These five reports are all entertaining, and Holden does intermittently connect various tourney hands to the earlier lessons in productive ways. For example, during the chapter on 2006 EPT Dublin (won by Roland de Wolfe), Holden describes a hand in which William Thorson, holding ace-king, flops two pair but chooses to slowplay versus de Wolfe, checking the flop, then just calling de Wolfe's semi-bluff with queen-jack on the turn. A ten on the river gives de Wolfe Broadway (and a nice-sized pot), and Holden follows the hand with a short explanation of why the criteria for slowplaying weren't perfectly met here, thus linking the hand to his discussion of slowplaying back in an earlier chapter.
While such didactic passages are probably primarily of use to novice players, the EPT chapters will still appeal to more experienced players for both their color and some intriguing poker. The chapter detailing Vicky Coren's victory at EPT London includes lots of fun table talk and character. The Copenhagen chapter opens with a short analysis of the hold'em hands in Casino Royale, an enjoyable passage that recalls some of Big Deal's discussions of poker in the movies. And the Monte Carlo chapter documenting Gavin Griffin's victory contains several unusual hands that provide several interesting decisions for readers to contemplate.
In the book's final chapter, Holden returns to the WSOP, this time taking a shot at the 2007 Main Event. This "WSOP Diary" (parts of which originally appeared on the Bigger Deal website) might be the most pleasurable part of the book, with Holden expounding on poker's various ups and downs with the flair and finesse of an accomplished, literary-leaning journalist. Appendices with book recommendations, a glossary, probability charts, and a starting hands guide round out the book.
That "sense of lost innocence" Holden speaks of at the end of Big Deal probably will occur to some of those who pick up Holden on Hold'em, especially those of us who define ourselves as amateur players and not professionals. When Holden teaches strategy to us — that is, when he speaks to us like a pro — we miss the self-effacing Holden we knew from his earlier work. But the humble Holden — the amateur — returns triumphantly in the book's other half, particularly when he pokes fun at himself whenever things don't quite go his way at the tables.
All of which is to say, while Holden the player may not ever be properly regarded as more than a talented amateur, as a poker writer, there's no mistaking he's a pro.