The PokerNews Profile: Hevad Khan
Nicole Gordon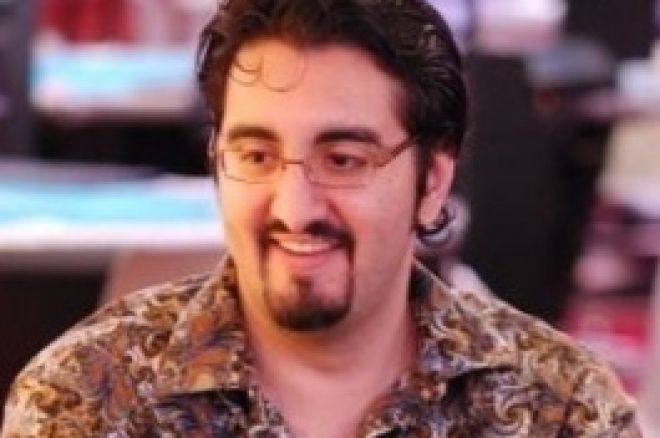 After a 2007 WSOP Main Event performance where his table mannerisms included running around with a chair over his head, bellowing "Bulldozer!" at the top of his lungs when he won a pot and some… interesting… celebratory dances, Hevad "RaiNKhaN" Khan not only earned himself a sixth-place finish and nearly a million dollars in winnings, but also a spot in the official rules of poker's most prestigious tournament. His highly caffeinated, perhaps made-for-TV antics brought about what is commonly known as the "Hevad Khan Rule," which now prohibits the wacky, excessive celebrations that helped catapult the young player into the poker spotlight. A kinder, gentler Khan returned to the WSOP this summer and though he could not match his results from the year before, it left him hungry for that first major live tournament victory.
Hevad Khan was born in 1985 in Poughkeepsie, NY. Afghani by heritage, Khan came from an upper-middle class family where both his parents, as well as his older brother, were doctors. At age 13, a friend introduced Khan to the video game StarCraft and he took to it immediately, at times playing for up to ten hours a day and turning into a self-described "social hermit" in the process. Even his online handle, "RaiNKhaN", has its origins in the gaming world — a hybridization of the Mortal Kombat character "Rain" and his own last name. Though Khan dreamed of rising to the level where he could play StarCraft competitively, on the tournament circuit in South Korea, he never got there.
Khan discovered poker upon his graduation from high school in 2003. Chris Moneymaker had just won the World Series of Poker and a number of high-profile StarCraft players, like Bertrand "ElkY" Grospellier, were transitioning successfully into online poker. Newly enrolled in college at SUNY-Albany, Khan took the money his parents gave him for graduation, deposited it online, and began playing sit-n-goes. Initially Khan played way over his bankroll, but quickly felt the consequences of it and learned more financial discipline. The $16 NLHE turbo SNGs on PokerStars became his bread-and-butter. Khan started out playing eight games at a time, adding one or two more tables a day to see how many he could handle. Soon, he was regularly playing 24 tables at a time with occasional forays into 40-tabling. At one point, some of his opponents started complaining in the chat box that there was no possible way that Khan himself could be playing all of those tables at once and reported him to PokerStars support. Stars froze Khan's account while they investigated the matter, but Khan decided to take matters into his own hands. With the help of a friend, Khan videotaped himself playing 26 SNGs at one time to prove once and for all, that he was not a bot — just an ex-video gamer who had perfected the art of online multi-tabling. PokerStars immediately unlocked his account after viewing the video.
As Khan's bankroll grew, his interest in his college courses waned and after three and a half years at SUNY-Albany, he decided to drop out to focus exclusively on poker. Though he had played the occasional cash game, Khan focused exclusively on tournaments and SNGs as a nascent online pro. In the summer of 2007, he decided to make the trip out to Las Vegas for the World Series of Poker and rolled up a stake to do so by winning five Main Event seats on PokerStars. Only needing one of them, Khan took the balance in cash and decided to play a few preliminary events as well. He cashed twice, both in $1,500 No-Limit Hold'em events before taking his seat at the Big Dance, where his sixth-place finish earned him over $985,000 as well as international recognition after his antics were broadcast on ESPN. After the Main Event, he was signed by the site that once thought he might be a bot, as a member of Team PokerStars Pro.
Khan took his Main Event winnings and his new sponsorship dollars and began to travel the worldwide tournament circuit, cashing in events held in locales as far-flung as Macau, the Bahamas, and London. In March 2008, Khan finally notched a first-place finish, taking down the $1,850 No-Limit Hold'em event at the Foxwoods Poker Classic, earning $108,187. That was a good month for Khan—only a week before he'd won over $100,000 by capturing the PokerStars Sunday Warm-Up. Perhaps his greatest achievement, though, was yet to come. Khan still had his eye on winning a $10,000 buy-in tournament. He achieved that goal in October 2008, when he won the Caesar's Palace Classic and its $1,000,000 first-place prize, beating out over 300 players. Khan's table demeanor had also significantly mellowed out by this point-- though he is still talkative, full of jokes and rubber-faced enough to rival Jim Carrey. No more chair-hoisting, though the word "Bulldozer!" will probably be forever associated with this young champion.
Outside of poker, Khan still enjoys playing the occasional video game when he's not traveling the circuit.
Get a free Bwin Poker Sign Up Bonus from PokerNews.com