Moritz Kranich Takes PokerStars.com EPT Deauville
Haley Hintze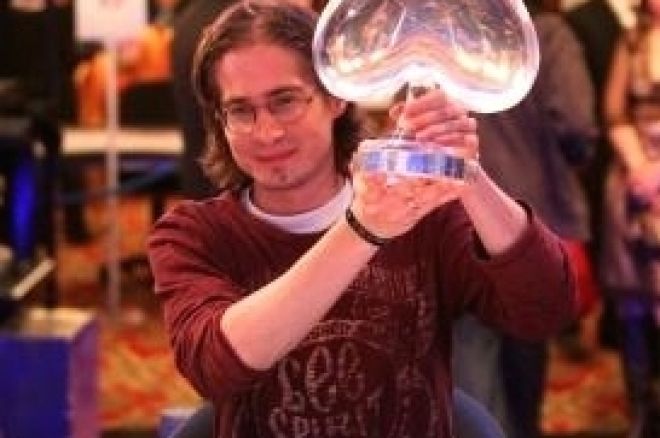 Germany's Moritz Kranich claimed top honors at the PokerStars.com European Poker Tour stop in Deauville, France on Saturday, winning a crucial pot during three-handed play to assume command on his way to the €851,400 winner's check. Kranich overcame the early chip leader, France's Tristan Clemencon, and six others, to add his name to the roster of EPT champions and deny France a home-country champion in the event's successful return to France after a three-year hiatus.
Kranich began the day in second place behind Clemencon, with four other French players also among the six players remaining as action at the Casino Barriere resumed. Italy's Andrea Benelli held a strong third place early on, with the other five players in need of an early surge to move into contention for the win. France's Thomas Delattre began the day as the short stack and was the first top exit as well, collecting €77,400. Delattre was soon followed by countryman Bruno Launais (seventh, €108,300) and Holland's Jorn Walthaus (sixth, €142,400).
France's Jonathan Azoulay (fifth, €182,700) lasted just one hand longer than Walthaus, but picked up more than €40,000 extra for the one-spot difference. Meanwhile, Benelli had climbed past Clemencon and Kranich to the lead. That left short-stack Arnaud Esquevin of France as the player most likely to depart next, but instead Benelli dropped two huge pots to crash out in fourth (€219,800).
Esquevin backed his way into bigger money not once, but twice, as the two deep stacks, Kranich and Clemencon, then clashed in the final table's biggest hand. Kranich moved all in after a
flop, Clemencon called with 8-2 for two pair, and Clemencon then revealed that his push had been no bluff, showing J-10 for trips and a lock on the pot. Clemencon's last few chips went in minutes later, to no avail, and he exited with third-place money of €284,800. Kranich began heads-up play with nearly a 6:1 lead, then finished off Esquevin for the title. The final hand found Kranich with A-7 against Esquevin's A-3, and Kranich dodged the possible chop when the board rolled out 9-10-6-5-A. The hand left Esquevin with runner-up money of €495,400, with Kranich celebrating his triumph and €851,400 payday.
Final Results:
1. Moritz Kranich (Germany) — €851,400
2. Arnaud Esquevin (France) — €495,400
3. Tristan Clemencon (France) — €284,800
4. Andrea Benelli (Italy) — €219,800
5. Jonathan Azoulay (France) — €182,700
6. Jorn Walthaus (Holland) — €142,400
7. Bruno Launais (France) — €108,300
8. Thomas Delattre (France) — €77,400
Get a piece of the action and check out Poker Stars Freerolls