FTOPS XI Event #10, $300+22 NLHE: Steve 'gboro780' Gross Wins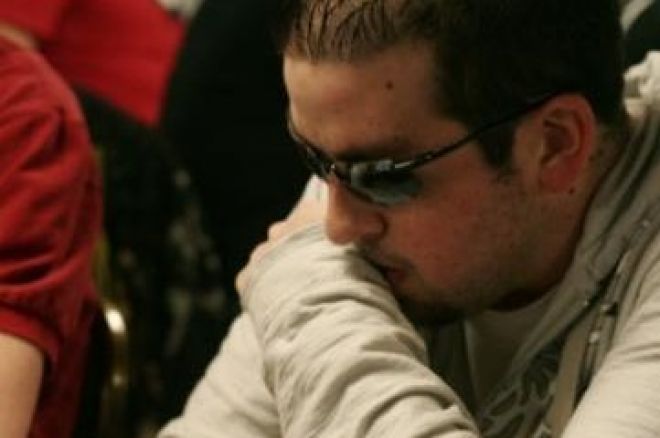 Event #10 of the eleventh Full Tilt Online Poker Series (FTOPS XI) was a $300+22 no-limit hold'em tournament guaranteeing $1,500,000. It drew a field of 5,325 to create a total prize pool of $1,597,500, the biggest purse of the series thus far, with first place being $275,600.70. Among the best finishers just missing out on the final table were Rodney "BIGFLOPPER01" Burt in 14th place ($11,102.63), Keith "DaMurdera3" Ferrera in 16th ($7,827.75) and Roy Winston in 17th ($7,827.75). Headlining the final table was online superstar Steve "gboro780" Gross. The chip counts to start the final table were the following:
Jeremy "Jerms13" Lordge – 5,778,983
Steve "gboro780" Gross – 3,950,608
BUSTYOU79 – 3,937,303
Pat "TorontoToro" Pezzin – 2,894,328
ilovemypuppy – 2,550,376
nevermo – 2,281,757
Shoomie – 1,970,903
J4d3dr4g0n – 1,858,984
Drow – 1,401,758
Drow bid adieu at the 30,000/60,000/7,500 level. After raising to 180,000 from middle position, Drow faced being all in after BUSTYOU79 reraised on the button. Drow called quickly with
and was racing against BUSTYOU79's
. The board ran out
and Drow headed home in ninth place for $20,767.50. J4d3dr4g0n headed for the exit at 40,000/80,000/10,000. Jeremy "Jerms13" Lordge opened to 195,000 from early position and J4d3dr4g0n went all in on the button for 2,068,984. Lordge called, with his
dominating J4d3dr4g0n's
. The board rolled out
and J4d3dr4g0n was out in eighth place for $27,956.25. Pat "TorontoToro" Pezzin departed in the next hand. He raised to 200,000 in the cutoff and Steve "gboro780" Gross re-raised to 527,474 on the button. Pezzin took a moment before shoving for 2,664,328. Gross quickly called and tabled
to Pezzin's
. The board came
and Gross won the coin flip to eliminate Pat Pezzin in seventh place for $36,742.50.
At 50,000/100,000/10,000, ilovemypuppy went down to the felt. BUSTYOU79 raised to 300,000 in the cutoff and ilovemypuppy shoved for 1,556,350 on the button. Jeremy "Jerms13" Lordge re-raised all in for 4,720,269 in the small blind and isolated the action. Lordge's
defeated ilovemypuppy's
when the board rolled out
. For the sixth-place showing, ilovemypuppy collected $47,126.25. A few hands later Shoomie opened to 245,454 on the button, and nevermo went all in for 2,401,124 in the small blind with
. Action folded back to Shoomie, who immediately called with
. The board served up
and nevermo was nevermore, but with fifth-place money of $63,101.25.
Jeremy "Jerms13" Lordge was the next to exit, at 60,000/120,000/15,000. After losing with
to Shoomie's
, Lordge was all in for 1,310,976 with 8d8c and was up against Steve "gboro780" Gross'
. A queen fell on the flop and it was enough to send Lordge to the rail in fourth place for $83,868.75. Shoomie succumbed in the next level, 80,000/160,000/20,000. BUSTYOU79 raised to 480,000 in the small blind and Shoomie shoved for 3,691,415 from the big blind with
. BUSTYOU79 called all in with
and won the hand when the board ran out
. Shoomie was down to less than a big blind and was soon eliminated in third for $107,352.
The chip counts to start heads-up play:
Steve "gboro780" Gross – 17,421,922
BUSTYOU79 – 9,203,078
Heads-up play lasted only two hands before Steve "gboro780" Gross took it down. He opened to 440,000 and BUSTYOU79 re-raised to 1,120,000. Gross immediately went all in and BUSTYOU79 called all in for 8,243,078 with
. Gross held
and was favored by the
flop. The turn card was the
and gave a few more outs to BUSTYOU79, but the river was the
and BUSTYOU79 finished in second place for $166,938.75. The winner of FTOPS Event #10 and $275,600.70 was Steve "gboro780" Gross, who added the victory (and custom FTOPS avatar) to his outstanding accomplishments.
Final Results:
1. Steve "gboro780" Gross - $275,600.70
2. BUSTYOU79 - $166,938.75
3. Shoomie - $107,352
4. Jeremy "Jerms13" Lordge - $83,868.75
5. nevermo - $63,101.25
6. ilovemypuppy - $47,126.25
7. Pat "TorontoToro" Pezzin - $36,742.50
8. J4d3dr4g0n - $27,956.25
9. Drow - $20,767.50