The Poker Gossip: Negreanu's Micro-Stakes Heater, Hansen-Jorgensen Mano a Mano and More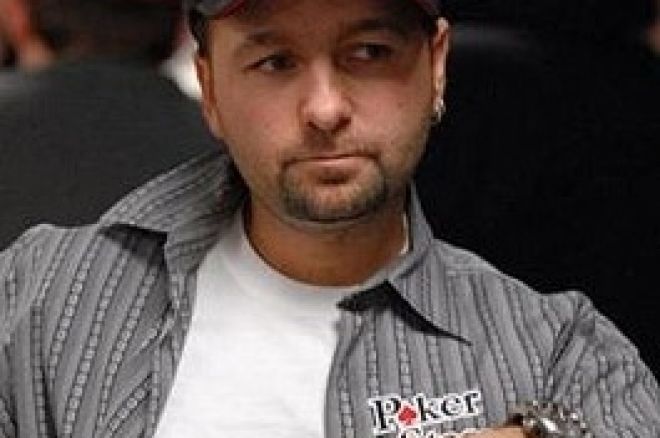 Daniel Negreanu – he always knows what you have but still wants to check his read. He's played large pots on poker shows and predicted what cards were going to come. In brief: Immortality! Take it! It's yours, Daniel! He's a hero to all beginning poker players and friend of all high-stakes online players.
Anyway, not long ago Negreanu announced on <a href=http://danielnegreanu.org/ target=_blank rel=nofollow>his blog</a> that he was going to take a bit of a break from poker and play less tournaments as his schedule had been so busy lately. But before you know it, there was a new clip of him on Raw Vegas, a site with roots in the game that features things poker, sex and more from Sin City. But for now let's just focus on Negreanu and the short clip just below.
In order to understand the real message of this video, we're going to have to read between the lines a little:
• The first part is pretty straightforward. I thought Daniel was going to stay subtle about this, but he does actually end up mentioning Phil Hellmuth when talking about players who do well against bad players. He then goes on to talk about the $40,000 event and what it comes down to is that Hellmuth should better stay away from the event.
• Daniel talks about his current challenge <a href=https://www.pokernews.com/pokerstars/>on PokerStars</a> where he is playing at the $0.02/$0.05 level and has already won $20! That might be about $3 million more than Tommie Dwan, but still. He claims to also be doing this so he knows what he is talking about when making his training videos for his own virtual training site. When reading between the lines we hear something completely different.
As a PokerStars member, Daniel is obliged to play on the site for a certain number of hours every month, but there is no clause in his contract that limits him to certain stakes. Seeing as he is getting pretty much destroyed by the players on the higher limits, this sounded like a good option for him. No shivering eyebrows or half-eaten Oreo cookies at the virtual tables, and as a result Daniel will stay away from the $200/400 tables for a while.
• Rebuy tournaments aren't as much fun according to Daniel, although they are in his favor. That's what we hear him say, but we also have to be realistic. Negreanu's bankroll is running low and while his sponsor PokerStars is happy to buy him in to a couple of events at the World Series, this doesn't include 4,957 rebuys in a $5,000 tournament.
In brief: Daniel's bankroll is running low. It isn't a coincidence that he decided to take the deal with PokerStars last year. The big years in which he played anyone heads-up in any poker variation for any amount of money in the Wynn Casino are over. Of course he won a bracelet this year, making it a successful year for Negreanu, but one has to be realistic: Negreanu is not taking a break because he is so busy but because the money situation isn't looking very rosy. Seems like not even Negreanu is unaffected by the financial crisis.
<div style="border: 1px solid #0893d5;width:427px;"><object width="427" height="300"><param name="movie" value="http://www.rawvegas.tv/ext.php?uniqueVidID=f02a15390e6916b75cc69d2aca181f"></param><param name="wmode" value="transparent"></param><param name="FlashVars" value="uniqueVidID=f02a15390e6916b75cc69d2aca181f"></param><embed src="http://www.rawvegas.tv/ext.php?uniqueVidID=f02a15390e6916b75cc69d2aca181f" flashvars="uniqueVidID=f02a15390e6916b75cc69d2aca181f" type="application/x-shockwave-flash" wmode="transparent" width="427" height="300"></embed></object></div>
Watch "Daniel Negreanu is Enjoying Life" on RawVegas.tv
The same can be said for Barry Greenstein, who is also pretty bust. Not as bust as some of the forum members who are talking about cashing out and starting over, but still.
People like Greenstein and Negreanu can always borrow money and can always find someone to stake them, so in this case being broke means that they will have to scale down the spending patterns that they've grown accustomed to years past. In Greenstein's case, this also means that less money will be going to charity.
<a href=https://www.pokernews.com/>Internet Poker</a> with Steve Martin
Steve Martin: a man of genius. All by himself he managed to ruin the unique concept of the "Pink Panther" and thereby destroy the character "Inspector Clouseau". Many of his other movies are also a complete bore, apart from the one "The Simpsons" episode where he had a guest role which was actually worth the watch. The fact that this man is still active in the movie world just proves that the movie industry is also about to face some rough times.
I was hoping to never see this man's face on TV again, but out of nowhere I came across this short online clip from when he was a guest on "The David Letterman Show". All the A-list celebrities must have canceled, so that in the end Stevie was allowed to appear and tell his undoubtedly boring story.
Steve once played "internet pokers". He described this as if it was the new version of Windows Solitaire, but that's besides the point here. He also implied that "internet pokers" is illegal in America. This just shows how well a job the Bush administration did at making people believe that they are not allowed to <a href=https://www.pokernews.com/>play online poker</a>. Now Steve Martin might not be the most intelligent guy, but he does represent a whole nation with this belief.
Anyway, Mister Martin was playing internet poker, took a sleeping pill and when he woke up, there was $1,000 more in his account than there was before. Honest (or dumb) as he is, he immediately called and ended up talking to someone in Pakistan or India, who assured him that it was he who was playing on his account.
Ilari Sahamies: I Don't Eat with You, Rolle!
In the past it was never easy to obtain some information on the high-stakes player known as "Ziigmund". The information that has trickled through was never really very reliable, and because we only look for correct information in this column I asked Ziigmund if he couldn't start his own blog.
It seems as though Ziigmund can actually type in English, and that with less spelling errors than we are used to from the Full Tilt chat boxes. Ilari was recently in England and met up with former poker journalist Roland de Wolfe. I don't know if any of you have ever been in a situation where you thought to have an appointment with somebody only to realize that the other party actually had other plans. Something like that can be pretty annoying, and exactly this happened to Roland last week.
De Wolfe was nice enough to take Ziigmund out to a football match and keep him entertained for most of the day. After that they went to Nobu (a Japanese restaurant chain in which actor Robert de Niro owns a few shares), to enjoy some raw fish and chopped-up cows that have only had beer to drink for their entire lives. At least this is what Roland thought the plan was. Ziigmund actually had other plans and formulated this in his own unique way. Just to clear things up, "Rolle" is the name that Ziigmund calls Roland de Wolfe:
According to Ziigmund, "When we get there, he starts parking his car and says something about how great the food is at Nobu... I'm like, 'What ????...What R U Doing?' Roland looks at me confused and says, 'Im parking my car' and I say, 'What? Why?' and Rolle, 'I'm coming for dinner with you,' and I go, 'No, you're not coming!' Anyone who has ever heard me speak English will know how sick my comments must have sounded to Rolle.. Anyway, I explain to him that we have an important business meeting with several people, and that's the reason why he can't come, it's not up to me and it's not because the people there don't like him or anything. The thing was, I think I never told Rolle that it was just me going to Nobu, not the both of us, so he naturally thought that after a cool day of soccer and hanging out we're gonna do dinner and some drinks... Luckily Rolle knows my poor English and he got the point. And I invited him to party with us later on but he was too scared because he knows how Finnish people drink.
"I bought a few bottles of good cognac in London, and then I forgot them in the plane of course. My next tournament will be EPT Copenhagen starting on Feb 17th... There will also be a boxing match between Theo Jorgensen and Gus Hansen... That will be fun."
Ziigmund, Part 2: To Kick a Man When He's Down
Of course Ziigmund is also staying active online. While he was in England he won around $700,000. Back in his own cold country he lost $500,000 again, but still. This is the chat between Ziigmund and Tom Dwan after Ziigmund folded a hand against Dwan:
Ziigmund: durrrrrrrrr
Ziigmund: what u had?
Ziigmund: almost call
durrrr: im on dswing buddy
durrrr: cant b giving away wt i had
durrrr: ur winning 3m str im losing 3m str n ur asking me wt i had lol
Ziigmund: yes
Ziigmund: trying to get edge
durrrr: =)
Ziigmund: if i tell what i had...u tell ?
Fight!
Sahamies already mentioned it and it has also been mentioned in the news before, but I felt it wasn't getting the attention it deserved. Gus Hansen has something new: Gus TV. It doesn't get much more crazy than that. The backgammon champion with jug ears who has been voted "sexiest man" a number of times before is starting his own online TV channel on February 21st: gushansentv.com. What we can expect from this is not very clear yet. We can definitely watch Gus play online at Full Tilt and we will also be able to watch the boxing match against Theo Jorgensen. With a little bit of luck I might be watching the fight live, as it will be taking place during EPT Copenhagen. People will also be happy to hear that the TV channel will be free of charge.
The two competitors have their own little bet placed on the match ($35,000 against $25,000), but you might — if you live outside the US — also be able to wager some cash. At Nordicbet, Theo Jorgensen is currently seen as the -285 favorite while Hansen is listed as a +200 underdog.
Here are some odds that are being offered:
- Gus Hansen wins by knockout: +2600
- Draw: +1400
- Theo Jorgensen wins by knockout: +850
<center>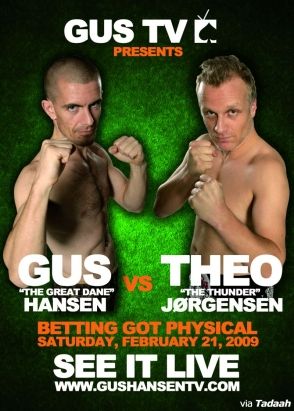 </center>