Women's Poker Spotlight: Madeleine 'Mad' Harper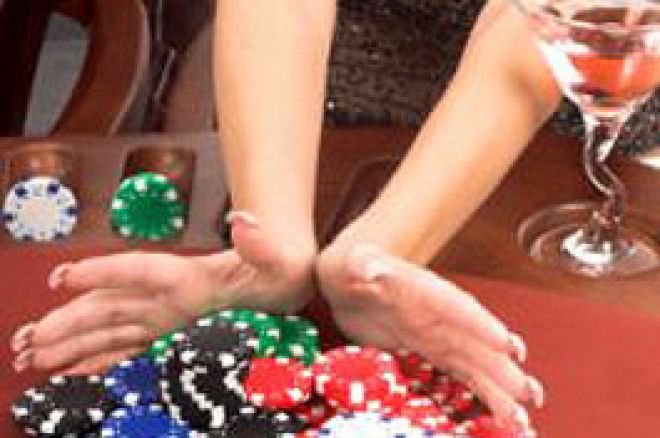 You might never see Madeleine "Mad" Harper sitting at the table next to you, but she's there every step of the way during each and every tournament on the PokerStars.com European Poker Tour.
Madeleine's poker roots date to her working as a reporter for the "Evening Standard" newspaper in London, where a colleague started up games after work. "He loved poker but could never get a home game going because our hours were so unpredictable. His solution was to teach everyone in the newsroom and the result was that he took all our money, pretty much all the time, for two years," said Madeleine of her humble beginnings.
Conrad Brunner, Head of TV & Digital Production at PokerStars.com, contacted Madeleine just after she moved to Spain, where she was working on website design, and asked if she would like to help out a small crew at the first PokerStars.com European Poker Tour in Barcelona. "Aside from the film crew and John Duthie, the EPT's founder, the only other people there were Conrad, Rich Korbin - who was working in PokerStars' marketing, one journalist and me," added Madeleine. Not only was the crew small, the field of players was also small by comparison to today's turnout. For that first event in Barcelona, 219 players tested the waters. In Season 5, the Barcelona EPT Main Event attracted 619 players to the now famous stop. Madeleine was given the job of handing out baseball caps to those who busted out of the tournament. At one point she was warned about missing players. "He told me to keep a close eye on the short stacks so I didn't miss anyone... but word soon got around and the players started yelling at me to go away if it looked like I was hovering near their table. I was like a tournament grim reaper ... it was pretty funny," she said.
While chance might have brought Madeleine to the poker scene, it is certainly not what keeps her there. From handing out baseball caps, Madeleine's involvement grew to managing the EuropeanPokerTour.com website. Madeleine's duties range from writing site content to traveling to all the EPT stops in Europe as well as the PokerStars.com Caribbean Adventure. "Every season we've added new destinations so that also means research and testing new ground." Madeleine added, "It's always interesting and the events themselves seem to get bigger and better with every year."
To see Madeleine's handiwork all one need do is examine EuropeanPokerTour.com and read blogs and reports of the Stars-sponsored EPT. One of the many duties that Madeleine provides is making sure the media has what they need to have accurate and reportable information from the tour. "In my view, the media are one of the key factors behind the EPT's success and, as a journalist myself, it has always been my aim to ensure that those covering EPTs - especially PokerStars' own bloggers, videobloggers and the film crew - are given the maximum amount of information possible to enable them to do their job well. Happily, this goes hand-in-hand with keeping the ept.com website up to date." For that aspect of her position she was awarded the European Poker Awards Staff Person of the Year in 2008, and was again nominated for the same award earlier this year. "It was the only award I have ever won in my life and I was thrilled to receive it," The ceremony hands out awards each year in categories to recognize not only players but also those behind the scenes who you might not ever get to meet, but whose dedication and work bring poker to its highest points.
When asked what the future holds for her, Madeleine replied, "My goals for the future are really to keep on doing what I am doing, and keep thinking of ways to improve the service. The ept.com website underwent a massive redesign before Season 5 kicked off, so it's now a really dynamic and visually exciting platform. There is now a lot more content including videos and keeping on top of all that is very fulfilling. On a personal level, I will probably seek to do more writing in the future. I was put off writing for years when I worked as a reporter but I'm getting back into it now. I have blogged for PokerStars at the WSOP three times since 2004 and love the contrast that offers to my normal EPT job."
Madeleine's story is one of encouragement and possibility. She started by lending a hand to a friend and ended with a career that she enjoys and that is appreciated by the entire poker community.