Sandra Naujoks Wins PokerStars.com EPT Dortmund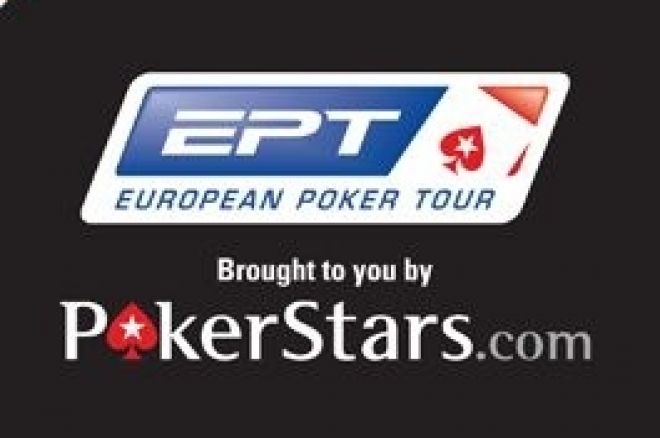 Sandra Naujoks of Germany became the second-ever female champion on the European Poker Tour on Saturday, defeating Holger Kanisch heads up to take the title in the PokerStars.com EPT Dortmund Main Event. Naujoks entered the eight-handed final table in sixth place, but a combination of good play, good timing, and good cards enabled the German to battle her way back and capture the title. Naujoks earns a nice payday of €917,000 for being the lone survivor of the 667 who entered the event.
About an hour into play, the final table's short stack, Cengizcan Ulusu of Turkey, was the first to depart. After losing most of his stack in a confrontation with Canadian Mike McDonald, Ulusu pushed his remaining chips in the middle with
and was called by both Marc Gork (Germany), who held pocket jacks, and Johan Storakers (Sweden), who had a pair of sixes. A jack flopped, and Gork's hand held up, knocking out Ulusu in eighth place.
That hand helped send Gork into the chip lead. Swede William Thorson was next to exit after losing a race with Storakers. Thorson pushed from the button with
, and Storakers called from the small blind with
. The flop came
, giving Thorson the lead, but a king came on the turn and a four on the river, sending Thorson to the rail in seventh.
It took another couple of hours before the next elimination, that of Italy's Luca Pagano in sixth. Pagano had been short-stacked for a while and had survived several all-ins, but finally lost one when Gork's ace-nine outraced Pagano's pocket sevens. The remaining five took their dinner break soon afterwards, and when they returned, German Sandra Naujoks went on a heater, winning several sizable pots including the one that eliminated defending champ McDonald.
In that hand, Holger Kanisch raised to 130,000 from under the gun, and McDonald reraised all in for about a half million chips. Naujoks then repopped it and Kanisch folded. McDonald showed
and Naujoks
. Her tens held up, McDonald was out in fifth, and suddenly Naujoks had assumed a commanding chip lead with more than 2.7 million. Storakers, the chip leader at the beginning of play on Saturday, was the next to step in front of the Naujoks train after Naujoks' A-K held up against Storakers' A-Q. They were down to three, with the remaining players — Naujoks, Gork, and Kanisch — all hailing from host country Germany.
The three poker players battled back and forth, with Gork taking the chip lead from Naujoks, then losing it, then being eliminated in third place. In Gork's final hand, Kanisch raised from the button to 160,000, Naujoks called from the small blind, and Gork pushed all in for 900,000 from the big blind. Kanisch got out, and Naujoks called with pocket sevens. Gork showed K-10, and when the board came
, Gork was out.
When heads-up play began, Kanisch and Naujoks were close in chips, with Kanisch enjoying a slight advantage. Kanisch chipped away at Naujoks for a few hands, and then a huge hand occurred in which Naujoks had the good fortune of getting pocket aces when Kanisch had been dealt pocket jacks. That hand enabled Naujoks to double up to over five million, giving her a commanding lead.
Kanisch, a 26-year-old economics student, got a chunk back quickly, however, after winning a race with
against Naujoks'
. A few hands later he had managed to pull even with Naujoks, the 27-year-old graphic designer and model. Naujoks held a slight chip advantage when the following hand took place. Naujoks raised to 300,000, Kanisch reraised to a million, and Naujoks pushed all in. Kanisch called without hesitation, tabling A-Q. Naujoks was in tough shape with A-9, but a nine on the turn gave her the lead. The river was an eight, and Naujoks was the champion.
2009 PokerStars.com
EPT Dortmund Final Table Results:
1st — Sandra Naujoks (€917,000)
2nd — Holger Kanisch (€533,000)
3rd — Marc Gork (€307,000)
4th — Johan Storakers (€237,000)
5th — Mike McDonald (€197,000)
6th — Luca Pagano (€153,000)
7th — William Thorson (€116,500)
8th — Cengizcan Ulusu (€83,500)