'Hanamichi23' Takes Down PokerStars Sunday Million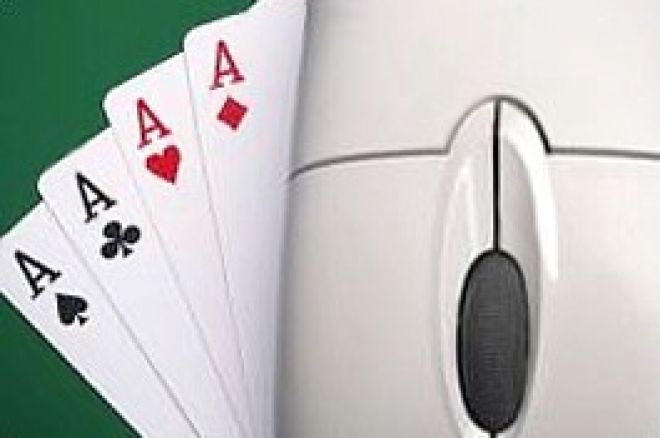 Despite coming to the final table as the second-shortest stack, online player Hanamichi23 persevered to win the PokerStars Sunday Million, pocketing a cool $212,152 for the victory. This week's Sunday Million drew a field of 7,572, eclipsing its million-and-a-half guarantee. First place was set at $227,160 barring a deal. Notable finishes that fell shy of the final table included Chris "cdbr3799" Dombrowski in 17th ($4,240.33), Fabrice "fabsoul" Soulier in 32nd ($3,149.96), Jason "Fisheye25" Sackler in 39th ($2,847.08), and Jason "JP OSU" Potter in 48th ($2,619.92). As the final table began, the chip counts were as follows:
EaseYourPain - 16,773,241
William "weeminer" Miner - 16,318,360
OllowainTim - 11,258,082
FiveStand - 11,190,687
paulsl - 8,511,736
RasA86 - 4,097,248
APowers1968 - 2,716,811
Hanamichi23 - 2,467,213
JIZOINT - 2,386,622
APowers1968 was the first to exit the final table, at the 150,000/300,000/30,000 level. OllowainTim raised to 685,000 from the cutoff and APowers1968 countered with a raise all in for 2,176,811 from the small blind holding
. OllowainTim called with
and his pocket pair held on to win as the board ran out
. APowers1968 took home $11,736.61 for ninth place.
JIZOINT headed out shortly thereafter at 200,000/400,000/40,000. Hanamichi23 opened to 999,999 from under the gun and JIZOINT, next to act, shipped it in for 2,216,622. Hanamichi23 called with
, trailing JIZOINT's
. However, Hanamichi23 hit an ace on the flop and JIZOINT would not recover, finishing in eighth place for $18,172.81. The very next hand was RasA86's last. In middle position, RasA86 shoved for 2,247,248 with
, but ran into OllowainTim's
in the small blind. No miracles for Rasa86 as the board came
and his tournament was over in seventh place for $32,559.61.
Erstwhile chip leader EaseYourPain played out his final hand at the 250,000/500,000/50,000 level. After losing a critical coinflip to Hanamichi23, EaseYourPain was in a world of hurt and got it in for 1,842,194 with
, up against William "weeminer" Miner's
. The board brought no relief for EaseYourPain, out in sixth place for $46,946.41. FiveStand headed to the rail next, running
smack into OllowainTim's
. The board rolled out
as FiveStand's last stand was not good enough, busting in fifth place for $62,090.41.
OllowainTim was felted at the 300,000/600,000/60,000 level, after moving all in from the button for 8,291,246 with
. Hanamichi23 woke up with
in the small blind and took the hand down — though not without a sweat. The draw-tastic
flop gave OllowainTim an open-end straight draw, along with a backdoor club draw. But the turn and river ran out
and
as OllowainTim fell short on draws, collecting $80,263.21 for fourth place.
William "weeminer" Miner bowed out in third place at 400,000/800,000/80,000, the victim of back-to-back losses against paulsl. Miner got his chips in with the best of it in the first hand, but his
fell to paulsl's
when two more tens hit the flop. On the second hand, paulsl raised to 1,850,500 on the button and Miner shoved all in for 13,500,028 in the big blind with
. Paulsl called and tabled a dominating
. Miner couldn't hit any of his three outs as the board came
and William "weeminer" Miner was eliminated in third place for $121,152.01.
The final two agreed to an even chop, guaranteeing each $182,152.17, with $30,000 left in the middle for the eventual winner. The heads-up duel ended at the 500,000/1,000,000/100,000 level, with Hanamichi23 emerging victorious. On the final hand, paulsl min-raised to 2,000,000 and Hanamichi23 popped it to 45,000,000. Paulsl called all in for 24,655,580 with
, badly trailing Hanamichi23's
. The flop came
and the
on the turn gave paulsl a boatload of outs to make a flush or a straight. But the river fell the
as paulsl came up short, finishing in second place. Hanamichi23 was the winner of the PokerStars Sunday Million, earning $212,152.17.
Final Results:
*1. Hanamichi23 - $212,152.17
*2. paulsl - $182,152.17
3. William "weeminer" Miner - $121,152.01
4. OllowainTim - $80,263.21
5. FiveStand - $62,090.41
6. EaseYourPain - $46,946.41
7. RasA86 - $32,559.61
8. JIZOINT - $18,172.81
9. APowers1968 - $11,736.61
* - Per two-way even chop leaving $30,000 to the winner.