Poker Book Review: 'Check-Raising the Devil' by Mike Matusow, with Amy Calistri and Tim Lavalli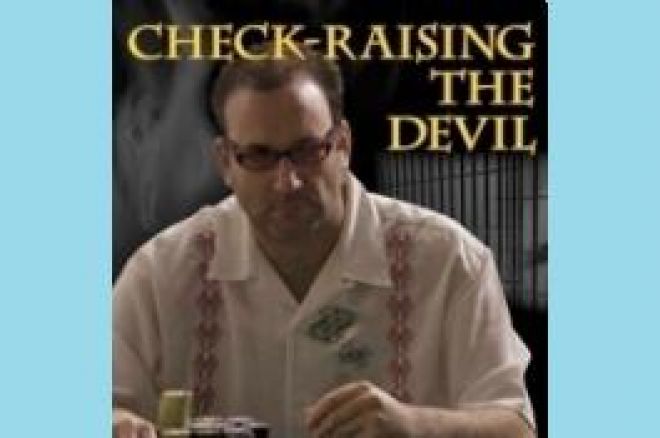 "I suppose if things had happened in a slightly different way, I wouldn't be writing this book." So explains one of poker's most compelling figures over the last decade, Mike Matusow. The line appears amid the opening pages of Matusow's new autobiography, Check-Raising the Devil, written in collaboration with Amy Calistri and Tim Lavalli, and helps set an appropriately sober tone for the unflinchingly candid self-portrait that follows.
Matusow's story is a sometimes jubilant, sometimes harrowing tale, punctuated throughout by remarkable successes and equally remarkable failures. Indeed, the swings of professional poker — the highs and lows of which, in and of themselves, can make even the most balanced individual's head spin — serve as a mere baseline upon which the even greater climaxes and depressions of Matusow's life have been built.
Many who come to Check-Raising the Devil will likely be familiar with at least some of the details of Matusow's distinguished poker career, the highlights of which include three WSOP bracelets and over $7 million in tournament winnings. Most will read with memories of some or all of the more high-profile moments, particularly those that were televised, such as Matusow's two WSOP Main Event final tables (2001, 2005), his run-ins with certain opponents during the peak years of the poker boom (e.g., Greg Raymer at the 2004 WSOP, Shawn Sheikhan at the 2005 WSOP, Phil Hellmuth at the 2005 Tournament of Champions), or his deep run at last summer's WSOP Main Event.
Such exposure may have led some to think they already know all there is to know of the often contentious, brash-talking, controversy-seeking personality most commonly referred to on TV as "the Mouth." However, those possessed with such assumptions will be surprised by the highly vulnerable figure the book presents, one full of self-doubt, shyness, low self-esteem, and a sometimes extreme need for others' acceptance. Like other great poker players, it takes little to trigger Matusow's hubris ("I think I can spot weakness in a live game better than any human alive"). But there's a consistent humility and acceptance of limitations underscoring every passage in Check-Raising the Devil that humanizes Matusow, makes it easier to identify with him, and perhaps causes his story to become much more compelling than it would be otherwise.
That line speculating about "things happening in a slightly different way" leads Matusow to evoke the late Stu Ungar, the three-time WSOP Main Event champion whose life of drug addiction and excess contributed to his premature demise at the age of 45. Indeed, the potential parallels between Ungar's story and that of Matusow are unmistakable, right down to the biography Nolan Dalla and Peter Alson authored about Ungar, One of a Kind (2005) — among recent poker books probably the one that bears the most similarity to Check-Raising the Devil. Dalla and Alson's book also began as a collaborative autobiography, but became something slightly different — and was given a tragic finale — with Ungar's death in 1998. Indeed, much of the suspense of Matusow's story involves hearing "the Mouth" tell how he managed to avoid Ungar's fate.
The book begins in the early 1990s, with a 23-year-old Matusow pursuing a self-described "dead end" existence living in a trailer, working in his parents' furniture store, and regularly blowing his paycheck on video poker. That's when a friend introduces Matusow to live poker, and soon he discovers in himself a talent for reading players and understanding how to bet opponents off of their hands. Focusing primarily on limit hold'em, Matusow soon begins to earn enough to encourage him to leave his job and play poker full time, though not before a significant stint as a dealer at various Vegas card rooms, most particularly Sam's Town.
The building of a bankroll is hampered, however, by one of Matusow's many self-destructive behaviors — sports betting. Finally Matusow finds a backer who insists he stop betting sports, and Matusow's professional poker career begins in earnest. Matusow discovers early success at the WSOP, just missing a bracelet with a runner-up finish in an Omaha Hi-Lo event in 1997, then earning a huge payday in 1998 after backing Scotty Nguyen in the WSOP Main Event (which Nguyen won). That windfall enables Matusow to buy a house and move out of the trailer. The following year Matusow would win a bracelet of his own in a no-limit hold'em event.
The remaining narrative can roughly be divided into three periods: what might be called the "party years" (2000-2003), a time highlighted by more tournament successes but marred by drug abuse; a transitional period during which Matusow rid himself of (street) drugs and was properly diagnosed as suffering from both bipolar disorder and attention deficit hyperactivity disorder, which culminated with his arrest for drug trafficking and six-month prison term (2003-2005); then the triumphant return of "a new Mike, a better Mike, a changing Mike" who found himself mostly victorious in his battles both at the poker tables and with his personal demons (2005-2008).
The first period sees Matusow making the 2001 WSOP Main Event final table, earning his second WSOP bracelet in 2002, and enjoying some of his greatest successes at the cash tables. The poker stories are interwoven with the relation of his introduction to drugs (first ecstasy, then primarily crystal meth), and the reckless, short-sighted lifestyle they helped inspire. While there is certainly a sensational aspect to the stories of sex, drugs, and high-stakes living, the book by no means celebrates drug use, with Matusow repeatedly criticizing his poor decision-making, his susceptibility to bad advice, and his prior unwillingness to practice such needed self-reflection.
When Matusow finally does manage to divert himself from Ungar's road to ultimate ruin, the story becomes somewhat heart-wrenching as he tells of his diagnosis and treatment, the reader learning along with Matusow the extent of his disorders and how his drug-taking had further exacerbated them. Sparing no details, Matusow also recounts his arrest for drug trafficking, the negotiations that resulted in a six-month jail term, and the experience of living behind bars. While Matusow offers some rationalization for the decisions that led to his incarceration, readers are largely left to decide for themselves the extent of Matusow's guilt.
Matusow's release in the spring of 2005 leads into accounts of his final table at that year's Main Event as well as his victory at the Tournament of Champions. Even if one is already familiar with the details of these tournaments, the narration of them here is especially compelling given the added knowledge of Matusow's many trials (literal and otherwise). As Matusow carries the story to the present, he describes himself having found a new, profitable balance in his life.
Check-Raising the Devil is a remarkable book that, much like its subject, can be regarded in multiple ways. It is a significant contribution to poker history, providing a detailed chronicle of the last decade of professional poker, a period of dramatic growth documented here from the perspective of one of its central figures. It is an object lesson that warns against the dangers of both drug abuse and other temptations lurking in the shadows of the high-stakes poker world. It is the author's confession, in a way completing the process of "coming clean" described within. But the book also stands as Matusow's apologia or self-defense, an attempt to set the record straight and perhaps, as he famously pronounced following his 2005 Tournament of Champions victory, provide for himself some "vindication".
The check-raise is perhaps one of the more defiant moves a player can make in poker, often representing an aggressive attempt to take control of a hand in which one hadn't previously had the lead. It is hard not to view Check-Raising the Devil as a similarly bold gesture by Matusow, a manner of taking charge of the hand he's been dealt.
Get a piece of the action and check out Pacific (888) Poker Freerolls