PokerStars.com EPT Monte Carlo High Roller Championship, Day 2: Vanessa Rousso, Tony G Headline Final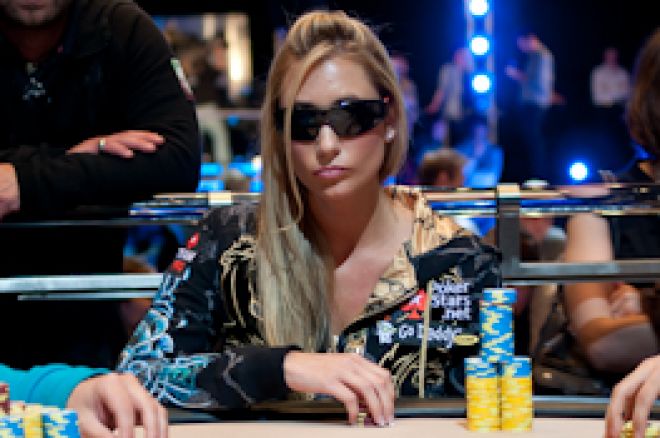 After struggling for much of the afternoon, Vanessa Rousso used some well-timed double-ups to accumulate chips late in Day 2 and will head into the final table of the PokerStars.com EPT Monte Carlo High Roller Championship as the chip leader. When the final eight reassembles on Sunday to battle for the €720,000 first prize, Rousso's 1.25 million chips will be the biggest stack at the table, followed by Tony G's 875,000. (NOTE: In conjunction with his final-table appearance, Tony has announced a special ChipMeUp staking offer, detailed below.)
Making the eight-handed final table also meant making the money in this one, meaning none of the 37 players who sat down shortly after noon on Saturday would be satisfied with anything less than to still be playing when the last hand of the day was dealt.
Juha Helppi, in fourth place when play began, got off to a fast start after a three-way all in versus two short-stacked opponents, Shaun Deeb and Kirill Rabcov. Helppi had opened the hand by raising before both Deeb and Rabcov pushed, and Helppi gladly called with his
, well ahead of both Deeb's
and Rabcov's
. The community cards came
, and Helppi sent two players to the rail. Helppi would later lose those chips, though, and finish short of the money.
Others eliminated during the afternoon included Thomas Wahlroos, Andy Bloch, and Chris "Jesus" Ferguson. Meanwhile Tony G and Bertrand "ElkY" Grospellier built on their already big stacks, challenging Alaei for the chip lead. Then Lev Myrmsky, Florian Langmann, and David Steicke each began accumulating chips, pushing out ahead of Alaei. After about four hours of play, 20 players remained, with Langmann in front with 414,400, followed closely by Steicke and Myrmsky. At that point, Rousso was dead last, with her 38,000 then representing the tourney's short stack.
Michael Binger would be the day's next casualty. Some preflop jockeying saw Binger all in with pocket tens, and Ilari "Ziigmund" Sahamies calling with pocket fours. The flop came
, and suddenly Binger had gone from way ahead to way behind. The turn was the
and the river the
, and Binger was out.
Soon after Binger's departure, Barry Greenstein, Alexandre Gomes, and Sahamies were each eliminated. Then Dan Shak was ousted at the hands of Tony G when Shak's A-J failed to catch up to Tony G's A-K. A similar hand next developed between Grospellier and Dave "Devilfish" Ulliott. Ulliott was all in before the flop with
against Grospellier's
. All appeared to be going swimmingly for Ulliott when the flop came
. But the
on the turn made the waters somewhat more treacherous, and the
sunk the Devilfish altogether.
That was about the time Rousso began to climb her way back, with a big hand between her and Grospellier significantly aiding her cause. The hand began with a preflop raise from Rousso and a call from Grospellier. The flop came
, and Grospellier led for 22,000. Rousso then moved all in for about 100,000, and Grospellier called, showing pocket eights. Rousso turned over
, and when an ace appeared on the turn, the hand was over, and Rousso had moved back up over 200,000.
Pocket aces would prove ElkY's downfall again, as shortly afterward Grospellier was all in with
against Anthony Giuetti's
. The flop came a tantalizing
. The
on the turn meant, incredibly, Grospellier still had a slim chance. But the river was the
, and Grospellier was gone.
That hand helped propel Giuetti into the chip lead with more than 600,000 with a dozen players remaining. Lev Myrmsky, his stack having gotten short, pushed with
and got called by Tony G who held
. Tony G's hand held up, and Myrmsky was out in 12th. Then Alaei, who over the course of the day had seen his chip stack decline, got it all in with A-7 against Giuetti's A-K, couldn't catch a seven, and hit the rail short of the money in 11th. After that hand, Giuetti was well out in front with nearly a million chips, though would soon slip back down around 600,000.
Shortly afterwards, Rousso would double up through Steicke to improve her stack to about half a million. Then, after a Rousso raise, John Kabbaj moved his short stack all in and Rousso called, tabling
. Kabbaj showed
. The flop brought a queen —
— and the
turn and
river meant Kabbaj was out in 10th.
The nine remaining gathered around a single table, with Rousso — once 20th out of 20 players – was suddenly the chip leader with 963,000. The cash bubble would last nearly an hour and a half, during which time Giuetti's stack continued to deteriorate. Finally came a hand in which Tony G raised preflop, Giuetti reraised all in behind him, and Tony G called, showing pocket kings while Guietti turned over
. The board came
, and Giuetti, chip leader with ten players left, had bubbled.
Here's how the stacks looked at the end of play on Saturday:
Vanessa Rousso (USA) — 1,250,000
Tony G (Lithuania) — 875,000
Randy Dorfman (United States) — 487,500
David Eldar (Australia) — 385,500
David Steicke (Australia) — 347,500
Florian Langmann (Germany) — 274,500
Andrew Feldman (England) — 202,500
William Thorson (Sweden) — 132,000
Come back to Pokernews on Sunday for coverage of the High Rollers final table to see how these eight players will divide the €1,975,000 prize pool.
* * * * * *
Grab a share of Tony G's EPT High Rollers final-table appearance! Tony has placed a 1% share of his ultimate tournament winnings up for auction on PokerNews' growing staking service site, ChipMeUp. This one has an estimated value of approximately $700 heading into the final table, with bids starting at $1 and climbing in increments of only $1, with a bid cost of only 50 cents. The winner of the auction will receive 1% of Tony G's winnings on Sunday, which has a maximum return of 1% of the €720,000 first prize, or a maximum of €7,200. Can Tony G reel in overnight leader Vanessa Rousso and vanquish the other challengers? We'll know for sure tomorrow. Click here for auction details!
You can stop your quest for a PokerStars.com first deposit bonus, Welcome to PokerNews.com - The #1 online poker information source.