$10 Million 10th Anniversary WSOP Promotion Continues at UltimateBet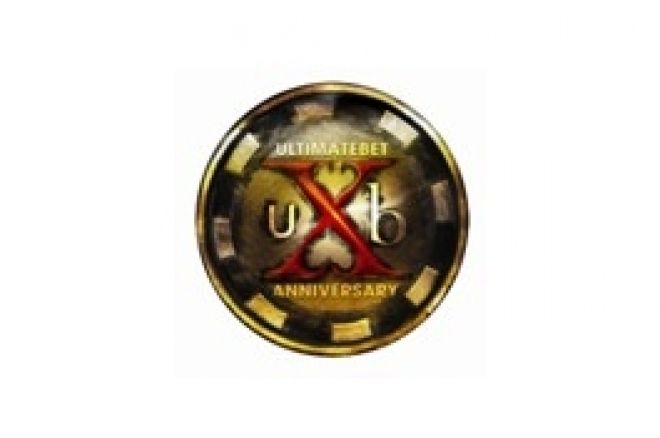 One of the oldest of all online poker sites, UltimateBet, continues its 10th-anniversary celebration this summer with a possible $10 million sponsorship package to be won in the World Series of Poker* Main Event. It's all a part of UB's "From a Dime to a $10 Million Dream," offering players of any means a chance to take part in poker's biggest tournament, with a special promotion offering the next would-be Main Event winner the opportunity to pocket a ten-year UltimateBet sponsorship deal in the process.
To join UltimateBet's team and have a chance at the sponsorship package, players entering the Main Event must complete these four simple steps:
• Go to the Bellagio Hotel daily between 11:00am-1:00pm or 3:00pm-6:00pm
• Use the house phone near the Hotel Guest Elevators, ask the operator to put you through to "Phil Hellmuth"
• Wait near the entrance to the Guest Elevators – one of UB's friendly staff members will come to collect you
• Fill in and sign a registration form, available only in UltimateBet's hospitality suite at the Bellagio
Participating players must then wear UB gear throughout their Main Event play to remain eligible, but everyone's a winner here: each player that takes part will receive a swag package including UltimateBet 10th Anniversary T-shirts, flexi-fit peaked cap, poker cards, padded seat cushion, a card protector, and access to an invitation-only UltimateBet Party. Scheduled for June 29th, 9pm-3am, at the famed Studio 54 club at the MGM Grand Hotel in Las Vegas. The gala will be attended by many stars from the UB team, including Phil Hellmuth, Annie Duke, Liv Boeree, Tiffany Michelle, Michael Binger, Matt Graham and others. (Note: Players who have already qualified or who will qualify online at UltimateBet are also eligible, but must also complete the four registration steps above. More information on UB's Bellagio Hospitality Suite is available by calling (702) 326-0241 or (702) 326 6380.)
"Nobody throws a birthday party quite like UltimateBet," said UltimateBet Pro Player Phil Hellmuth. "And this is a massive one. There's an extra ten million bucks on the line here in Vegas — that's one million for every year UB's been dealing cards." Hellmuth plans to make the party even more special by giving away a prize package to the Aruba Poker Classic valued at $8,500, also including entrance for two to a special VIP party in Aruba.
UltimateBet continues its plan to give away at least 50 Main Event seats for the World Series of Poker ("WSOP")* in an 50 Package Satellite coming up soon, with the $530 buy-in tourney scheduled for June 21st at 17:30. More information on UltimateBet's 10th Anniversary celebration is available at UltimateBet.com.
*The "World Series of Poker" and "WSOP" are registered trademarks of Harrah's. No License, affiliation, endorsement, is claimed, or should be inferred from the use of these trademarks here. UltimateBet and Absolute Poker are not affiliated, licensed by, or otherwise affiliated with Harrah's in any way.