Poker Players Alliance Announces National Poker Week, Other Initiatives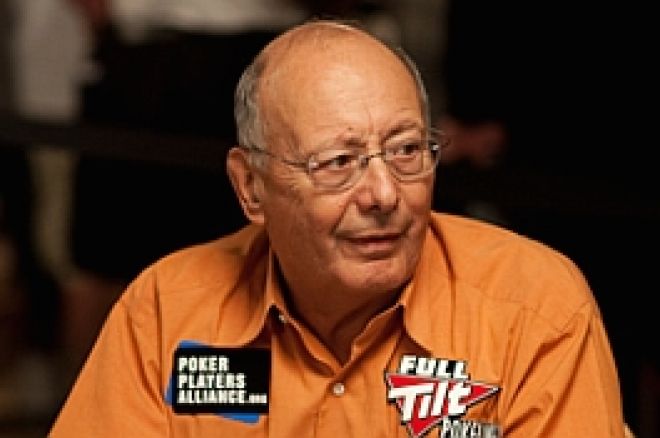 In a press conference at the Rio All-Suite Hotel and Casino on Monday, the Poker Players Alliance unveiled several new initiatives as part of a build-up for this year's National Poker Week, set for July 19-25, 2009. In addition to debuting several new online sites designed to increase poker players' participation in the political process, the conference also announced plans for this year's PPA "fly in" to Washington D.C., where dozens of high-profile professionals and state PPA representatives are expected to lobby on the game's behalf.
The midday conference included participation by several major PPA figures, with PPA Executive Director John Pappas opening the meeting and returning to detail several new PPA programs. In between came brief but energetic speeches from PPA Chairman Alfonse D'Amato and U.S. Representative Shelley Berkley (D-NV), plus short appearances by PPA board members Linda Johnson and Greg Raymer. D'Amato, who also took part in Monday's Seniors Event at the 2009 World Series of Poker (his first-ever WSOP appearance, photo shown), detailed some of the history of the legislative fight over online poker and Internet gaming in his talk. Berkley, who after her appearance gave the traditional "Shuffle Up and Deal!" command to the Seniors players, outlined the manner in which the 2006 Unlawful Internet Gambling Enforcement Act (UIGEA) was shoved through Congress, attacking the act's insertion into an unrelated "must pass" port-security measure as a blatant attempt by then-Sen. Bill Frist (R-TN) to buttress his own presidential aspirations, which fell apart only weeks after the UIGEA's passage.
The majority of the conference, though, was spent looking forward, with the PPA's Pappas outlining several new initiatives, including hinting at the near-future reintroduction of a "skill games" bill by Sen. Robert Menendez (D-NJ). This possible second go-round for the bill would provide an exemption for games of skill to be played over the Internet, specifically separating them from "house" forms of gambling; games such as poker, backgammon and mahjongg would be included in the proposal.
Progress on Congressman Barney Frank's own ongoing legislative efforts to overturn the UIGEA was also detailed, with the possibility of a hearing by Frank's Finance committee to be held during the late-July PPA fly-in.
The PPA also announced three separate participatory programs designed to increase poker's awareness on the federal and state level, continuing the organization's overriding theme of helping poker players to organize and help themselves. Each of the three programs contains a dedicated web site. The first, at nationalpokerweek.com, includes a summary of planned events surrounding the July Washington D.C. fly-in, and includes methods for players to contact their own elected officials on poker's behalf.
The second site, at pokerpetition.com, includes an online petition designed to be delivered to President Barack Obama during National Poker Week. While the existence of the online petition was leaked a couple of days before Monday's official unveiling, more than 7,500 players quickly signed up in the first few hours of the petition's formal existence, with hundreds of thousands of poker players expected to take part.
The third site, at mypokerstory.com, is an attempt by the PPA to humanize and modernize poker as an everyman's form of entertainment, and dispense with decades-old, false stereotypes of backroom gamblers and con artists as representing the modern poker player. The mypokerstory.com includes a contest for PPA members as well, with each participant invited to share a story about how he got involved in poker and what the game means to him. The contest winner will receive a trip for two to Las Vegas, donated by Harrah's. Participation can be done either online or at the PPA's Rio Convention Center booth for the duration of the 2009 WSOP.