2009 WSOP: Ivey, Harman Among Shootout #41 Survivors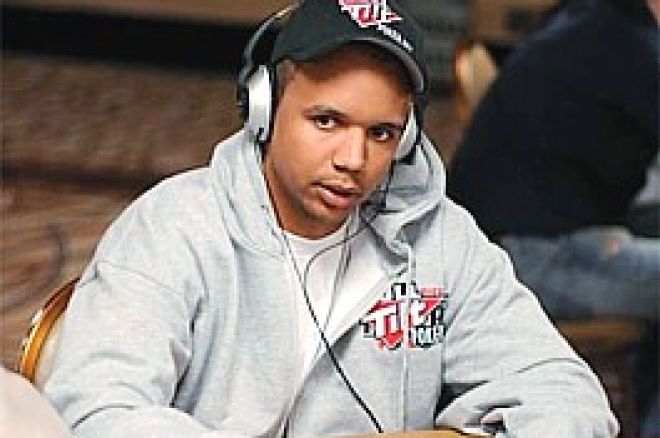 In what seems like it should be an impossible lead to a news story, we have 30 players left and a 30-way tie for first chip position in Event #41 of the 2009 World Series of Poker. The explanation is that this is the $5,000 No-Limit Hold'em Shootout. The structure involves every initial ten-handed table playing down to a single winner on Day 1, without table breaks, as if each were a separate sit-and-go tournament. Each of those table winners made the money and advanced to Day 2. Among those returning when action resumes at 2:00 p.m. Monday are Phil Ivey, David "The Dragon" Pham, Jennifer Harman, Barny Boatman, Neil Channing, and Lex Veldhuis.
The day began with 280 registrants. Tournament officials set up 30 tables, choosing 20 at random to have an empty seat. The unused 15,000-chip stacks were blinded off down to the felt, to ensure that each table winner would have accumulated the same number of chips (150,000, to be precise) with which to begin Day 2 play. This provided a significant advantage for the short tables, as the winners were only required to defeat eight opponents instead of nine.
The 30 Day 1 table winners are each guaranteed a payout of at least $16,740. On Monday, they will be seated at five six-handed tables, and on Tuesday the five winners will form a final table, and the final table participants are the only ones who will make more than the cash they have already locked up.
Play got underway about 15 minutes past the noon starting time, due to the excessive number of tardy participants. Andy Bloch was one of the first out, approximately 30 minutes into action. With the board showing
, Steve Billirakis moved all in. Bloch pondered for awhile, called, then mucked his hand unseen when Billirakis showed
. Jason Mercier was eliminated on another table at about the same time. He and Blair Hinkle got it all in on the 10-Q-7 flop. Hinkle was in bad shape, with just pocket kings to Mercier's flopped set of sevens. But a third king on the turn flipped the situation, and a trey on the river was not the one out Mercier needed.
Manuel Bevand must have wondered what refrigerator the deck came out of when he got all his money in with 10-10 on the flop of 10-J-J, only to discover that his opponent, Isaac Baron, held the other two jacks and he was already drawing dead. Reigning Main Event champion Peter Eastgate arrived late and departed early. He sat down at about 1:00 p.m., and within ten minutes he was crippled. Eastgate put in the fourth preflop raise for all his chips with
. His opponent called with
. Eastgate's stack shriveled to just 2,800 when the board came
, and he was eliminated a short time later.
It's easy to see how Noah Boeken went busto, putting his chips in with A-J on the flop of A-J-6. But Antonio Esfandiari held 6-6, with no magic to come for Boeken on the turn or river. Top two pair on the flop was similarly lethal for Daniel Alaei. With
in his pocket, he was way good on the flop of
against his opponent's
when the money went in. No problem with the turn
, but the river
took the air out of his sails. Alaei put his last few chips in on the next hand with
, but lost to a player who called him with
.
After less than four hours of play, Ryan Hughes was the first to vanquish an entire table of foes and advance to Day 2, securing himself a cash, and doing so quickly enough to give himself most of the day to do something else. Jennifer Harman also bought herself a ticket to tomorrow. On the last hand of the day, she made trips with
in the hole and
on the flop. Her last remaining opponent bet 1,950. She raised to 4,500 and got a call. Both players checked the
turn. With the river
, Harman put her opponent all in and was called, the other cards going into the muck unseen.
Shortly before the dinner break, Phil Hellmuth limped, then called an all-in raise from an opponent. He had
to the other player's dominating
. Both made two pair on the board of
, but Hellmuth was behind every step of the way, and left empty-handed. John Monnette locked up a seat in the second round, putting all his chips in with a dominating hand:
to his final opponent's
on the flop of
. When the board completed with
and
, Monnette could take his sweet time for dinner. Well, so could his opponent, but Monnette probably enjoyed it more.
Bill Edler had been table captain for much of the day, but finally came up just short. Instead, it will be Cort Kibler-Melby moving on to Day 2. All the chips went into the middle on the turn, with the board reading
. Edler had both the better hand and the better draw with
to Kibler-Melby's
, but the river
completed a higher straight for the latter, sending Edler to the rail.
Two of the last five tables still in play were finally settled with A-A versus A-K, all in preflop, the aces holding both times. On the good side of the matchups were Jeff Frerichs and Maxim Lykov; leaving close but with no cigars were and Scott Desveaux and Scott Montgomery.
Big Slick also failed Michael Hauptman in the final hand of the day, wrapping things up before 11:00 p.m. — remarkably early by WSOP standards. He was all in before the flop with
against Neil Channing's
. When the dealer put out
, Channing completed a remarkable come-from-behind victory, having dug himself into a 5-to-1 chip deficit early in heads-up play. He became the final player to lock up a seat for another go at the bracelet Monday. Other notable names among the winners include Joe Serock, Danny Wong, Davidi Kitai, Peter Feldman, Amit Makhija, Mark Teltscher, David Baker, and Nasr El Nasr.
Inevitably, and by design, most of the entrants fall by the wayside. Those not making it through the day included Dario Minieri, Nick Schulman, Brock Parker, Michael Gracz, David "Chino" Rheem, Chad Batista, Steve Billirakis, David Singer, Roland de Wolfe, Sorel Mizzi, Thomas Wahlroos, Kathy Liebert, Amnon Filippi, Jonathan Little, Joe Sebok, Greg Mueller, Huck Seed, Gavin Smith, Antonio Esfandiari, Allen Cunningham, Terrence Chan, Chris Ferguson, Dennis Phillips, Isaac Baron, Isaac Haxton, Michael Mizrachi, Daniel Negreanu, Scott Seiver, Bertrand Grospellier, Marco Traniello, and Juha Helppi.
The 30 Day 1 winners will begin the next leg of the run for the bracelet Monday at 2:00 p.m. PDT.