Demidenko Leads Way as PokerStars EPT Kyiv Main Event Begins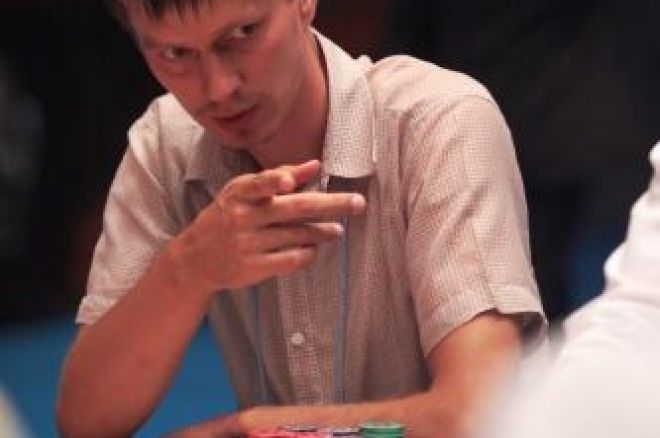 The first day of the first ever PokerStars.com European Poker Tour event in Kyiv, Ukraine is in the books. A total of 129 players came out for the first of the two scheduled Day 1 flights, 93 of whom survived to return for Thursday's Day 2. At the end of play, it was Ukraine's own Mihaylo Demidenko who went home with the room's biggest stack, with 145,125 chips.
The original plan had been Moscow — to ride the wave of poker's spreading popularity in Russia by launching the sixth season of the EPT in that country's capital, home to dozens of poker rooms. But plans changed last month following Russia's decision to declassify poker's status as a sport, thus making it subject to anti-gambling legislation. As it happened, poker's place in the culture of neighboring Ukraine was moving in the opposite direction, where the game was officially made a non-Olympic sport just two months ago. Plans were revised, and the Kyiv Sport Palace, once home to the Eurovision Song Contest and more recently the World Cup Gymnastics, was chosen as the new venue.
Ukraine showed its enthusiasm for becoming part of the EPT with an impressive opening ceremony, replete with performances by a quartet of percussionists, Ars Nova, and by the dance group Virskogo. The latter, composed of over fifty men and women in traditional Ukrainian dress, put on an especially impressive display, moving through a sequence of tunes with jaw-dropping athleticism and artistry. A welcome message from the Minister of Youth, Family, and Culture followed. Then the event was officially launched by Ukraine Poker Federation honorary president Gary Bowman, tournament director Thomas Kremser, and EPT founder John Duthie.
Players began with 30,000 chips and blinds of 50/100, so it was no surprise to see most exercising patience in the early going. Luca Pagano of Italy was an exception, playing several pots and thus seeing his stack move up and down quite a bit before finally disappearing altogether near afternoon's end in a hand versus Russian Alex Dovzhenko. With the board showing
, Pagano pushed all in with
only to have Dovzhenko call him with
. The river brought no help to the Italian, and Pagano hit the rail.
Other notables coming out today included Alex Kravchenko (Russia), Nikolay Evdakov (Russia), and "Miami" John Cernuto (United States). All three had up and down days, and all three ended with stacks in the same general neighborhood — Cernuto with 51,500, Kravchenko 46,550, and Evdakov 43,875.
Seven one-hour levels were played today, and during the latter levels Michael Naletov (Russia), Alem Shah (Germany), and Arnaud Mattern (France) each took turns challenging for the chip lead. Demidenko, however, was the one who eventually pushed out ahead of the pack, a major step coming in a big hand versus Oleksandr Ziv.
In that hand, Ziv (also from the Ukraine) and Demidenko together saw a flop of
. Demidenko checked, Ziv bet 10,000, Demidenko check-raised to 20,000, and Ziv just called. Both players then checked the
turn and
river. Ziv showed pocket nines for the flopped set — he clearly was looking to make Demidenko pay later in the hand — but that turn card, completing possible straight or flush draws, had thwarted his plans. Demidenko then turned over pocket kings for the better set, and suddenly he was up around 150,000.
A bigger group is expected to come out for tomorrow's Day 1B, with tournament officials hoping to see the final total of entrants around 300. Whatever the final turnout ends up being, it will almost certainly mark the largest poker tournament ever in the Commonwealth of Independent States (i.e., the former Soviet Republics), eclipsing the previous record of 201 players at the PokerStars Russia Poker Tour event in St. Petersburg earlier this year.
Come back tomorrow to follow all of the action from EPT Kyiv here at PokerNews. Watch video interviews and highlights from Kyiv as well at TV.PokerNews.com.