PokerStars.net Asia Pacific Poker Tour Macau Day 1B: Myhre and Nielsen Lead the Way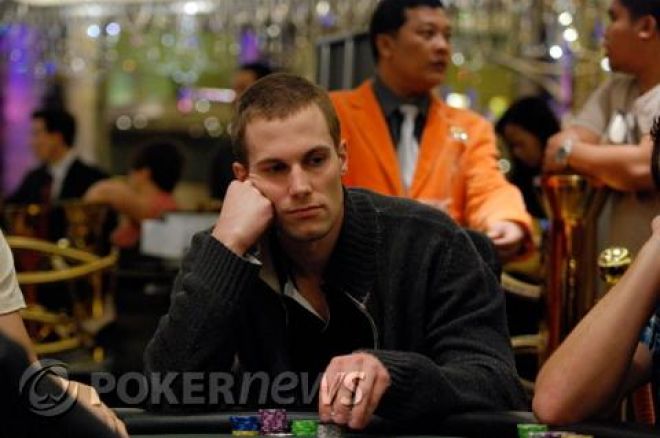 Following the traditional Chinese mask-changing dance to kick off play for Day 1B of the PokerStars.net Asia Pacific Poker Tour Macau Main Event, the international contingent would jet in and dominate an action packed day of poker!
Over a hundred players took to the felt with Team PokerStars Pros Chris Moneymaker, Raymond Rahme, and Tae Joon Noh being joined by Young Phan, Casey Kastle, and Steve Yea, along with online sensations Van "Sirens" Marcus and Jonathan "xMONSTERxDONGx" Karamalikis.
Tournament veteran Phan was out of the blocks early while Yea was unable to get much going and eventually fell to the rail when his short-stack was unable to climb north.
Moneymaker's trip to Macau would be a roller coaster after arriving the previous evening – only to see it end on a sour note.
After doubling to over twice his starting stack thanks to some aggression and a flopped set, Moneymaker would be bluffed out of a pot with four-high before sending Andrew Chen to the rail. He would then send away fellow WSOP final tablist and Team PokerStars Pro Rahme, when his turned set of kings outdrew Rahme's made Broadway straight when the board paired on the river. Moneymaker would then lose a tough hand, holding
against an opponent's
after all the money went in preflop, only to see him return back to where he began the day.
Only a table away, Norwegian Kristoffer Myhre would send Team PokerStars Team Asia Pro, Noh, packing when his
managed to outflop Noh's
after all the money went in on the turn on a final board of
to see Myhre soar to over 100,000 in chips.
Not to be outdone by Northern Europe, Kazakhstan's Darkhan Botabayev would be Moneymaker's next beneficiary when he flopped a set and saw the 2005 WSOP Champion triple barrel bluff with just ace-high. Botabayev would take care of his remaining few thousand a little over twenty-five minutes later as he continued to climb up the leader board along with Myhre.
Aditya Agarwal knocked out a player after the final break to make a late run along with Roel Pijpers and Suen Kit Cheong, as Australia's Michael Marvanek, Daniel Neilson and Luke Santo hit the rail just shy of the final hand being dealt.
Once the chips had been bagged and tagged, only 55 players would survive a heated Day 1B with the top ten chip stacks being dominated by an international contingent that featured players from Norway, Denmark, The Netherlands, Kazakhstan, Australia, India and the USA.
Top Ten Chip Counts
Kristoffer Myhre – 183,400
Peter Nielsen – 141,500
Roel Pijpers – 125,500
Darkhan Botabayev – 124,500
Suen Kit Cheong – 118,300
Aditya Agarwal – 93,300
Justin Ostrowski – 80,500
Terry Fan – 75,900
Tu Thanh Le – 67,700
Sean Wilson – 67,000
Day 1C will be underway at 12:15 p.m. local time (GMT +8) with a 200-plus expected field in attendance to see a first place prize of US $600,000 and a potential US $2,500,000 prizepool reached.
For a complete list of Day 1B results, visit the PokerNews Live Reporting page where you'll also find photos, videos and detailed accounts of the day's action.
For all the live action straight to your Twitter, follow us here.