2 Months, 2 Million: How to Build Your Own "War Room"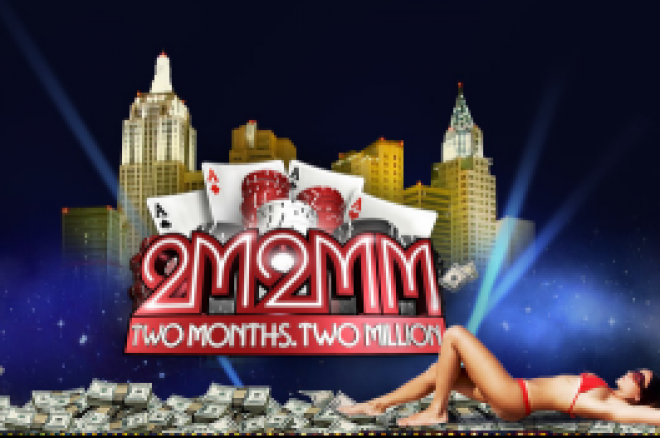 When it comes to grinding it out at the online tables, no one does it with more style (and comfort) than the four stars of 2 Months, 2 Million. While living their lives in front of the cameras this past summer, Jay "Krantz" Rosenkrantz, Emil "whitelime" Patel, Brian "Flawless_Victory" Roberts and Dani "Ansky" Stern spent most days inside their online poker "War Room," a converted bedroom inside their Las Vegas home that functioned as their collective office.
Sparing no expense when it came to constructing their "War Room," the cast outfitted it with some of the highest-end PC desktop systems on the market, not to mention four 50-inch plasma screens that reprojected the feed from their individual monitors, making it easier for cameras to capture the action. According to Jay Rosenkrantz, all of them had their own computers and monitors shipped from their homes to Las Vegas, rather than working on new equipment at the mansion.
Inside the War Room, each member of the 2 Months, 2 Million quartet had their own specialized setup with one thing in common: each used Dell desktop PCs and monitors. Dani "Ansky" Stern worked on a Dell XPS 730x desktop ($1,599-$3,999) hooked up to a single 30-inch Dell wide-screen flat-panel monitor ($1,399). Brian "Flawless_Victory" Roberts chose a dual-monitor setup, using two 24-inch Dell flat-panel screens ($439 each) with his Alienware gaming PC ($1,099-$4,199), which sports a sleek, space-age exterior that comes in green, silver or black.
Rosenkrantz and Patel both played on custom-built desktop PCs optimized for online poker. Bcause he doesn't play as many tables as the other guys, Krantz uses a single 24-inch Dell monitor while Patel prefers a 30-inch wide-screen monitor.
Although building one's own PC isn't for the technical novice, it's not as expensive as you might think.
"If you know what you're doing, the custom computers Emil and I had built are the cheapest and best option because they're really fast, and since you buy the parts separately, they clock it at only a little over $1k," explained Rosenkrantz, who also recommends the Web site Newegg.com when it comes to purchasing hardware components.
Not only did these four guys put a great deal of thought into their PC setups, they're also serious about comfort at the virtual tables. Big believers that posture can have a huge effect on one's game (remember when Brian chastised Dani for slouching in his chair, claiming that he "couldn't possibly play his A-game like that"),the gang went all out when it came to choosing comfortable ergonomic work chairs. Roberts is a fan of Herman Miller's Aeron chair ($899-$1,225); the others chose Steelcase's "Leap" chair ($849-$1,299) and Humanscale's "Freedom" chair ($1,180-$2,335). While the Aeron comes in a single, familiar design, the Leap and Freedom chairs can be customized with special armrests and different upholstery options including leather.
A killer online poker setup doesn't have to break the bank. For under $1,000, it's easy to create your own "War Room." Heck, you don't even need an entire room — a quiet corner or an unused alcove will work perfectly. Here are some of our recommendations when it comes to equipment:
Machine: Dell's Studio Desktop PC starts at $399 and is easy to customize.
Monitor: Best Buy offers a 23-inch HP wide-screen model for $249 and Dell's 24-inch flat-panel monitors start at $279. Before you buy, however, check your frequent-player point balance on your favorite online poker site. Full Tilt Poker offers Samsung and LG monitors for anywhere between 60,000 and 80,000 Full Tilt Points depending on size, while PokerStars offers 20-inch to 27-inch monitors for 15,000 to 42,000 FPPs.
Chair: Realspace's "Soho" leather chair is an affordable option and is available at Office Depot. Long on comfort and low on price, it'll only set you back $129.99. IKEA's "Markus" swivel chair is another stylish choice, retailing for $199.
Now, when it comes to 2 Months, 2 Million's infamous "Tilt Room," this is a space that can be constructed on even a shoestring budget. Follow these simple steps and for less than $100, you can build your own.
Cover the floor with a large plastic tarp and secure it to the walls with duct tape (a 15'x23' roll one costs $20 at Home Depot).
Slice open some plastic garbage bags and use them to cover the walls. Secure them to the ceiling and floor with duct tape.
Acquire weaponry. We recommend a Louisville Slugger ($24.99, Sports Authority), CCM Ice Hockey Stick ($21.99), or that old putter that is rusting away in your garage.
Fill up on ammo. Ask the produce guy at your local supermarket if he can hook you up with some bruised or nearly spoiled fruits and vegetables at a discount. He'll probably think you're a little strange but hey, you're building a room designed to control the very specialized type of rage that boils over when playing an online card game — not exactly a "normal" endeavor.
Whack that fruit.
For a premium add-on to your Tilt Room, consider Everlast's two-station boxing stand ($119.99). With one of these, you can release all that anger and get in shape at the same time.
2 Months. 2 Million. airs Sunday nights at 9 p.m. on the G4 network. To start your own quest for poker immortality, open up an account on PokerStars today.