The PokerNews Jet Set: London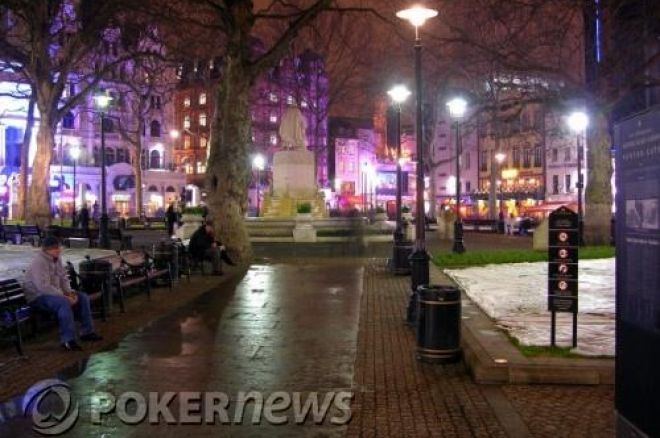 All eyes in the poker world will be on London this month as the World Series of Poker Europe pulls into town from September 17 through October 1, followed by the European Poker Tour's wildly popular U.K. stop at the Grosvenor Victoria Casino from October 2 through 7. With four WSOP bracelet events on tap at the Empire Casino and another 16 scheduled at the Vic, London will become a temporary home for many tour pros over the next few weeks. Whether it's your first visit or you're making a return trip, check out our suggestions for exploring this vibrant, multicultural metropolis.
Getting into the city
Traveling from Heathrow or Gatwick airports into Central London can be an arduous, expensive journey by taxi. Taking up to 90 minutes in traffic, a London Black Cab from Heathrow to the West End can run over £60 and from Gatwick it'll set you back nearly £100. The best option by far is to hop on either the Heathrow or Gatwick express trains. The Heathrow Express costs £16.50 each way and runs every 15 minutes between the airport and London's Paddington station. From there it's easy to either grab a cab to your hotel or transfer to the London Underground (commonly known as the "tube"). The Gatwick Express costs £16.90 and drops passengers off at Victoria Station.
Places to hang your hat
The WSOP-Europe runs at the Empire Casino, which is situated in Leicester Square in the heart of Central London. Hotels in this area are extremely expensive, with a typical room running well over $300 a night. If you are planning on playing the WSOP-Europe, we strongly recommend staying as close as possible to the casino. The tube shuts down around midnight and with the tournament running until two or three in the morning, you'll be forced to shell out taxi fare every night — and that adds up quickly. Thankfully, dozens of accommodation options are avilable in the immediate area.
St. Martin's Lane
If you're running well and are looking to splurge, one chic, convenient option is St. Martin's Lane, an Ian Schrager property that is less than a five-minute walk from the Empire Casino. With its striking lighting and minimalist design, it's a quiet oasis in the middle of this bustling neighborhood, and each room offers stunning views of the city. St. Martin's Lane is also home to Jeffrey Chodorow's Asia De Cuba restaurant, as well as the Light Bar, which offers creative martinis and innovative cocktail creations.
Soho Hotel
Adored by travelers from all over the world, the Soho Hotel is arguably one of London's finest. The sunny, spacious rooms have a comfortable, modern aesthetic that screams "home away from home" and it's less than ten minutes by foot from Leicester Square. Although it's certainly not a budget option by any means, it's a great way to treat yourself after that big score.
Rent a flat
A great option for players planning to spend two to three weeks in the city is to rent a flat. Holiday-Rentals is a great place to start your search, featuring apartments at a variety of sizes and price points. Pair up with a friend or two and you'll end up spending a fraction of the cost of a hotel room while enjoying more space, the ability to cook your own meals, and never having to worry about housekeeping knocking on your door at 8 a.m.
Other options
The Radisson Edwardian Hampshire Hotel is located only 100 meters from the casino, directly across Leicester Square. A few blocks away, across Trafalgar Square, is the Club Quarters, a boutique hotel that caters to business travelers. Thistle Hotels also has a number of properties in the area, including the Royal Trafalgar and the Thistle Picadilly.
The Local Cuisine
The restaurants that line Leicester Square are hardly anything to write home about and should pretty much be avoided at all costs. A multicultural smorgasboard of cuisine that spans the globe from India to China to the U.S. is, however, available in nearby Soho.
Wardour St.
Only two blocks west of Leicester Square, Wardour Street borders London's Chinatown and is lined for blocks with Asian eateries. For some quick Cantonese food that will blow your mind, head over to Hung's. Formerly called the Crispy Duck, the specialty is just that: a deep-fried bird that is served over noodles. It is an excellent spot to grab a quick bite on dinner break for a meal will set you back no more than £10.
Only a few doors down the street you'll find the legendary Wong Kei, a massive, noisy Chinese eatery that is famous for having the rudest waiters in London. The menu rivals many Russian novels in length, covering dishes from familiar fare like egg rolls and sweet-and-sour pork to prop-bet-worthy entrees like "roasted intestines." Although the ambiance resembles organized chaos at best, the food is both tasty and cheap and you'll be hard-pressed to spend more than £10 to £15.
Bodean's BBQ
If you're craving a little U.S. home cookin' during your stay in Jolly Olde England, look no further than Bodean's BBQ, a surprisingly authentic barbecue joint located right in the middle of Soho. Tender pulled pork, savory burnt ends and lip-smackinly tasty ribs are all on the menu, along with some seriously strong margaritas and mojitos. Bodean's is also one of the few places in town that shows American sports and is a great place to get your Sunday NFL fix.
Curry Houses
Curry houses are ubiquitous in London and typically the gaudier the curtains on the front window, the better the food. If you're looking for a swankier option, check out Veeraswamy on Regent Street or Knightsbridge's Amaya.
Take-Away
If you're looking for some quick, healthy food that you can pick up on your way to the casino, try Pret-A-Manger or EAT. Both are chain operations that offer freshly made, ready-to-eat sandwiches, soups, salads, pastas, snacks, and desserts. At last year's WSOP-E, we were practically addicted to EAT's pho soup and Thai noodle salad.
Upscale dining
You might just run into some of your favorite pros at Nobu, Nobu Matsuhisa's palace of fine Japanese cooking. Order the black miso cod, the jalapeno yellowtail sashimi, and pray you don't get stuck with credit-card roulette. If you're a fan of Hell's Kitchen or The F-Word, London is the place to get a taste of Gordon Ramsay's cuisine. Although getting a reservation at his flagship eatery, Restaurant Gordon Ramsay, is about as easy as getting an audience with the Queen, he has opened nearly a dozen other restaurants across the city to tempt your palate. Across town near the Vic is the Michelin-starred Locanda Locatelli, widely regarded as London's best Italian restaurant. Just make sure to book a reservation well in advance.
Have a pint
Londoners love a good pint of ale after a long day's work and you won't have to look too far to find a great pub. The Lamb & Flag is a rowdy Soho institution good for a late night with good friends, while Covent Garden's Harp, with dozens of varieties on tap, will satisfy any ale connoisseur. Salisbury is right in Leicester Square and is one of the prettiest pubs in London, with a warm, "glowy" interior straight out of the 19th century. The Dog & Duck has twice won Soho's pub-of-the-year award, while The Windmill serves up magnificent traditional British pub food including its famous steak pies.
Can't-miss sightseeing:
Take a walk over the bridge across the Thames and hop on the London Eye, best known as "that huge thing across the river that looks like a Ferris Wheel." A ride on the Eye takes about 30 minutes and offers unparalleled city views. Once you disembark, head over to the Tate Modern and enjoy the U.K.'s premiere collection of contemporary art. Walk back across the bridge and take a tour of Westminister Abbey before hopping on the tube and checking out Buckingham Palace. Cap off the day with a walk through one of the city's Royal Parks—- St. James' is our favorite. If you're a fan of live theatre, you're right in the middle of its European epicenter in the West End. Shows from Shakespeare to Spamalot are running nightly.
Want to win your way to London? European Poker Tour satellites are running now on PokerStars and World Series of Poker satellites can be found at Betfair.com