WCOOP: It's Good, But Let's Make It Better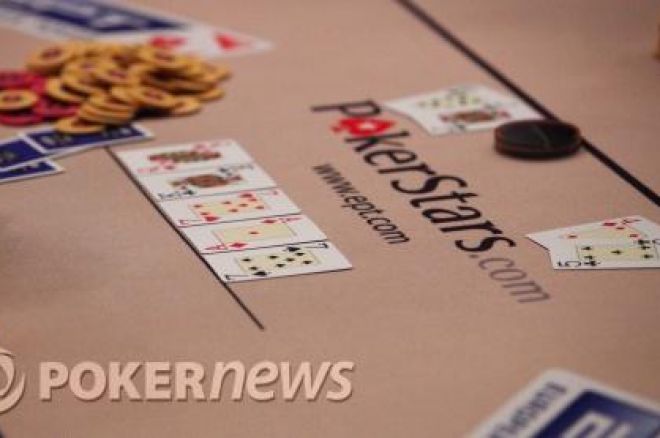 PokerStars will be a battleground over the next two weeks while the World Championship of Online Poker runs its course. Now highly popular, the WCOOP originated in 2002 with a mere nine events including the $1,000 buy-in Main Event, which drew 283 entrants. At the time, the inaugural WCOOP was created to honor, reward and showcase the best tournament players on the site. The crew at PokerStars even voted on the best all-around player in the WCOOP and awarded Pete "TheBeat" Giordano a $5,000 cash bonus.
After Chris Moneymaker won the WSOP Main Event in May 2003, the entire online poker industry exploded as thousands of wide-eyed players flocked to the virtual tables in a post-modern gold rush. The 2003 WCOOP's numbers reflected the initial influx of new players to the game because everyone wanted to become the next Moneymaker and get rich quick via online poker. In subsequent years, as the players base grew, the number of WCOOP events steadily rose. In the last three years, the number of tournaments increased from 20 (2007) to 33 (2008) to 45 (2009).
More than half of the events in this year's WCOOP are no-limit hold'em, with only a couple of opportunities to play Badugi, 5-Card Draw, and Triple Draw tournaments. Every year, PokerStars adds a twist to the WCOOP event schedule to help spruce up the action and add variety to the mix. However, like most tournament festivals these days, there are too many No Limit Hold'em events.
This year's attention-grabbing events include a six-handed Pot Limit Omaha tournament and four-handed No Limit Hold'em event. Those short-handed events seem like a lot of fun, but PokerStars needs to get even more creative.
I think some drastic changes need to be made to next year's schedule. First, No Limit Hold'em is only popular because that's what the players are told to play. They follow the money and the fame. Start tripling the guarantees on the other events, and players will show up in droves.
Next step? Eliminate all of the lower-tiered buy-ins. It's the World Championship of Online Poker, after all. The price of admission should be at least twice the price of a ticket to the Sunday Million!
And without a doubt, trim the amount of no-limit events to no more than 25% of total WCOOP tournaments. To fill those empty slots, here's a list of suggested future WCOOP events...
$530 Mixed Game S-E-R. Let's combine all of the 7-card Stud derivatives into one mixed game featuring alternating rounds of Stud, Stud 8, and Razz. The winner will be declared "Stud of the Year."
$530 Limit Hold'em Four-Handed Deep Stack. Limit Hold'em tournaments get a bad rap, so give them tons of chips and make them super-shorthanded to induce the action.
$530 5-Card Stud. If it was good enough for the Cincinnati Kid, then it's good enough to play online for a WCOOP championship.
$530 No Limit Omaha High with Rebuys. Yes. No Limit Omaha with unlimited rebuys for the first four levels. That'll juice up the prize pool. Action junkies from Tenafly to Malmo will be talking about this stunning event for decades.
$1,050 No Limit Hold'em with No River. This event is catered to all of those tinfoil hat-wearing conspiracy nuts out there who are convinced that the Mormons are going to throw online poker players into government prison camps and that the river card on PokerStars is always rigged against them. To eliminate any paranoia, the tournament will be No Limit Hold'em without a river card. Only four board cards; three on the flop and one on the turn. That's it and no more slanderous remarks about "RiverStars."
$420 Mixed 8-Game - Pot Limit. It's a series of mixed games that all feature pot-limit betting. Pot Limit Hold'em. Pot Limit Omaha. Pot Limit Omaha 8. Pot Limit Badugi. Pot Limit Triple Draw. Pot Limit Stud. Pot Limit Stud 8. Pot Limit Razz.
$530 Mixed Game – Pot Limit Omaha/Razz with Rebuys. The WCOOP needs more random mixed game choices. I would love to see a fusion of PLO with Razz. Playing a brutal round of Razz, then jumping into exhilarating four-card PLO action is sort of like getting kicked in the junk before you dive off a cliff.
$1 No Limit hold'em Heads-Up. This is the only low buy-in event and a tournament for players, who have remarkable stamina, or insomniacs. With a $1 buy-in and a 16,000-person cap, the event will be the largest ever heads-up tournament in the history of poker. It would also probably last 14 months before a winner is declared; however, all players would get off on Sundays and all major holidays.
$530 All In Pre-Flop TURBO with Rebuys. Another popular game among action junkies. There's only one possible bet in this tournament… all in pre-flop. Why waste any time and just shove preflop to make thing easier?
$530 Shallow Stack No Limit Hold'em. While everyone debates the merits or downsides of "deep stacked" tournaments, here's a nifty alternative... fewer starting chips. Go back to the days of 1,000 starting stacks and 5/10 blinds.
$530 3-Card Pot Limit Omaha 8. Do you really need four cards for a split pot game?
$530 Mixed 5 & 7. Alternating rounds of 5-Card Draw and 7-Card Stud. This is something your grandfather might have played in the service during WWII.
$530 Pot Limit 7-Card Stud. Generation Y and Z look down at Stud as an old man's game. If you simply change the betting to a pot limit format, then overnight you'll have a whole new generation of addicts.
$25,500 High Roller Heads-Up High Card. This will be limited to 64 people playing heads-up. Players are dealt one card. The high card wins the match and advances to the next round. Any ties? Deal again. The final heads-up match will be a best-of-three.
$10,300 No Limit Hold'em Team Pro Freezeout. This would be fun to watch from the rail — a tournament with all of the Team Poker Stars Pros and $10,000 buy-in with their own money. No freebies from PokerStars. It's all about bragging rights since the event is winner take all. Not only does the winner get the money, but PokerStars will throw in first-class flights for a full year. No more slumming in coach or bourgeoisie accommodations in business class on long international flights to LAPT and APPT events.
$530 6-Card Razz. Razz is one of the most frustrating games in poker. Let's minimize the angst and remove the dreaded seventh street.
H U 4 ROLLZ. I'm disappointed that PokerStars did not add a H U 4 ROLLZ (aka Heads Up for Bankrolls) event. It's the rage among the kids today who are full of bravado and eager to prove their supreme poker skill by risking their entire bankrolls in a single heads-up match.
Come on, PokerStars, make some of these tournaments a reality for the 2010 WCOOP. And if you do, I'll be the first one to sign up for Pot Limit Omaha/Razz.
Read more of Dr. Pauly's work at TaoPoker.com, and follow us on twitter while you're at it. Don't forget about this year's WCOOP either, sign up for a PokerStars account and start grinding.