2 Months, 2 Million: Lockdown!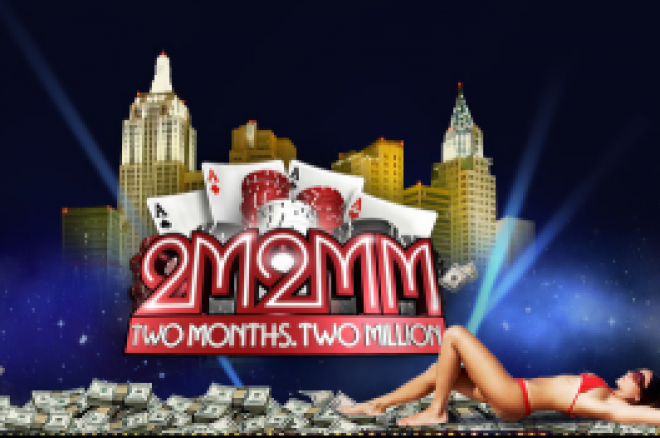 A positively giddy Brian Roberts led his three roommates into Tourneau, where he picked out the $5,000 watch he won in last week's challenge. Always looking for an excuse to gamble, Jay Rosenkrantz, Emil Patel and Dani Stern decided to play credit card roulette for the tab, somewhat like picking straws except with credit cards and it was Rosenkrantz who ended up with the short straw — the bill. Although the cost stung at the time, by week's end, a $5K beat would seem like pocket change to Rosenkrantz who endured a gut-wrenching, soul-crushing, brain-melting rollercoaster of a week at the virtual tables as our fearless foursome headed into the home stretch of their $2 million challenge.
With time running out, and the quartet over $1.8 million short of their goal, everyone agreed that they needed to step up their collective game. Rosenkrantz encouraged Patel to play higher and sit in at $50/100 no-limit hold'em, and when he spotted his nemesis "luckexpress10" sitting at a heads-up $200/400 table, Rosenkrantz quickly borrowed $45,000 from Stern so he could buy in to the nosebleed-stakes match.
Dealt
in the big blind, Rosenkrantz three-bet before the flop and luckexpress10 made the call. After Rosenkrantz fired out for $5,000 on the
flop, luckexpress10 raised to $14,000 and Rosenkrantz shoved for $53,300. Luckexpress10 called, having outflopped him with
. Luckexpress10 raked in the $115,000 pot and Rosenkrantz suddenly found himself over $97,000 in the hole for the session. Stern wasn't exactly thrilled to hear about "Krantz's" beat and decided to hit the tilt room. Hard. While Stern pulverized fruit with a baseball bat, Rosenkrantz blew off steam on the basketball court.
With everyone frustrated about their results, Roberts proposed a "lockdown" in the war room. Until 36 hours had passed or the $2 million goal had been achieved, all four would hunker down and get in as many hands as possible. Penalties were put in place for breaking the lockdown and a rule was instituted allowing only one player at a time to leave the war room for bathroom and food breaks. To prepare, the guys hit up a Mexican supermarket to restock the tilt room. Watermelons, cantaloupes, pinatas, and even ceramic animals landed in the shopping cart.
"What is wrong with you? You want to smash...dogs?" wondered Stern as Rosenkrantz placed a litter of ceramic canines in the shopping cart.
"You're Jewish. Idolatry is bad," he dryly replied.
As lockdown commenced, Stern decided to start off by multitabling some tournaments while Rosenkrantz took on "JD_Killer" heads-up. Playing $50/100 no-limit hold'em, Rosenkrantz crushed his opponent for $93,500. As the clock ticked toward midnight, Roberts and Patel decided to get in a few hours of sleep while Rosenkrantz continued to play. He ended his session a $113,000 winner.
Brimming with confidence from his six-figure day, Rosenkrantz was up with the sun and ready to grind while the other guys continued sleeping. In the biggest game any of the four had seen all summer, Rosenkrantz sat down to play two tables of $200/400 no-limit hold'em against David "Viffer" Peat, a regular in live high-stakes games who plays under the screen name "amosa."
Rosenkrantz got off to a promising start. Holding pocket nines, he picked off a preflop all-in bluff from Peat, who was holding nothing more than
, taking his lockdown winnings up to $159,000. However, play turned sour when Rosenkrantz three-bet all-in on a
flop holding
only to find himself in kicker trouble against Peat's
. That hand set off a long slide over the next several hours during which Rosenkrantz bled away not only his $159,000 in winnings but another $188,600 as well, including an $80,000 loan from Roberts.
Although the 36 hours of lockdown were up, Rosenkrantz kept on playing. With his his losses approaching a quarter of a million dollars, Rosenkrantz began looking more deeply at Peat's play and picked up a valuable tell. After figuring out that Peat tended to make pot-sized bets when he wanted to get a weak hand to fold, Rosenkrantz summoned the courage to pick off one of those bluffs and won a $165,000 pot. Then another. And another. Finally, in the largest hand any of them have played all summer, Rosenkrantz flat-called Peat's turn bet holding top two pair, then called his $126,000 river shove. On the
board, Rosenkrantz's K-Q was good against Peat's stone cold bluff with
and he dragged the $316,000 pot.
"Are u ok?" asked Rosenkrantz in the chat box.
"Die in a grease fire," replied Peat, to peals of laughter around the war room.
With lockdown complete, it was time time to celebrate at Ghostbar, where Roberts treated everyone to a few more of his classic dance moves.
The weekly tally showed Rosenkrantz as the clear winner, while Stern ended up in the red.
Week 8:
Jay Rosenkrantz +$351,000
Emil Patel +$34,000
Brian Roberts +$9,000
Dani Stern -$22,600
Week 8 total: +$371,400
Total to date: +$507,000
In by far the most disgusting penalty stunt yet, Stern was forced to play 52-card pickup in Aaron "aejones" Jones' fluorescent green, algae-ridden pool.
"I feel like a prisoner in Shawshank!" bemoaned Stern as he was hosed down afterward.
"2 Months, 2 Million" airs Wednesday nights at 8 p.m. on the G4 network. Check your local listings and get yourself in the online game by opening an account at one of our online partners' poker rooms.