2 Months, 2 Million: The High-Stakes Home Game
Nicole Gordon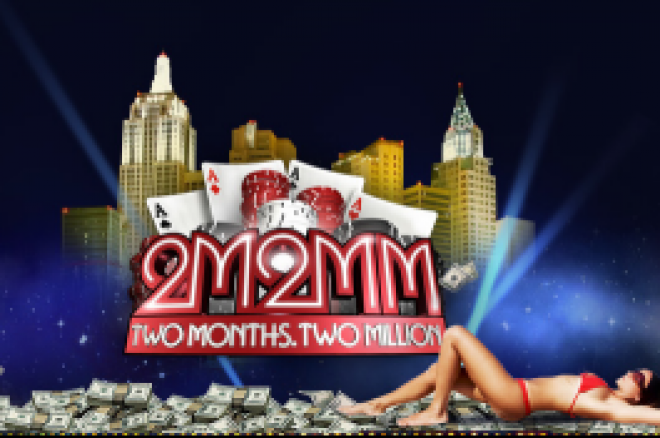 With only a week left in Las Vegas, Jay Rosenkrantz, Emil Patel, Brian Roberts and Dani Stern were still nearly $1.5 million short of their goal. Although at this point, reaching $2 million was a long shot at best for our fearless foursome, they decided to at least try and double their $507,000 in profits before heading home. Knowing they needed to set up some more high-stakes matches, Rosenkrantz and Stern hit up the Hard Rock Hotel & Casino to meet with the poker room manager to see whether he could use his contacts to round up potential opponents. Although the names "Phil Ivey" and "Tom Dwan" were mentioned, Rosenkrantz didn't hold much hope for a game coming together.
"I don't think anything's gonna happen with that," Rosenkrantz said as he and Stern walked through the parking lot.
"The Hard Rock's not gonna do s**t. We need some more options," Stern replied. "We're like Forrest Gump before the storm when he's a shrimp-boat captain. We need our storm to happen."
"Run, Dani, Run!" Rosenkrantz quipped.
Back home in the war room, Patel ground out another winning session while Roberts endured a brutal two-outer on the river in a $22,000 pot. Later, Patel enlisted Roberts' help in plotting his revenge against Rosenkrantz for the water-balloon ambush he faced in the driveway a few weeks ago. Patel dreamed up a plan involving ripe tomatoes and a slingshot.
Now exploring the idea of hosting a live high-stakes home game, Stern and Rosenkrantz visited Aaron "aejones" Jones' house to see whether he or any of his roommates were interested in playing. Fresh off his 18th-place finish in the World Series of Poker Main Event, Andrew "Luckychewy" Lichtenberger was totally game.
"I have $127,000 in my backpack I'm willing to put to good use," Lichtenbergrer said. "Hopefully I don't lose it all."
Back in the war room, the boys made some nice gains at the tables. Rosenkrantz was up $52,000 while Stern sat on a $48,000 win.
"Someone poured itching powder down my pants. I'm itching for fish. I want to eat fish for breakfast, lunch and dinner," deadpanned Rosenkrantz as he raked in a pot.
Out in the backyard, Operation Tomato Ambush entered its final planning stages with Roberts and Patel enlisting the help of three residents of the "aejones house" in the attack. Despite using Rosenkrantz's personal trainer, Brody, to lure their target into the yard, Patel jumped the gun and struck too early. The entire plan ended up backfiring on Patel, who ended up covered in tomato juice.
"Why'd you set off the megaphone so damn early!" Roberts screamed.
In the war room, Stern and Rosenkrantz filled Roberts and Patel in on their plans for a live $100/$200 no-limit hold'em game at their house. Steve "MrSmokey1" Billirakis, Gabe Thaler, and Andrew "good2cu" Robl were confirmed to attend, but David Williams backed out at the last minute, much to everyone's chagrin. Roberts, however, wasn't too keen on the whole idea, believing that their risk of getting robbed was too high.
With a hulking, bald security guard searching everyone as they entered the house, the game went off as David "Viffer" Peat, Bertrand "ElkY" Grospellier, and Robl arrived. Although he had backed out earlier, Williams showed up at the last minute, rolling into the driveway in his black Bentley.
"(Williams) came in second at the World Series of Poker Main Event a few years ago, but in a game like this, he's dead money," Rosenkrantz said.
Since Stern, Rosenkrantz, Patel, and Roberts all had pieces of each other's action, only one of them could sit in at a time. Rosenkrantz sat in first and watched as Grospellier took a $27,000 pot off Williams. Only a few hands later, Williams dropped a $32,000 pot to "Luckychewy" and, after losing over $50,000, decided to quit the game early. In the end, the foursome posted a $30,700 loss, their efforts all for naught.
Rosenkrantz moved into the war room as a rare thunderstorm brewed over Las Vegas. After enduring a horrendous session that saw all his profits from the week evaporate, he ran out into the yard and angrily threw the red pen used to mark down everyone's losses into the pool as rain poured down.
Next, it was tally time, with Stern totaling up everyone's winnings.
Week 9:
Jay Rosenkrantz: -$3,200
Emil Patel: +$53,100
Brian Roberts: +$12,000
Dani Stern: +$47,000
Week 9 total: +$108,900
Total to date: +$615,900
Stuck with his fifth penalty stunt of the summer, Rosenkrantz had to dress up as his Full Tilt Poker clown avatar and beg women at the Rio's Sapphire pool for donations so he could buy a new red nose as his friends watched and howled with laughter.
The season finale of 2 Months, 2 Million airs Wednesday, October 21 at 8 p.m. on the G4 Network. Check your local listings. To start your own $2 million quest, open up a poker account here at PokerNews.