Does Poker2Nite Have What it Takes to Flourish?
Nicole Gordon
Michael Friedman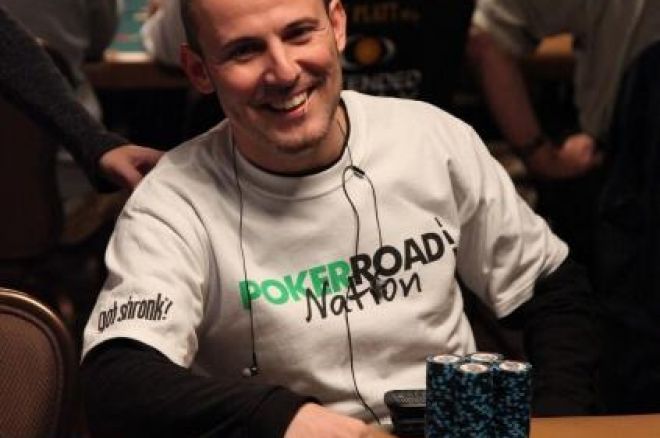 Last night was an important one for the poker industry as "Poker2Nite" took to the airwaves. For the first time, mainstream audiences will have a program dedicated to discussing everything going on in the poker.Will the show flourish under the pressure? In a debate that would make both Scott Huff and Joe Sebok proud, we break it down.
Michael Friedman sees a successful run for "Poker2Nite"
"Poker2Nite" will be a success because of the chemistry between the show's hosts, Joe Sebok and Scott Huff. These two have known each other for a long time and have worked together in the past, so is won't be difficult for them to establish a relationship with the viewers at home. Both have a great sense of humor and they bounce well off one-another, so their comfort level should translate to the end product, making it a fun-to-watch program that keeps viewers up to date on the latest happenings.
You can also count on an extremely well-written show, with PokerRoad's Joe Stapleton in charge. Stapleton has a knack for adding humor to poker content that resonates with poker fans. This show may be on FSN but don't expect the writing to lose its humor or witty inuendos. Although it will be a challenge for Stapleton and crew to come up with hilarious content every week, if one thing has been learned from PokerRoad's past success, it is that this crew of talented scribes somehow manages to keep things moving, which should play to their advantage in a TV format.
"Poker2Nite" will also find an audience because of its wide variety of program content. In addition to covering the week's poker news, the people behind "Poker2Nite" were smart enough to bring in two roving reporters, Dana Workman and Lacey Jones, to expand the show's content. Workman and Jones should spice things up during the broadcasts, which will help the program find a balance between serious stories and the sport's lighter side. With segments such as "Talk Soup," "Classic Hands v2.0," "Check, Raise, Fold?," along with Workman's "The Weekly Misdeal" and Jones' "We'll Do It Live!," poker fans will have plenty to get excited about.
Nicole Gordon believes a poker news show is "not ready for prime time."
"Poker2Nite" appears to have everything going for it — a slick set, a guaranteed ad-buy from a major online poker site, and two of the funniest, most charismatic hosts one could ask for in Joe Sebok and Scott Huff. I have no doubt that these two have it in them to produce a poker news program that is informative, entertaining, and even a little offbeat. There's just one problem.
"Poker2Nite" has to find an audience large enough to sustain itself in a prime-time slot on one of the nation's largest sports networks. My guess is it won't.
The WSOP Main Event final table, now commonly known as the "November Nine," is by far the most widely watched poker event of the year. Even with the presence of Phil Ivey, arguably the biggest star in the game, this year's ratings for the November Nine declined, slipping from a 1.9 household rating in 2008 to a 1.8 rating in 2009. This translates into roughly 2.1 million pairs of eyes watching last week's broadcast on ESPN. If that's the audience size the "Super Bowl of Poker" draws, how many viewers can a weekly poker news show possibly count on?
If a poker news program were presented to a network on a pure pitch, chances are it never would have made it on air. There simply isn't a demand for it. "Poker2Nite," however, came with millions of dollars of support from a single advertiser, Ultimate Bet, which Sebok represents as both a player and a media consultant. That alone made the show a far easier sell.
As much as the poker media loves to talk about getting more mainstream exposure for the game we so love, the audience for poker news programming is still a small niche market. This market is extremely well-served by Sebok's successful Web venture, "PokerRoad," and its accompanying radio shows, "PokerRoad Radio" and "The Poker Beat." A significant component of the success of these programs is not only the often hilarious banter between the hosts but also a good portion of insider humor. It is going to be difficult to get much of that humor to translate for a wider, more mainstream audience. I love all the Allen "Chainsaw" Kessler jokes and quips about Jeffrey Pollack's ties, but does the average poker fan know who either of these men is?
Personally, I'm thrilled to watch Seebs and Huff step in front of the cameras in their Sunday best, so my DVR is set. I'm also happy that Fox Sports continues to demonstrate a strong commitment to poker programming. The problem is that I'm a hard-core poker junkie, not your average fan — and those casual viewers are what "Poker2Nite" needs if it's to survive beyond its 13-episode order. That, and a lot of people opening Ultimate Bet accounts.
Let us know what you thought of the show in our forum and as always be sure to follow us on Twitter for up-to-the-minute news.