European Poker Tour Prague Day 4: Final Table Set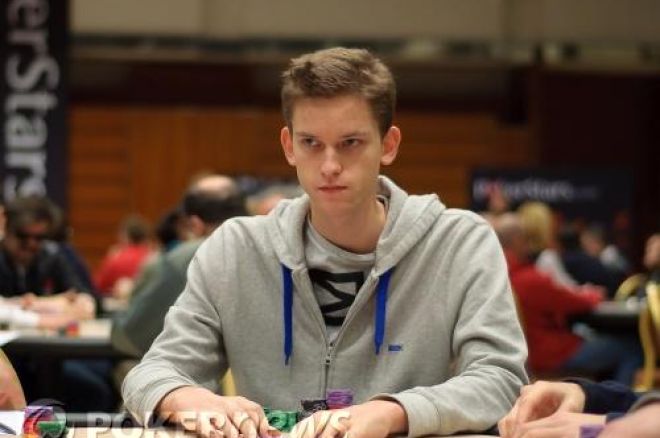 Only 24 players remained at the start of the day of the PokerStars.net European Poker Tour Prague, and after eight hours their number was down to a mere eight. This represented progress.
The pace of play began slowly with over a level disappearing before anyone was eliminated. Once Boris Yaplonskiy had been eliminated in 24th place in a three-way pot, however, the exits came quickly.
Anthony Roux made an extraordinary call against Bastian Trachte to put himself up there chip-wise with the big boys. Trachte, however, couldn't recover and busted in 23rd place, while Roux went on to make the final table with an above-average stack.
Chip leader at the beginning of play was the Israeli, Eyal Avitan, who maintained his large stack throughout the day to finish up in fourth place on the leaderboard. Most notably, Avitan proved to be Antony Lellouche's nemesis when he flopped trips to crack the latter's pocket kings and sent him home in 19th place.
Juha Lauttamus was crippled when Stefan Mattsson's A-Q outdrew his A-K. He recovered to ladder up a few places, doubling up twice, but eventually succumbed in 10th place to Roux. A-Q came good for Mattsson to beat A-K again later in the day when he knocked out former chip leader Yann Brosolo in 13th place and assured himself a spot at the final table.
Kalle Niemi, who managed to make the final table at EPT San Remo earlier this year, narrowly missed out on his second EPT final table when Irish online qualifier Laurence Ryan outflipped him for his tournament life.
Down to nine runners at a single table after the exit of Lauttamus, Priyan de Mel was not one of the short stacks. He couldn't get away from a flopped flush draw, however, and lost to Stefan Mattsson's set of threes after failing to improve. This set the final table.
A couple of folks will be feeling quite at home at this final table. Luca Pagano has now achieved his (lucky) 13th EPT cash, and this is his sixth EPT final table. He will, no doubt, be hoping to score his first-ever win to obliterate any chance of anyone else topping the leaderboard this season.
Meanwhile, Czech native Jan Skampa has become the first player ever to make back-to-back EPT Main Event final tables after taking fourth place at Vilamoura last month. He goes into this one as chip leader, closely followed by Stefan Mattsson.
Seat 1: Anthony Roux (2,839,000)
Seat 2: Stefan Mattsson (3,553,000)
Seat 3: Laurence Ryan (1,338,000)
Seat 4: Gustav Ekerot (502,000)
Seat 5: Sven Eichelbaum (658,000)
Seat 6: Jan Skampa (3,985,000)
Seat 7: Eyal Avitan (2,627,000)
Seat 8: Luca Pagano (2,119,000)
This is indeed a final table with some pedigree. Join us back here at PokerNews.com from noon CET, when we will be playing right down to one glorious champion.