2010 Borgata Winter Poker Open: Madsen Riding a Heater, Takes the Trophy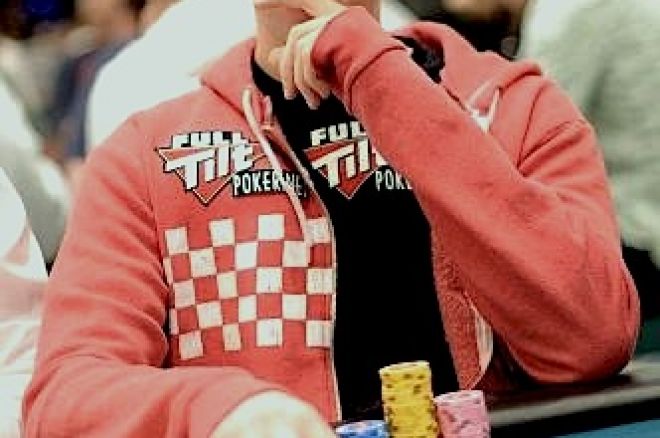 Friday was finally final table day at the Borgata Winter Poker Open in Atlantic City with the first prize of $625,006 set before the last ten players. The fight card projected a good battle with Sirous Jamshidi, Jeff Madsen, Dave Fox, and Tom "KINGSOFCARDS" Marchese among the finalists; the action on the felt did not disappoint. Just before dinner time, it was Madsen who found himself sitting alone at the table with every chip in play, claiming the title and the hefty cash prize.
A few minutes after the cards went flying this morning, a short-stacked Matt Matros made his stand with
against the
of Nick Kamen. An ace came off the deck straight on the flop, and no two-out help for Matros meant his day was done early (10th place, $31,876).
Chan Pelton started play as the shortest stack, and he managed to notch one double up before finally succumbing to the battle. It was another coin flip as Pelton tabled
to Madsen's
. One double-up was all Pelton was going to get today. The board bricked off to send him to the payout desk for his ninth-place prize worth $49,039.
The next-shortest stack entering the final table was that of Ross Mallor, and he was next to make his departure. Mallor pushed his ten big blinds with king-queen, and Al Grimes called with the leading ace-ten. That turned into two pair on the flop, and the gutterball straight never materialized for Mallor (8th place, $67,429).
The first game-changing pot of the day unfolded while play was seven-handed. With the blinds at 50,000/100,000, Grimes opened the pot with an over-raise to 1.1 million. Madsen moved all-in for 3.3 million total, and Grimes called with the covering stack. The
of Madsen was crushed as Grimes rolled over
. Salvation would come for Madsen, though, and in such a monstrous spot. The board ran out
to make him the unlikely flush and double him up into second place. "That's a mistake on my part," said Madsen in the post-pot chatter. "I should've thought it through more. You made such a big bet, I didn't think you were that strong."
For a few orbits, Dave Fox was riding the short stack, and, finally, ace-seven was good enough for him to go with. He found action in two places, and Grimes' king-queen made two pair to send the Fox back into his hole (7th place, $91,949). Grimes (6th place, $116,468) followed him to the payout desk when he got his chips committed on a draw and could not connect against Madsen's flopped trips. Moments later, Kamen found himself all in for 2.1 million chips before the flop with a naked ace. Barkley Hamilton was the lucky squeezer of pocket kings, and they held up to knock off Kamen in fifth place ($140,988). Just like that, the tournament was down to four.
Four-handed play lingered for a bit before another crazy pot unfolded involving Madsen. He raised, and Hamilton three-bet to put 2 million chips in the middle heading to the flop. It came
, and both men checked. The
on the turn drew a bet of 900,000 from Hamilton, and Madsen made the smooth call. The
completed the board and the rest of the chips went in, about 2.1 million for Madsen's shorter stack. Hamilton showed up
, but his set was no good. Madsen flipped over
for the overset, his two-out river card locking up the largest pot of the day and putting Hamilton on life support. He would be eliminated in fourth place on the following hand ($165,508).
Three-handed play wouldn't exactly linger at all. On the very first hand back, Marchese and Madsen tangled in a preflop raising war that left Marchese all in and racing with
against
. There was a queen on the flop and an ace on the turn, and Madsen's two pair sent "KINGSOFCARDS" out with the bronze medal and $190,027.
Marchese's elimination put Madsen and Jamshidi heads up for the trophy virtually even in chips, but the battle was one-sided from the start. After an hour of dueling, Madsen had opened up a two-to-one chip lead, and he wasn't slowing down. A half hour later, that advantage had ballooned to seven-to-one as he grinded away at Jamshidi. Finally, the final blow came. Jamshidi had been whittled down under ten big blinds when he moved in with
. Madsen asked for a count before calling with
, ahead with a chance to end the day right there. The board came
, and Madsen was even able to celebrate one card early. Jamshidi was the runner up ($367,794), and Madsen has earned yet another piece of hardware to add to his impressive trophy case.
Madsen appears to be on a bit of a heater these days as this performance follows up his 19th-place effort in the PokerStars Caribbean Adventure Main Event. "It feels good," he said. "It takes a while for it to set in, but in a few days I'll look back on it." Madsen's career tournament earnings have now surpassed the $3-million mark, and that's not too shabby for a 24-year-old. "I've had success in the past," he continued, "but it feels good to get these big wins and continue to prove myself in the poker world."
Does all this tournament coverage have you itching to hit the felt? Sign up for an account on PokerStars and get to work on satellites for the upcoming LAPT, EPT, and NAPT events!