EPT Copenhagen Day 4: All-European Final Table Deadlocked at Nine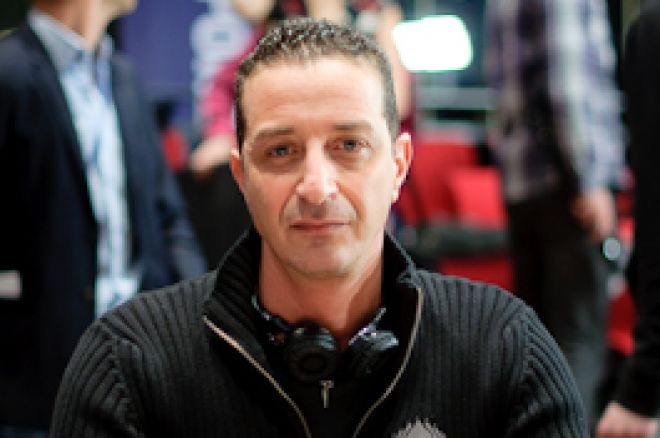 Three eight-handed tables returned to the Radisson ballroom today for the PokerStars European Poker Tour Copenhagen; only one would remain by the end of the day. Following a long nine-handed slump in eliminations, the decision was made to return tomorrow with nine players instead of the official eight-handed final table.
Cheerful Welshman Roberto Romanello was the man at the top of the leader board when they sat down to play. He had fully recovered from the bout of food poisoning that was ripping up his insides yesterday, but whatever nasty bug he picked up seemed to have acted as a good luck charm. Romanello spent much of the early part of the day bleeding chips - but he eventually found his happy place again after a late double up and eventually made it through the day on a roughly average stack.
There would be no messing about initially, as a quarter of the field vanished in the first full level of play. First to go was Italian EPT fixture Nicolo Calia in 24th place; he was swiftly followed by popular Lithuanian Kristijonas Andrulis in 23rd.
Disappointment came early among the Danes as their fellow countryman and last Team PokerStars Pro standing Peter Eastgate crashed out in the first level of the day. He'd lost over half his stack when his straight was beaten by Damien Fouquet's full house. Not long after that, Eastgate flopped a set of jacks - but Jesper Petersen turned a broadway straight, the chips went in, and it was good-game-well-played for the former World Champion.
Janne Nevalianen, Henrik Junker and Thomas Pettersson all followed Eastgate out of the tournament in swift succession. Ricky Fohrenbach, who came eighth at the PCA a couple years back, could not improve on that result after losing a huge coinflip to Andrew Teng and he crashed out in 17th place.
Steven Vollers followed Fohrenbach out the door in 16th, and Chris Dombrowski gave up the tournament ghost in 15th place. Andrei Vlasenko, who made the final table in Vilamoura, couldn't better that result this time around and took 14th place.
Fouquet got royally Fouque'd when his kings got cracked by serial caller Morten Guldhammer holding ten-jack. Fouquet reraised Guldhammer preflop but Guldhammer called and the chips all went in on the T-J-6 flop to send the Frenchman to the rail in 13th place. In the process, he catapulted Guldhammer into the lead by a very long way.
Teng started the day second in chips but was first crippled and then eliminated by Magnus Hansen in two consecutive hands to send him home in 12th place. Mads Wissing followed in 11th, last American standing Paul Szyszko succumbed in 10th, and the remaining nine players condensed on to a single unofficial final table.
After the super-ultra-fast start to the day, it was perhaps to be expected that losing the last player of the day would take some time - although it still came as a surprise when they didn't make it there at all. Yorane Kerignard, Richard Loth and Anton Wigg all doubled through the call-happy Guldhammer to even the stacks somewhat, and after two and a half hours of nine-handed play it was decided to stop there and try again tomorrow. Even unofficial final tablists need to eat dinner, after all.
These will be the seating assignments and stacks when players return:
Seat 1: Jesper Petersen - 968,000
Seat 2: Francesco de Vivo - 2,073,000
Seat 3: Yorane Kerignard - 1,164,000
Seat 4: Magnus Borg Hansen - 1,164,000
Seat 5: Anton Wigg - 1,412,000
Seat 6: Morten Guldhammer - 2,033,000
Seat 7: Richard Loth - 1,436,000
Seat 8: Roberto Romanello - 1,551,000
Seat 9: Morten Klein - 748,000
Play resumes at 2 p.m. CET and the PokerNews team will be on the floor to keep you abreast of all the drama.
And as always, be sure to follow us on Twitter for up-to-the-minute news.