PartyPoker Premier League IV: Guide to Trash Talking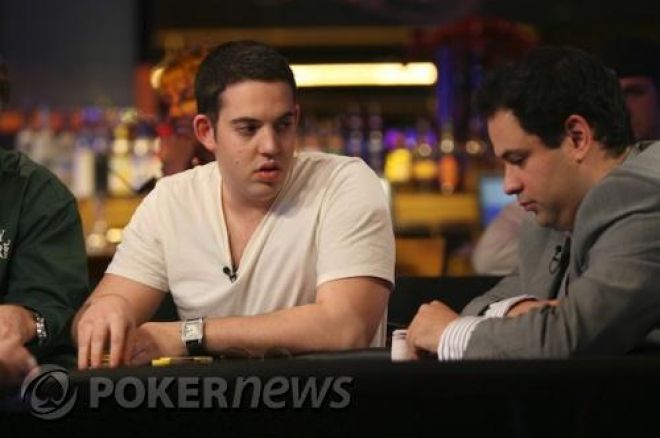 The PartyPoker Premier League is one of the most high-octane tournaments on the calendar. The $100,000 buy-in, invitation-only field, and unique format combine to create a dangerously combustible dynamic. In such an environment, who better to set sparks flying than some of poker's biggest names - and mouths - Phil Hellmuth, Daniel Negreanu, Tony G, and Luke "FullFlush" Schwartz? With the loose cannons in this year's PPL lineup, there's bound to be an explosion worth watching.
Twelve players - 10 internationally recognized tournament heavyweights, one member of Team PartyPoker, and one online qualifier - are spending the week together at the M Resort in Las Vegas. With cameras rolling, they'll each play in multiple single-table tournaments to determine who gets a seat at the final table and a shot at the $1.5 million prize pool. That means no busting out and storming off to the airport. No hope of a table break to save them from the obnoxious guy across the felt. No anonymous fish to berate or awestruck tablemates to fleece.
It all results in some trash talking that's as impressive as the poker. Here's PokerNews' Loud-Mouth Scouting Report.
Player: Phil "Poker Brat" Hellmuth Jr.
Claims to Fame: won 11 WSOP bracelets, has world's highest self-esteem, dislikes Northern Europeans
Trash Talk Potential: off the charts
As the self-described "greatest poker player to ever play the game," Hellmuth knows which plays are correct and which aren't. He has a penchant for sharing his advice, especially with those who beat in him in a hand. Expect explosions if he is ever out-flopped. Run for cover if he gets rivered. Luke Schwartz will do his best to get under Phil's skin. In a blog entry analyzing his PPL opponents, Schwartz said of Hellmuth, "all mouth well past it won 20 years ago against the lolest of fields." Durrrr better watch out. He may soon be replaced as the number one target of Hellmuth's rage.
Player: Daniel "Kid Poker" Negreanu
Claims to Fame: one of the world's most beloved tournament players, master of small ball and table banter, doesn't eat meat but might eat meat eaters
Trash Talk Potential: high
With four WSOP bracelets, two WPT titles, and over $12 million in tournament earnings, it's difficult to dispute that Daniel Negreanu knows how to play the game. The media game, that is. Kid Poker's spotlight-seeking strategy is to be as friendly and talkative as possible. Expect him to tell great stories and work hard to entertain both his fellow pros and the camera crew. Although he's always cheerful, DN is capable of delivering some stinging barbs. He'll just do it in a tone of voice that makes it sound like a compliment. Negreanu has a large Twitter following, so expect much of his trash talking to come in 140-character increments.
Player: Luke "FullFlush" Schwartz
Claims to Fame: high-stakes Internet whiz kid, international trash-talking poster child, dislikes paying for food
Trash Talk Potential: off the charts
Schwartz brings drama with him wherever he goes. He almost didn't make it to Las Vegas in time for the PPL after getting kicked out of an airport for throwing a temper tantrum. FullFlush is known for attacking his opponents' skills, personalities, and even sexualities. There's no filter on his mouth and no line he won't cross. Schwartz got his Premier League competitors' blood boiling before he even saw them, sending the PartyPoker blog some choice comments about the other players. He's definitely put a target on his back and will settle for nothing less than a full-scale brawl.
Player: Antanas "Tony G" Guoga
Claims to Fame: regular on the high-roller tournament circuit, poker media mogul and owner of PokerNews, bicycle enthusiast
Trash Talk Potential: high
Lately Tony G has made an effort to keep his blood pressure low and his mind focused on the game. But all the spa treatments and zen thoughts in the world can't take the fight out of this dog. He's made the money at the PPL a few times and finished second last year. After losing heads up to J.C. Tran, Tony G means business this year. He'll pull out all the stops, including some first-class mind games.
Player: J.C. Tran
Claims to Fame: PPL defending champion, owner of two WSOP bracelets and more than $7 million in tournament earnings, rarely seen without a Yankees cap
Trash Talk Potential: Low
Tran already won this event - and just about everything else. He doesn't need to prove himself or talk smack. One of the quietest pros out there, Tran will probably stay below the radar and avoid any drama. Tony G could be out for revenge after losing heads up to Tran at last year's PPL final table, but he'll have to leave the talking to the cards if he wants a reaction from J.C.
Player: David Benyamine
Claims to fame: high-stakes cash-game regular with a dedicated flock of online railbirds, strong Omaha and mixed games tournament player, somehow scored Erica Schoenberg, somehow screwed it up with Erica Schoenberg
Trash Talk Potential: Moderate
The formidable French pro is used to trading barbs in Bobby's Room and defending himself against chatbox harassment. Benyamine will probably click a mental "disable chat" button and tune out the noise to focus on the game. Still, he won't take crap from Luke Schwartz, who blogged about Beyamine, "I can feel the equity already in his Hold'em leaks." Since David can't wait for the round of pot-limit Omaha or triple draw to school the competition, we may have to pardon him some French.
Player: Vanessa "Lady Maverick" Rousso
Claims to Fame: successful live and online tournament player, put herself on the map with a second-place finish in the 2007 WCOOP Main Event, even Sports Illustrated thinks she looks good in a bikini
Trash Talk Potential: moderate
Ms. Maverick has never had difficulty holding her own with the big boys. She has no problem putting opponents in their places when necessary, but Rousso sometimes opts to hide behind her reflective shades and tune out the table rather than engage. Unclear which tactic she'll apply here, but Rousso has been getting plenty of practice dishing it out on camera lately as one of the panelists on Bank of Hollywood, a new E! show. No one could blame her if she gave Luke Schwartz a thrashing after his blog comment about her. FullFlush wrote, "can never tell the difference between her and the girl from American Pie that plays poker too."
Player: Roland de Wolfe
Claims to Fame: first player ever to win both EPT and WPT titles, second player to win poker's triple crown (EPT, WPT, and WSOP titles), will prop bet on almost anything
Trash Talk Potential: high
The gregarious British pro has spent plenty of time on the tournament circuit and likes to keep himself entertained at the tables. When he's not getting a table-side massage, he's prone to sharing his opinions with anyone in earshot and making side bets with fellow pros. He and Negreanu each chose six players before the Premier League started and have a bet on whose team will earn more points. Expect quite a lot of trash talking between the two of them.
Player: Yevgeniy "Jovial Gent" Timoshenko
Claims to Fame: won the Season Seven WPT Championship for more than $2 million, a few months later took down the WCOOP Main Event for $1.7 million, looks like he should be thrown out of the casino and sent back to his middle school class
Trash Talk Potential: Low
When you're as good as he is and run as well as he does, what is there to gripe about? Plus it would be unseemly for Timoshenko to be anything less then jovial or gentlemanly. He has a reputation to uphold.
Player: Phil "Unabomber" Laak
Claims to Fame: won the PartyPoker World Open V in 2009, appears regularly on every poker show ever made, world-class prop bettor
Trash Talk Potential: Moderate
Laak is a last-minute addition to the PPL IV roster. He replaced Doyle Brunson who is recovering from dental surgery. Laak can put on a floor show with the best of them when he's motivated to come out from behind his hoodie. He's likely to break out the antics for his fellow pros and the cameras, but Laak may keep the trash talking to a minimum since he has crushed the competition so far. Winning the first two heats speaks for itself.
Player: Ian "The Raiser" Frazer
Claims to Fame: won his seat in the Team PartyPoker playoffs, shootout tournament specialist, not big on punctuality
Trash Talk Potential: Low
While poker tournaments are work for all of these players, Frazer is really on the clock. As a member of Team PartyPoker, he's representing the site and the tournament and is obligated to be a good ambassador. It'll take a lot to see any real drama from Frazer this week.
Player: Giovanni Safina
Claims to Fame: PartyPoker online qualifier, representing Salerno, Italy, got nothing to lose and no expectations
Trash Talk Potential: non-existant
Safina has parlayed an Italians-only satellite win into a trip to Vegas and now a seat in a $100,000 event with 11 of the world's toughest players. No chance he gives lip to anyone. And if he does, it'll have to be in Italian. Most of the pros will make an effort to be nice to him. The only thing he has to fear is an outburst from Hellmuth if Safina beats him in a pot.
PokerNews continues to bring you all of the PartyPoker Premier League IV action live from the M Resort. Click here to follow the drama as it develops and pick your own trash talking favorites.