PartyPoker Premier League IV, Heat 2: Laak Likes the Winner's Circle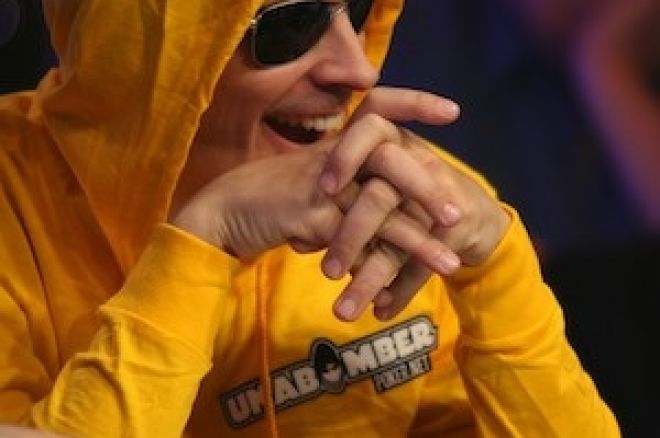 The second day of the Party Poker Premier League IV ended the same way the first did on Friday, with Phil Laak sitting behind all the chips. While the line-up was different, with four players making their PPL IV debut, Laak wore the yellow jersey and proudly outlasted the rest of the field on his way to another 16 points, $32,000 and a near guarantee for the final table.
Joining Laak for a second straight day were JC Tran, Roland De Wolfe and Yevgeniy Timoshenko. Playing for the first time at the M Resort were Phil Hellmuth, David Benyamine, Tony G and PartyPoker online qualifier Giovanni Safina. The table was ripe with verbal ribbing, and players wasted no time trying to get under each other's skin. Tony G had his now infamous bike on hand, as well as a tricycle for Luke Scwartz who was not even in Saturday's heat, and Roland De Wolfe attempted to needle Hellmuth at every turn stating he would be happy to bet Hellmuth that since 2003 Hellmuth is not a winning player. Hellmuth fought back, saying "You're just a bee Roland, I'm a heavyweight. Even if you move up to lightweight, I'll knock you out in the first round."
The first to leave the party on Saturday was arguably one of the quietest of the bunch, Yevgeniy Timoshenko. He found himself short-stacked after a series of monster laydowns during the first level of play. Timoshenko folded two-pair to Tony G's set in one hand, he folded queens on a six-high board against Phil Laak's aces, and he also got away from ace-jack on an ace-high board when his opponent Giovanni Safina had flopped a set of threes.
Tony G would be the next to go. He started the heat strong, building an early chip lead, but made a risky play with pocket fives against David Benyamine's pocket tens, leaving The G short-stacked, and off for an afternoon bike ride shortly thereafter.
JC Tran looked poised for a win as he held the chip lead when play got four-handed, but he ran into a red-hot Phil Laak in a massive hand to lose a large chunk of his chips. Laak raised to 78,000 with
and Tran looked down at
and pushed Laak all in. After several minutes, Laak made the call, and the players saw a
flop, giving Tran two pair, but leaving Laak outs to a straight. The turn was the
, leaving Tran in the lead, but the
on the river completed Laak's straight, catapulting him into the lead. Tran was eliminated a few minutes later when Laak's
out-raced Tran's pocket jacks.
David Benyamine was Phil Laak's next victim, as the players got all in with Benyamine holding
against Laak's
. Again Laak's luck took hold as he flopped a jack, which was good enough to earn the pot.
When heads-up play began, Laak held a massive chip lead with about 1.3 million more than Roland De Wolfe. Although De Wolfe would fight back getting things close to even, Laak once again caught lightening in a bottle on the final hand of the day. Laak limped from the button with pocket deuces, and Roland De Wolfe raised to 260,000 with pocket eights. Laak moved all-in, and De Wolfe quickly made the call. The flop came down
and once again Laak jumped to the lead.
"Someone needs to have security check these decks," joked Laak. "I may have a friend back there I don't know about." The turn was the
, and the river the
and De Wolfe was eliminated. He earned 11 points, and $22,000 for the finish.
Heat 3 begins Sunday at noon in Vegas, and players will continue to position themselves for the final table.
Standings:
1. Phil Laak – 32 points
2. JC Tran – 17 points
3. Roland De Wolfe – 14 points
T-4. David Benyamine - 8 points
T-4. Yevgeniy Timoshenko – 8 points
6. Vanessa Rousso – 6 points
T-7. Luke Schwartz – 4 points
T-7. Giovanni Safina - 4 points
9. Phil Hellmuth - 3 points
T-10. Ian Frazer – 2 points
T-10. Tony G - 2 points
12. Daniel Negreanu – 0 points
Follow us on Twitter for up-to-the-minute news, and also become our fan on Facebook.
*Photo Credit - MIckey May