PartyPoker Premier League IV Playoffs: Day 1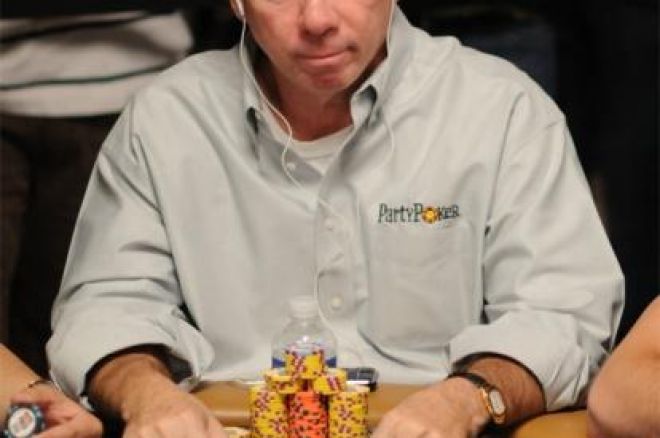 The long-awaited PartyPoker Premier League IV began on Tuesday afternoon with Day 1 of its unique "Playoff" qualifying event. The magnificent off-Strip M Resort rolled out the red carpet and welcomed the first six players for their date with the TV cameras.
South Las Vegas has never seen anything quite like this showdown, which gives 16 Internet qualifiers and six members of Team PartyPoker the chance to win one of two $100,000 entries into the upcoming Premier League Main Event. Over the next four days, the 24 players will compete in three six-handed mini-heats apiece to determine who advances to the final qualifying table. The heats are scored as follows:
1st: 17 points
2nd: 13 points
3rd: 10 points
4th: 8 points
5th: 7 points
6th: 5 points
The point total after a group's three heats determines who advances to the final table and how many chips they'll have once they get there. Got all those numbers? Let's get down to business.
Heat #1.1:
Tuesday's lineup included Mike Sexton, Bodo Sbrzesny, and Remy Biechel, as well as Ian Frazer, Dragan Galic, and Felipe Ramos. There's one mega-name in that bunch, but you might want to start becoming familiar with some of the others as well. Biechel is a newer member of Team PartyPoker and a perennial tournament performer with nearly $1 million in career earnings. Galic has been having a sick two-year stretch on the live tournament scene, amassing close to $1 million in his short stint. Frazer can brag even better results than those two, including a ton of success in PartyPoker's live events. All that said, the betting favorite was clearly the Hall of Famer, Mike Sexton.
And within just about ten minutes of action, he was out of the first mini-heat. Sexton lost the majority of his chips after a brutal flop in a big pot with Ramos. Sexton called a preflop raise with
from the blinds, and the K-T-9 flop gave him top-two. Ramos bet and called a check-raise from Sexton there, and the rest of the money went in when fourth street brought a repeat nine. Three pair was no good as Ramos turned over Q-J for the straight, and the disastrous flop cost Sexton nearly his full stack. Soon after, Galic's K-Q out-flopped his pocket tens to take care of the rest and send Sexton off to mingle.
Galic won another race to eliminate Bodo Sbrzesny in fifth place, and Biechel's fourth-place exit meant that the three Team PartyPoker members were the first three to fall.
The remaining half of the battle was a quick one as Galic and Ramos quickly found themselves engulfed in a huge pot. Ramos played it slowly with aces and allowed Dragan to catch two pair on the turn. A board pair on the river counterfeited Galic, though, and Ramos' aces up earned him a huge heap of chips. Galic had to settle for third place, and Ramos finished off Frazer in short order to win the first heat going away. And on his birthday, no less.
Heat #1.2:
With starting stacks of $100,000 chips, it was an impressive feat to finish up the second mini-flight within an hour. Fifteen minutes after the table reconvened, though, Galic moved all-in following a Biechel raise. Remy called with pocket jacks, and Galic's ace-king could not improve to save him from taking the proverbial wooden spoon.
Frazer was having trouble holding on to his chips this time around, and he eventually ran his ace-queen into pocket aces to walk off in fifth. Sbrzesny and Ramos followed in quick succession, the latter nursing a crippled stack for as long as he could manage. That put Sexton and Biechel heads up for the mini-win and 17 points, and it was an undramatic contest. Sexton began with a chip deficit that he could not overcome, and Biechel took care of him after just a few orbits of heads-up dueling.
The third mini-heat for Group 1 will take place on Wednesday at noon local time, and Group 2 will get their Playoff event under way then as well.
If you're already eyeing up a spot in Premier League V, open an account on PartyPoker and start building that bankroll. Hey, we'll even start you off with a free $50 before you ever deposit!
A special thanks to Marko Saric, the author of the Party Poker Blog