The WSOP on ESPN: Mercier Takes Control, Shulman and Negreanu Chase History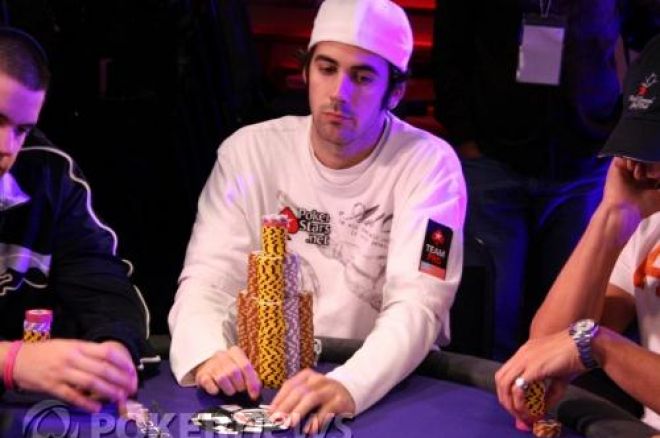 ESPN offered up another triple dose of its World Series of Poker-Europe coverage last night, airing a mini-marathon of three new one-hour episodes. We saw the field shrink from 92 bracelet hopefuls to an elite final table that included six WSOP bracelet winners, a two-time European Poker Tour Champion, two members of the 2009 "November Nine" and the father of another "Niner" chasing down his own WSOP gold.
Cast of characters: Hour one began with 92 players remaining and saw the field whittled to the 36 cash finishers. Praz Bansi and Day 3 chip leader Ian Munns (who acquired his massive stack thanks to Viktor Blom's mega-bluff) sat next to each other on the featured table and were joined throughout the day by Steve Zolotow, Peter Gould, Doyle Brunson, Karl Mahrenholz, and Antoine Saout. Over on "Table Two," Daniel Negreanu held court along with Men "The Master" Nguyen, Leo Margets (the last woman standing in this year's WSOP Main Event), John Juanda, Matt Hawrilenko, Christian Kruel, Justin "Boosted J" Smith, Eric Liu, Annette Obrestad, Yevgeniy Timoshekno, and Manchester United footballer Teddy Sheringham.
Bubble boy: Two years ago he busted the bubble boy and went on to finish second, but this year John Tabatabai found himself in that unenviable spot. Tabatabai had to feel optimistic when he was all-in with pocket aces against Peter Gould's pocket sevens, but Gould flopped a set to send Tabatabai out into the London night without a payday.
They're in the money: Doyle Brunson, Eric Liu, David "Devilfish" Ulliott, Steven Fung, Tony Cousineau, James Akenhead, Daniel Negreanu, Liz Lieu, Barry Shulman, Ram Vaswani, Jason Mercier, Teddy Sheringham, Steve Zolotow, Thomas Bichon, and Christian Harder all survived the bubble and earned cash finishes. As the final 36 sat down to play on Day 4, Matt Hawrilenko held the chip lead.
Quote of the week: "There's a course at Princeton that teaches you how to crack aces with ace-four" – Norman Chad on Ivy Leaguer Matt Hawrilenko.
Best British accent: 36th-place finisher David Docherty's Scottish brogue is so awesome we hope he starts a podcast.
A pair of coolers: Eric Liu picked up pocket kings on the bubble and got all his money in against the aggressive Ram Vaswani only to discover he was up against aces. Liu survived the money bubble, but couldn't do the same on the final table bubble, moving all-in with pocket queens and getting a call from Jason Mercier holding king-jack. Liu watched in horror as a king hit the flop and made a quiet exit.
Also in the running for cooler-of-the-week was a hand between Christian Harder and Thomas Bichon. Harder opened with pocket kings, Bichon three-bet his queens and then called Harder's shove. Harder was the one at risk, but he maintained his lead on the
flop. Bichon, however, had 11 outs on the turn when the
fell to give him a flush draw. The river spelled the death blow for Harder, the
spiking to make Bichon's set, and he hit the rail in 29th place.
They call that a "value-bet bluff": Praz Bansi opened pocket sixes for 21,000, and Daniel Negreanu flatted with
from the small blind. Bansi's sixes were still best on the
flop, but Negreanu actually held a slim lead in the hand with two overcards and a flush draw. Negreanu check-called Bansi's 32,000 bet, then watched the
hit the turn. Negreanu turned around and led out for 56,000. Bansi called, the pot swelling to 234,000. The river was the
, a blank for Negreanu. However, he still felt as though he could move Bansi off his hand and settled on a "please call me" bet of 80,000, less than one-third of the pot. It was enough to convince Bansi to fold, and Negreanu collected a hefty pot.
MVP= Jason Mercier: Mercier was nothing short of a one-man wrecking ball in the late stages of this tournament, his castle of chips growing more massive by the hand thanks to moves like this one. With the board reading
on the turn, Mercier called a bet from Steven Fung, holding
for a flush draw against Fung's top pair with
. The river was the
and Fung bet another 50,000 before Mercier moved all-in. Mercier knew that Fung would have to call for nearly his entire stack and the bold move pushed Fung off his hand.
Later, Mercier employed a similar tactic against Israeli amateur Saar Wilf. Holding
, Mercier opened for 39,000. Wilf called with
, and both missed the
flop. Mercier made a 48,000 continuation bet and Wilf called. The turn was the
. Although Mercier picked up an open-ended straight draw, Wilf's ace-king high was still the best hand. Mercier fired out another 107,000 into the 214,000 pot on a semi-bluff, Wilf raised to 250,000, and Mercier shoved with for 633,000, putting Wilf to a decision for most of his chips. Unable to call off such a large percentage of his stack with only ace-king unimproved, Wilf looked absolutely tortured as he tossed his cards into the muck.
Notable eliminations: Finishing outside the money were Todd Brunson, James Keys, Antonio Esfandiari, 2007 WSOP-E Main Event champion Annette Obrestad, 2008 champion John Juanda, and Ian Munns, who went from chip leader to the rail on Day 3. Leaving the Empire with a payday were David "Devilfish" Ulliott (35th), Steve Zolotow (32nd), Andre Akkari (27th), Men "The Master" Nguyen (26th), Liz Lieu (22nd), Doyle Brunson (17th), Ram Vaswani (15th),Tony Cousineau (13th), and Eric Liu (10th).
The last two episodes of WSOP-Europe coverage are scheduled to air on Feb. 28 and will feature the final table action. Jason Mercier is the dominant chip leader with 32 percent of the chips in play followed by James Akenhead, Praz Bansi, Barry Shulman, Markus Ristola, Antoine Saout, Matt Hawrilenko, Chris Bjorin and short stack Daniel Negreanu. This is Negreanu's second WSOPE Main Event final table in as many years while Saout and Akenhead smashed through a record that many in the poker world thought would stand for years. Like Ivan Demidov in 2008, Saout and Akenhead both made the final table of the WSOP Main Event and the WSOPE Main Event in the same year.
The WSOP-Europe next airs on Sunday, February 28th at 8 p.m. EST on ESPN-2. Check your local listings. And while you're at it, how about following us on Twitter?